NBC Sports Hires Hines Ward as NFL and College Football Analyst
May 31, 2012

Justin Edmonds/Getty Images
Pittsburgh Steelers legend Hines Ward hasn't been out of football for six months, but he's already landed himself another full-time gig.
According to Ed Bouchette of the Pittsburgh Post-Gazette, Ward is joining NBC as an analyst:
NBC-TV hires retired #Steelers WR Hines Ward for various NFL & college football shows, including Sunday Night in America and SportsTalk.

— Ed Bouchette (@EdBouchette) May 31, 2012
Football Night in America will make for one heck of a group should Ward join its typical starting roster. Former Indianapolis Colts coach Tony Dungy and former New England Patriots safety Rodney Harrison are regulars on the show with host Dan Patrick.
The Colts and Patriots are longtime rivals of the Steelers, and between the three analysts (Ward included), they account for five Super Bowl rings in the last nine years alone.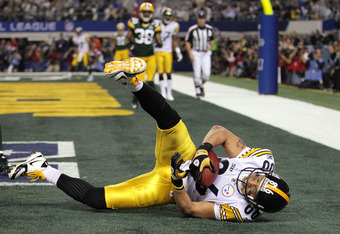 Doug Pensinger/Getty Images
There isn't another studio that can boast that type of recent success on the football field.
Ward is a well-documented student of the game. He was drafted by the Steelers in the third round of the 1998 draft, but he also spent time at quarterback while playing for the Georgia Bulldogs.
The four-time Pro Bowler is the Steelers' all-time leader in receptions, receiving yards and receiving TDs. He's also a Dancing with the Stars champion and Super Bowl XL MVP.