Derek Holland: Texas Rangers SP Earns AL Worst of the Night Award
May 31, 2012

Ronald Martinez/Getty Images
Before his start against the Seattle Mariners on Wednesday night, Texas Rangers lefty starter Derek Holland shaved off his mustache.
Apparently, there was nobody in the Rangers clubhouse to grab him by the shoulders and shout, "You fool!"
A confrontation like that could have saved Holland's mustache. And that, in turn, could have saved him from the epic beatdown the Mariners gave him. 
Holland did not have his best stuff against the Mariners, and that's an understatement if there ever was one. He retired the side in order in the first inning easily enough, but the Mariners had little trouble getting to Holland in the second inning.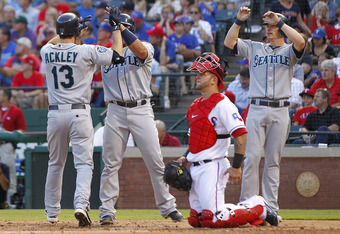 Rick Yeatts/Getty Images
Here is the short version of what happened: single by Jesus Montero, double by Justin Smoak, groundout to first by Alex Liddi, two-RBI single by Miguel Olivo, foul-out by Michael Saunders, three-run home run by Dustin Ackley, single by Chone Figgins, stolen base by Figgins, RBI single by Kyle Saeger, two-run home run by Jesus Montero.
Before Holland departed the game, he issued back-to-back walks to Smoak and Liddi.
His final line: 1.2 IP, 8 H, 8 R, 8 ER, 2 BB, 2 SO, 2 HR. He threw 51 pitches, 28 for strikes. His ERA for the season jumped from 4.05 to 5.11.
After the game, Holland refused to blame it on the 'stache.
"The mustache doesn't throw the pitches," Holland said, via ESPNDallas.com.
Perhaps not, but ESPN's Buster Olney came up with a theory that I think is legit:
Derek Holland ... Samson. Apparently.

— Buster Olney (@Buster_ESPN) May 31, 2012
Granted, the legend goes that Samson's powers were lost once his hair was shaved off, but he could have lost his mustache too for all we know. 
Regardless, Holland better grow his 'stache back. It was a pitiful thing, but the evidence at hand suggests that it made a difference. With it, Holland was a decent starting pitcher. Without it, he got smacked all over the yard by one of the worst offensive teams in baseball.
I am commemorating Holland's epic fail against the Mariners with an American League "Worst of the Night" award. If he does not regrow his mustache, I fear I may have to give it to him again in the very near future.
Just ask yourself this, Mr. Holland: What would Tom Selleck do?
[Lets question hang in air. Walks away.]
If you ever want to nominate somebody for the American League "Worst of the Night" award, hit me up on Twitter.