The Colorado Rockies are having a disappointing season to this point, and their season might have gotten a lot worse on Wednesday night.
Troy Tulowitzki was taken out of the game against the Houston Astros when he suffered a strained left groin. He has had problems with his groin since the first series of the year.
Tulowitzki does not seem optimistic after suffering the strain. After the game he spoke with reporters,
When you're hurt, you're hurt. There are some other guys around the league that are dealing with the same sort of things. Only for so long you can keep going out there until you need to get it right. My groin has been bothering me. There have been tweaks here and there and I'd get a day [off], but this is worse than just the kind of tweak I'd normally felt.
Troy Renck, the Rockies beat writer for The Denver Post, shared some insight into Tulo's thoughts on the injury in relation to a potential DL stint,
#Rockies' Tulo definitely concerned about landing on the DL. He said it was worse than when first hurt in Houston. So definitely possible

— Troy Renck, Rockies (@TroyRenck) May 31, 2012
It does not look good at all for Tulowitzki.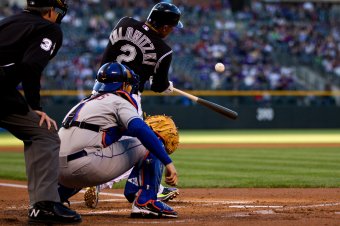 Justin Edmonds/Getty Images
He has struggled with injuries throughout his entire career and has only been able to play in over 150 games twice in five full seasons.
The Rockies are 20-29 but have won three games in a row. If there is lingering pain for Tulo, then they should not risk it. He is going to be a prized player for years to come, and his health will be the only hurdle in his way.
This season he is hitting .287 with eight home runs and 27 RBI.