Dan Haren: Los Angeles Angels SP Earns AL Best of the Night Award
May 30, 2012

Harry How/Getty Images
Dan Haren entered his start against the New York Yankees on Tuesday night fresh off one of the finest starts of his career. He had shut out the Seattle Mariners on May 24, giving up four hits and no walks while striking out a career-high 14 batters.
Seeing as how Haren had struggled in his previous four starts, his shutout of the Mariners was a sight for sore eyes. The Angels were looking for the old dominant Haren to reappear, and he did.
Due to unusual circumstances, the Angels were looking for the old dominant Haren to appear once again on Tuesday night. They needed him to be at his best.
Haren obliged.
He wasn't as dominant against the Yankees on Tuesday as he was against the Mariners last week, but Haren put together a second consecutive strong start. He went seven innings, scattering eight hits and giving up just one earned run. He struck out seven.
It would be a stretch to say that Haren breezed through his outing. Thanks in part to a fielding error by third baseman Maicer Izturis, Haren had to get out of a bases-loaded jam in the top of the third when the game was still scoreless. He was able to get out of it by striking Robinson Cano out looking on an outside fastball.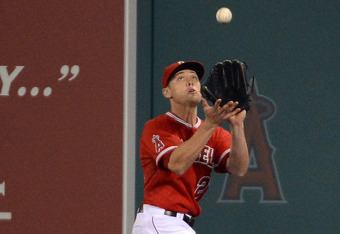 Harry How/Getty Images
Haren would continue to make clutch pitches throughout the evening, and he also benefited from some clutch plays from his outfielders. Mike Trout made an excellent leaping catch at the wall to rob Nick Swisher off an extra-base hit in the second inning, and Peter Bourjos took a turn robbing Swisher with an outstanding running catch in the top of the seventh.
If you happened to miss any of this, MLB.com has the video highlights.
Tuesday's start obviously wasn't the most dominant performance of Haren's career, but the Angels should be thankful that he was able to battle his way through seven innings of work. They desperately needed Haren to go deep into the game, and he did.
The Angels needed Haren to go deep into the game because of what happened on Monday. Jered Weaver had to leave the game in the first inning before he even recorded an out, and that forced the Angels' bullpen to get 27 outs. The guys in the pen needed a breather.
So despite the fact it wasn't his best start, Haren definitely came up clutch. I'd say that's worth an American League "Best of the Night" award.
It's not a Cy Young, but, you know, it's a nice thing to have.
With Weaver on the disabled list with lower back problems, the Angels are going to need more strong performances from Haren over the next couple weeks. Because he looks like he's back on the right track, I wouldn't be at all surprised if he earns "Best of the Night" honors again in the near future.
If you ever want to nominate somebody for the American League "Best of the Night" award, hit me up on Twitter.