Why the NFL Desperately Needs to Improve Its in-Stadium Experience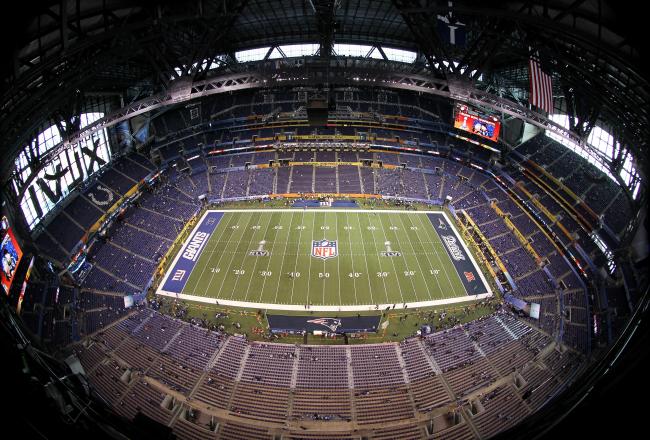 Andy Lyons/Getty Images
Your favorite NFL team is about to kick off, and you're locked and loaded. You've got a cold beverage, a hot meal, a tablet computer with the Bleacher Report Live Blog queued up and your smartphone jacked into the opinion matrix that is Twitter. You're all ready to absorb stats and analysis and then broadcast your real-time thoughts and emotions to the Internet, as easily as you can with the friends sitting next to you.
The 65,000 friends sitting next to you.
It's an incredible picture, isn't it? As of right now, it's a pipe dream—a "fat pipe" dream, if you'll forgive the '90s tech speak—but the day may come when the best of the couch experience blends with the best of the stadium experience.
In fact, it has to.
According to Business Insider, NFL attendance has been slowly, but steadily, declining since 2007. During the lockout, the NFL quoted a Wall Street Journal article showing ticket revenue flattening out over the same period; ticket prices are going up to compensate for flagging sales.

This chart from the Wall Street Journal shows several years of flat NFL ticket and over-air TV revenue.
The NFL stadium experience is getting more and more expensive. Meanwhile, HDTVs and broadband WiFi have made the home experience immeasurably richer. Fewer and fewer people are paying the huge premium to see the game live, and that's a problem.
TV revenue and ratings fatten the league's overall income. But parking, concessions and luxury suite monies go right into teams' pockets; ticket revenue is split 60-to-40 with the road team, but that 60 percent can be as much as a team can sell. Maximizing on-site revenue is hugely important to the individual teams.
Beyond that, getting butts in the seats is a league-wide must. Empty stadiums look awful on TV, and a roaring crowd gets home viewers into it too. Even if TV revenue is the bigger source of income, the NFL must continue to pack its stadiums with sellout crowds.
How can teams get people off their comfy, WiFi-enabled couches and into the (not-so) cheap seats? By bringing everything that makes the couch awesome into the stadium.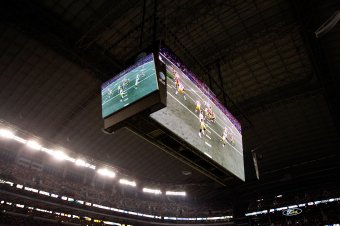 Kevin C. Cox/Getty Images
The Dallas Cowboys, of course, fought fire with fire: They commissioned the world's biggest HDTV and then put two of them (and two smaller ones) right over the field of play. Cowboys fans don't miss out on the close-ups, dramatic replays and in-game highlights the home viewer is used to. Oh, and if you somehow can't see any of the big four from where you are in the stadium, there are 3,000 more scattered throughout the place.
As Dave Skretta from the Associated Press wrote, craft beers are taking over MLB stadiums. Rather than the decades-old false choice of "macrobrew pilsner" or "macrobrew pilsner light," customers are able to enjoy some of the same high-quality craft beers they keep in their fridge. Local craft beers are already making their way into NFL stadiums; watch for them to runneth over your cups even more in 2012.
Jamie Squire/Getty Images
But the NFL's new plan is going to knock you into the park: Commissioner Roger Goodell announced last week that the NFL wants to get broadband WiFi into every NFL stadium. Right now, going to a game means four hours of radio silence—at exactly the kind of event you want to share with your friends and followers in real time.
Adding high-bandwidth WiFi to the game-day experience will deeply enrich it for those attending. Real-time stats, live analysis and being able to keep tabs on your fantasy team makes the visceral thrill of being there live that much more exciting.
But there's something in it for the NFL as well. Allowing people to broadcast their live game-day experience across social media is free advertising for the in-stadium experience. Building that buzz, spreading that excitement across the Internet will make more and more people want to get off their couch and get to the game.
Ultimately, that's what matters to the NFL: that the stadiums keep selling out. Beyond the unshared revenue that fattens each and every club's pockets, and the league-wide cachet built up by playing before always-packed houses, the value of the experience will again justify the exorbitant face value of the tickets.
If it can't pull it off, the NFL is going to see a continued decline in attendance—and revenue right along with it.
This article is
What is the duplicate article?
Why is this article offensive?
Where is this article plagiarized from?
Why is this article poorly edited?