Fantasy Baseball 2012: Michael Morse Leads the 15-Man 'All-Disabled List Team'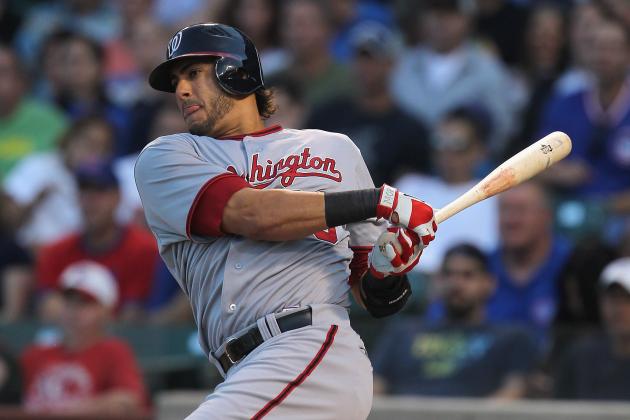 Jonathan Daniel/Getty Images
Nationals slugger Michael Morse (lat injury) is a reasonable candidate for 17 homers, 53 RBI, 47 runs and a .289 batting average upon returning to the club (around June 3).
The following slideshow touts the 15 best fantasy players who currently reside on the disabled list (15 days/30 days/60 days).

This countdown doesn't necessarily run in concert with a player's preseason ranking or overall standing at the time of his injury. It's merely an educated guess as to which DL-based stars will yield the most productivity from this point forward.

The lone exception here: There's no point in ranking Dodgers outfielder Matt Kemp at No. 1...since he could be activated from the disabled list (hamstring) by the time this piece gets published.

Mariano Rivera, Joakim Soria, Danny Duffy and Mat Gamel—all victims of season-ending injuries—were not considered for this listing.

Enjoy the show!
Begin Slideshow

»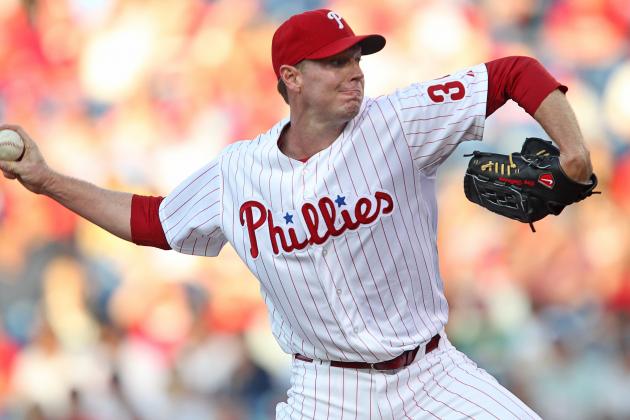 Hunter Martin/Getty Images

From a pure talent standpoint, Halladay (4-5, 3.48 ERA, 1.15 WHIP) would never be ranked No. 15 in any countdown.

But being shelved with a shoulder strain and having no effect on the Phillies' pennant drive—until July 20 or so—has greatly hindered Halladay's chances of posting stellar numbers this season. And even if he returns to the rotation after just six weeks, it's unlikely Philly will let him go eight innings per start.

There's the rub with injured starting pitchers: Upon returning, they only get a chance to impact a fantasy roster once every five days; and for Halladay, that's maybe 11 total starts after the July 20 target date.

And if the Phillies are not contending for a playoff spot then, what's the club's motivation in forcing a quick Halladay return?

Bottom line: Obviously, it's way too soon for fantasy owners to drop Halladay. Just lower your expectations for now. The time for high optimism can be revisited after the July 4 holiday.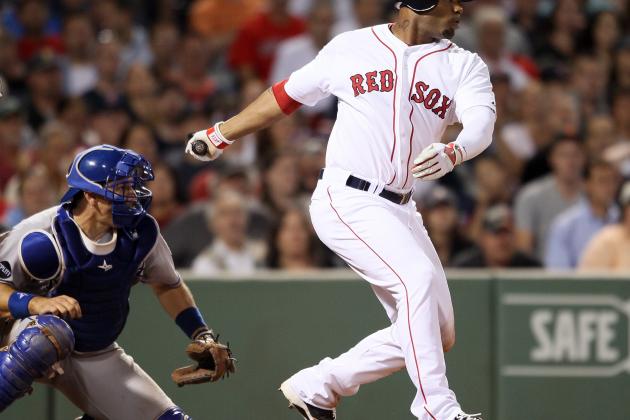 Elsa/Getty Images

For months, we've been teased that Crawford (11 HR, 56 RBI, 65 runs, 18 steals in 2011) was on the brink of rejoining the Red Sox lineup, but wrist and elbow ailments have essentially vanquished all hopes of a pre-All-Star break return.

However, we're still excited to take a reasonable leap of faith on Crawford's upside (and quick-healing powers).

He can be a top-25 outfielder in runs, steals and batting average—from the day of his anticipated return.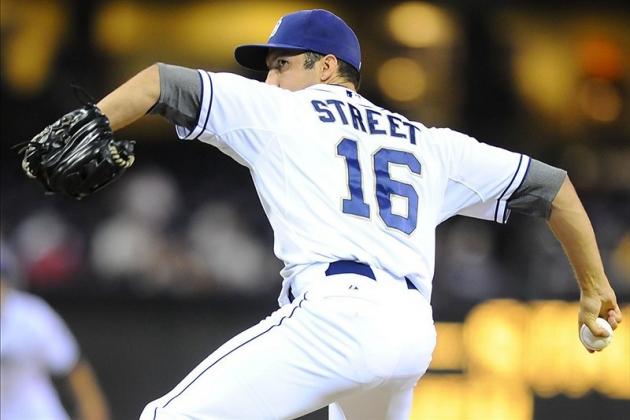 Huston Street's projected return of June 10 should be a welcome sight for his fantasy owners...and the Padres fans who are blissfully aware of replacement Dale Thayer's May 26 meltdown (one inning, four hits, five runs allowed against the Mets).

With his return to the San Diego bullpen, I fully expect Street to resume closing duties by mid-July; and if the Padres should become enamored with Thayer (five straight saves from May 7-19) for the long run...then Street will likely be a priority on the MLB trade-deadline market (July 31).

Either way, Street (0.93 ERA, 0.52 WHIP, four saves in 2012) is a keeper in fantasy circles.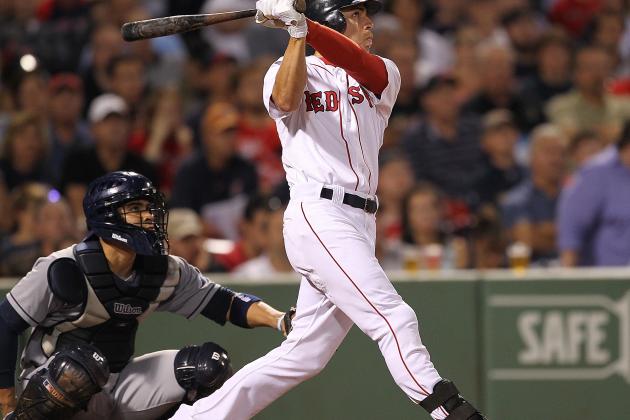 Jim Rogash/Getty Images

Ellsbury's shoulder injury could be viewed as a positive in certain fantasy circles.

Obviously, we'd rather have him on the field, but the time away from the game has likely brought common sense to his adjusted projections.

For example, a healthy Ellsbury would not have replicated last year's 32 homers or 105 RBI, but a spry Ellsbury can score 18 runs and steal six bases per month upon returning to the Boston lineup (July 4 target date).

As a result, fantasy owners should prioritize making a trade play for Ellsbury (119 runs/.321 batting in 2011).

It's a good time for haggling.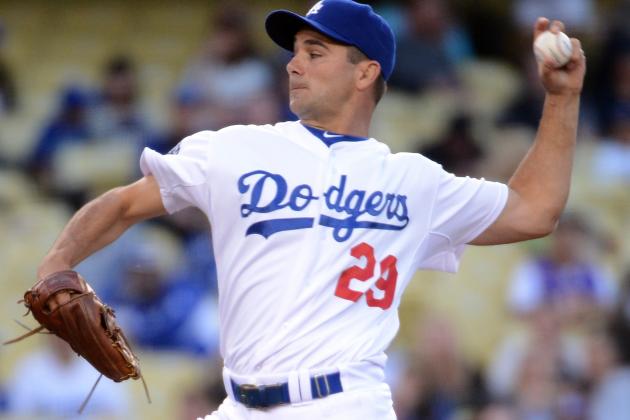 Harry How/Getty Images

Just like with Roy Halladay, it's never wise to make concrete assumptions regarding shoulder injuries.

Yes, Lilly (5-1, 3.14 ERA, 1.30 WHIP, 31/19 K-BB ratio) is expected to resume throwing in the next five days (according to RotoWire), but that hardly means his shoulder inflammation will have subsided by then.

Who knows...this might be the beginning of an arduous recovery process.

For now, we'll attach a conservative ranking to Lilly's cause, on the hope he'll be pitching again—pain-free—by mid-June.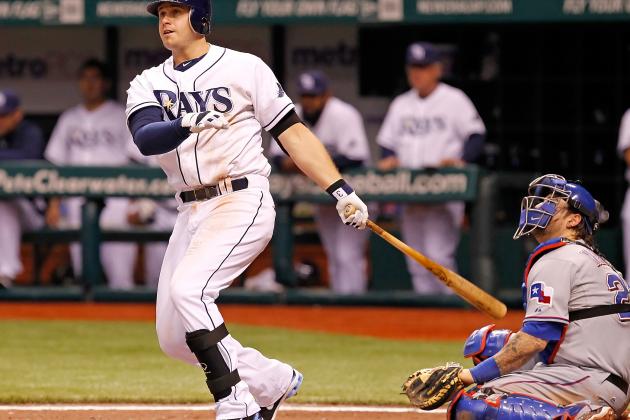 J. Meric/Getty Images

With a target-date return of July 1, it's hard to assign a worthy ranking for Longoria (four homers, 19 RBI, .994 OPS) in this countdown.

That's the power and ambivalence that comes with a .329 start to the season.

Make no mistake, though. Assuming he returns to the Rays at full health around the All-Star break, Longoria (torn hamstring) should be no worse than the No. 5 third baseman from that point forward...with projections of 13 homers, 45 RBI and a .317 batting average from July to September.

Bottom line: If you foresee a reasonable trade window for Longoria in the next three weeks, explore it immediately.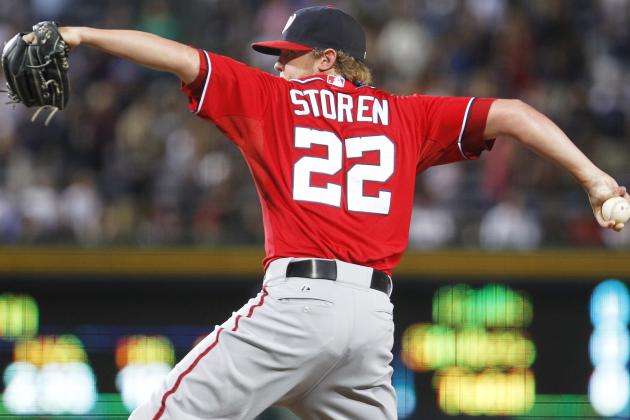 Daniel Shirey/Getty Images

In early April, Storen (46 saves last year) was the poster child for why fantasy owners should never devote high draft picks to relievers.

By June 20, Storen could be the poster boy for why all pitchers with elbow problems are not consigned to a fate of Tommy John surgery and regular appointments with Dr. James Andrews' office in Birmingham, Ala.

It's still early in the process, but this is also the right time to make a modest trade play for Storen's services. At least explore the market.

Of course, it helps if you already have the Tyler Clippard/Sean Burnett handcuff with Nationals closers.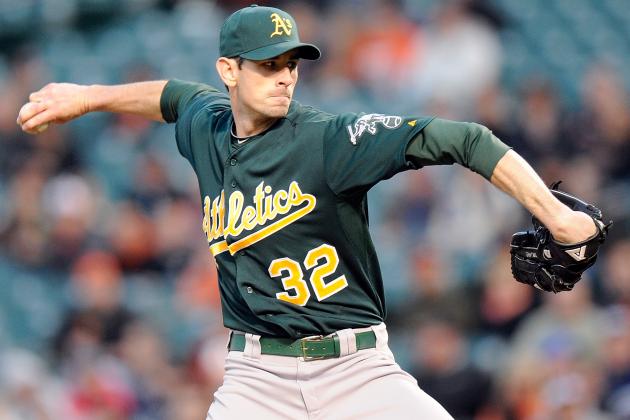 Greg Fiume/Getty Images

From a 30-day (3-3, 2.37 ERA, 1.21 WHIP) and seasonal perspective (40/16 K-BB ratio), McCarthy has been a solid fantasy asset—no worse than a No. 5 starter in 12-team leagues.

But how does his recent shoulder woes affect that status for the final four months?

I'm not a doctor, nor do I play one on TV...but I have a feeling McCarthy will enjoy a slight edge of sustainability over Dodgers starter Ted Lilly, from this point forward.

In other words, I prefer McCarthy's chances of racking up eight wins and/or 110 strikeouts from May 30-Sept. 30, compared to Lilly.

The good news: Both pitchers remain suitable No. 5 assets in 12-teamers.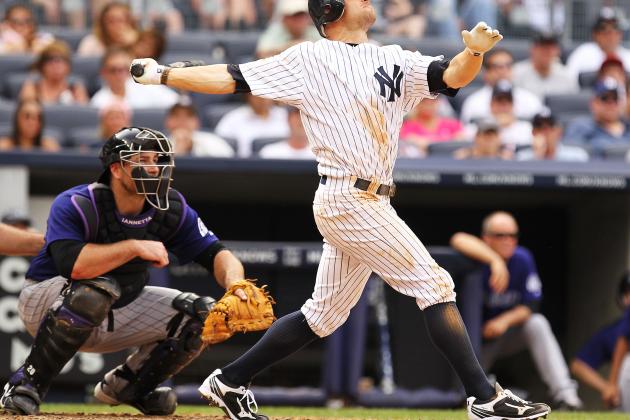 Al Bello/Getty Images

If Gardner (49 steals last year) hadn't re-aggravated his elbow injury in early May, perhaps I'd be more confident about his season-long fantasy prospects.

After all, he was a top-25 outfielder during the preseason and seemingly led a charmed life in the vaunted New York lineup.

But that's where the problem lies, as well: If Gardner should encounter one more injury setback, the Yankees brass might start looking for his replacement, exploring all trade avenues to replicate Gardner's three-category production.

For July through September, Gardner still has a shot at 17 steals, 49 runs and a .310 batting average.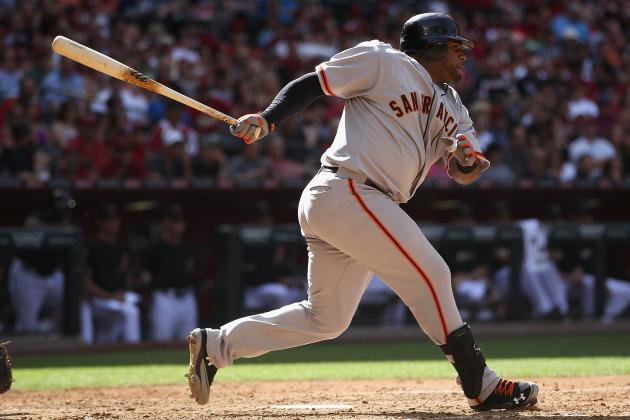 Christian Petersen/Getty Images

The key to assessing Sandoval's adjusted fantasy worth lies in the ballpark guesses of total games played.

Assuming Sandoval (broken hand) misses approximately 35 games and returns my mid-June, I would be fine with roughly 104 games by season's end.

Extrapolating Sandoval's numbers to that assumption, he's in line for 21 HR, 62 RBI, 50 runs and a .312 batting average—solid estimates for a player who shouldn't lose any leg drive or hip power from this prolonged absence.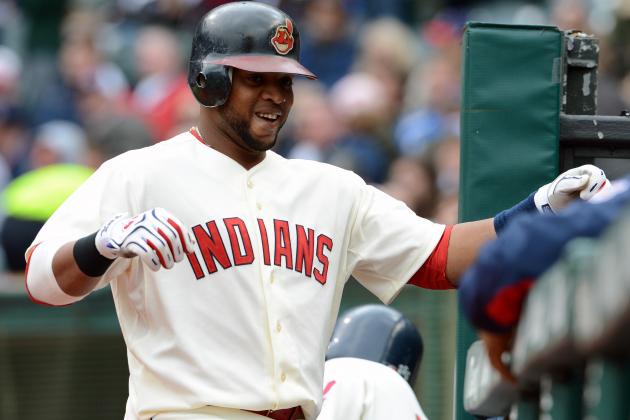 Jason Miller/Getty Images

OK, so Santana (five homers, 24 RBI, 21 runs, two steals, .245 batting) hasn't lived up to the expectations of certain fantasy gurus from the preseason.

But for this countdown, Santana (concussion) has one major feather in his cap: He should be back in the Indians' lineup this weekend.

As stated numerous times, this countdown is more about window of opportunity than pure talent; and unlike the majority of hitters here, Santana is slated to enjoy four straight months of healthy at-bats...which should lead to better production in four main categories (runs, RBI, homers and average).

After all, there's a reason why Santana was a lock for a .900 OPS at every level in the minors; and there's a reason why he's still one of the most coveted 26-and-under hitters in the majors today.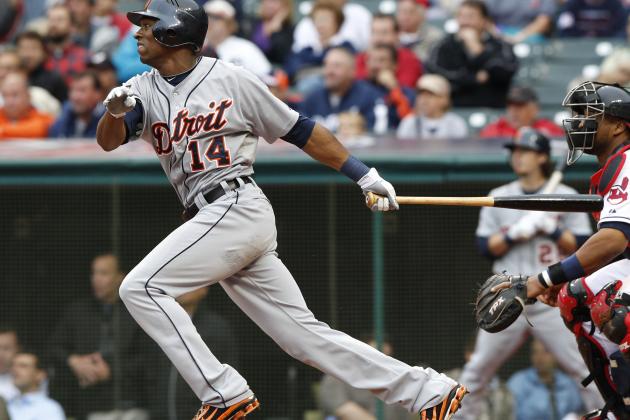 David Maxwell/Getty Images

The sub-.500, high-payroll Tigers could really use Jackson back in the lineup; and as luck would have it, the dynamic center fielder will likely be activated from the disabled list this weekend.

Fantasy owners should be similarly pleased with the news. Before his abdominal injury, Jackson (five homers, 17 RBI, 29 runs, six steals, .331 batting) had been enjoying a lightning-fast start to a potential breakthrough season.

And while that momentum hasn't been halted for a long period, it'll be interesting to see how quickly A-Jax can recapture his mojo at the plate—and when patrolling the cavernous Comerica Park outfield.

UPDATE: Jackson likely won't return for another week or two...with an adjusted target date of June 13.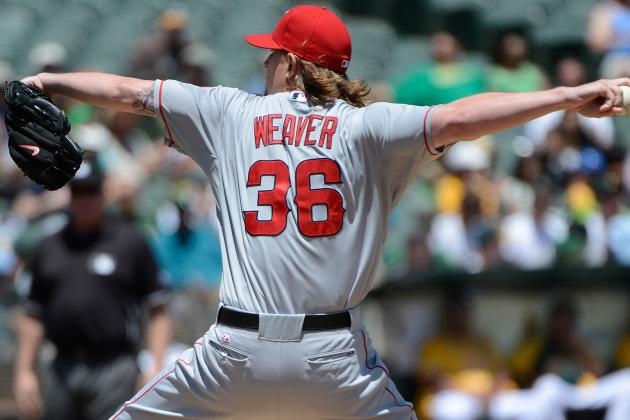 Thearon W. Henderson/Getty Images

As of today's date (May 30), I'm going on the assumption that Weaver's back problems won't rob him of more than two or three starts.

If that's the case, then Weaver should have little trouble reaching these adjusted objectives for the season—16 wins, 170 strikeouts, 2.89 ERA and 0.99 WHIP.

It bears repeating: This countdown slot is subject to change in the coming weeks, but I'm also comfortable with the initial assessment.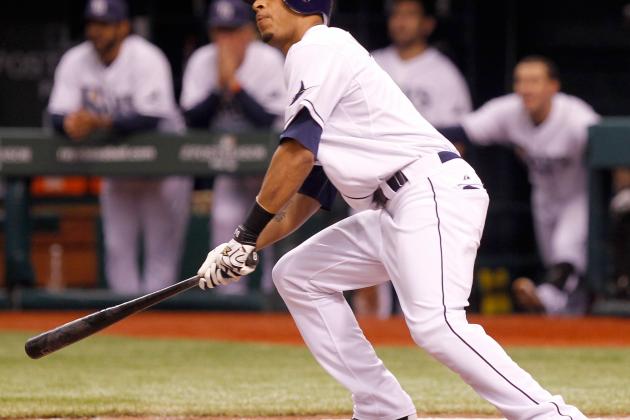 Mike Ehrmann/Getty Images

In just 31 games, Jennings (three HR, 11 RBI, 20 runs, eight steals, .265 batting) has justified his worth as a Round 6 pick from the March drafts; and frankly, this injury setback shouldn't halt much of that momentum.

Yes, knee problems should always be taken seriously with players who cover large chunks of real estate in the outfield. But hopefully, the time off will cure what ails Jennings (target return date: June 10).

When healthy, the 25-year-old Jennings is a 20-20 candidate.

From this point forward, I like his chances for 16 homers, 19 steals and 56 runs.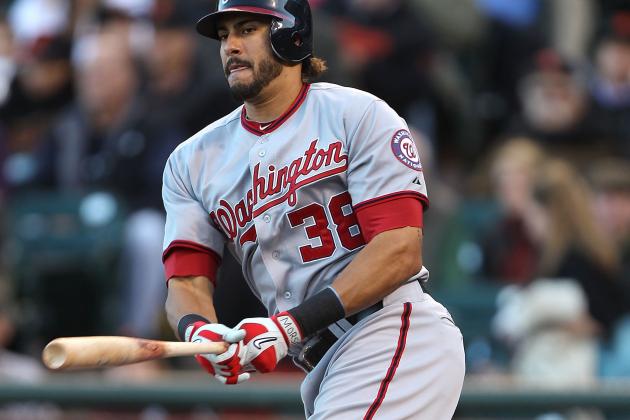 Jed Jacobsohn/Getty Images

When healthy, Morse (lat injury) is a 30-homer threat with dual-positonal eligibility (1B/OF)—the rarest of fantasy birds.

But it'll be interesting to see how long it takes Morse to find his batting stroke when pressed into duty around June 3 or so.

Can he be an anchor for a Nationals lineup that doesn't have Jayson Werth—with monthly production of 4.5 homers and 14.5 RBI? Or, will Morse take a subservient role in the offense?

I'm betting on the former.

Seasonal targets: 17 homers, 53 RBI, 47 runs and .289 batting.