NL Manager of the Year Rankings: Fredi Gonzalez Falls Out, Ozzie Guillen Debuts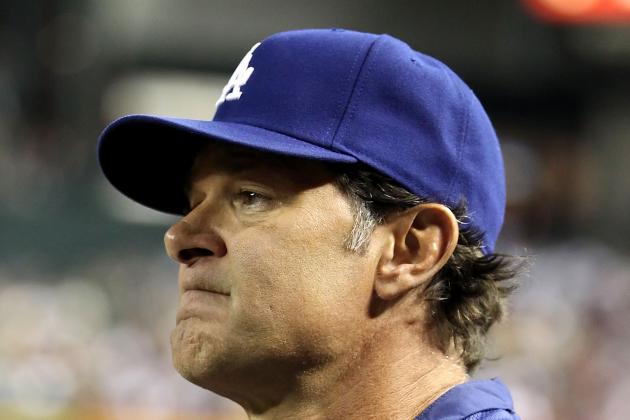 Christian Petersen/Getty Images
Don Mattingly has nothing to worry about with this week's NL Manager of the Year rankings.
As was the case last week, a major losing streak has resulted in yet another skipper getting booted from our NL Manager of the Year rankings.
One week ago, the Atlanta Braves held first place in the NL East by a half-game. Eight days later (including the Memorial Day holiday), eight consecutive losses has sent the Braves plummeting to last place in the division, four games behind the Washington Nationals.
The Braves have been plagued by terrible slumps from cornerstone players like Brian McCann and quirky "injuries" like Freddie Freeman's inability to find suitable eyewear. To be fair, manager Fredi Gonzalez can't get a hit or record an out, but it's nearly impossible to justify keeping him in these rankings when his team loses eight straight.
A couple other candidates might deserve a place on this list and could get a spot in the weeks to come. If you think anyone was snubbed, support your guy in the comments. But for this week, these look like the top five contenders for the NL Manager of the Year award.
Begin Slideshow

»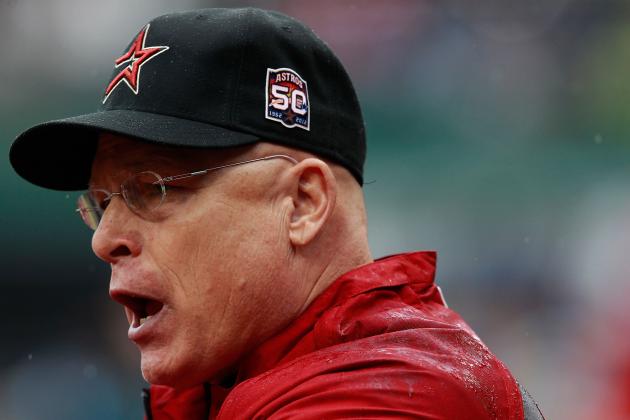 Jared Wickerham/Getty Images
Brad Mills continues to keep the Houston Astros competitive this season.
Last week: No. 4.
The Houston Astros' three-game losing streak has negated the progress of the four-game winning streak that preceded it. The skid also comes at a bad time, coinciding with the Cincinnati Reds heating up and taking over first place in the NL Central.
But despite falling further back in the division standings to five-and-a-half games behind the Reds, Brad Mills continues to keep his club competitive. With a 22-27 record as of this writing, the Astros realistically aren't going to make a run at the NL Central lead. However, they're still one of the surprises of the 2012 season, playing far above expectations.
As the schedule moves into the summer and contenders look to bolster their rosters with deals, the Astros could lose some of their prominent veterans, such as Wandy Rodriguez, Brett Myers and Carlos Lee. It will be interesting to see if Mills can keep his team playing hard after what could be some deflating transactions.
But the core of this Astros team is largely young and could stay competitive even if some veterans move on. Developing talents like Jose Altuve, J.D. Martinez and Chris Johnson are fueling the team's improbable success, and Mills has done a fine job in tutoring his roster back to respectability.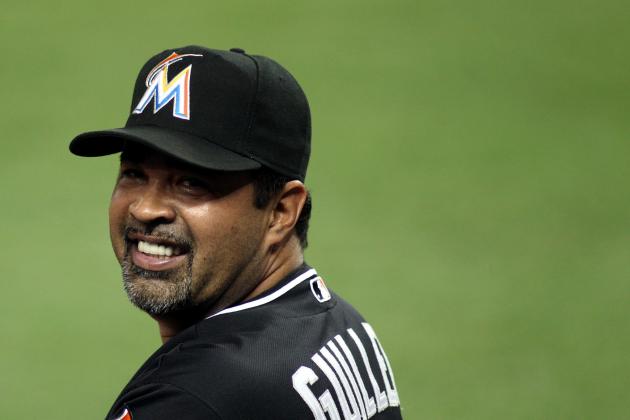 Marc Serota/Getty Images
The Miami Marlins' recent turnaround has manager Ozzie Guillen smiling.
Making his season debut among our NL Manager of the Year candidates is a skipper whose team was expected to be a playoff contender before the season. Should Ozzie Guillen receive praise for finally getting his team to play to expectations?
Consider that when the Miami Marlins were one of baseball's early-season disappointments, struggling to score runs in their new fluorescent ballpark, while pitchers like Josh Johnson and Heath Bell were batted around, the manager kept his cool.
Some surely wanted to see him blow up at his team, and many expected to see another memorable rant to the media from the infamously expressive Guillen. He certainly did so often whenever his Chicago White Sox teams made frustrating mental mistakes or played without enthusiasm.
Whether it's because Guillen was humbled by the uproar his Fidel Castro comments caused or because he knew it was too early to kick and scream at a talented team still coming together, his calmer approach has worked out well. The Marlins have won 19 of 27 games in May, a surge that has pushed them to second place in the NL East, two-and-a-half games behind the Washington Nationals.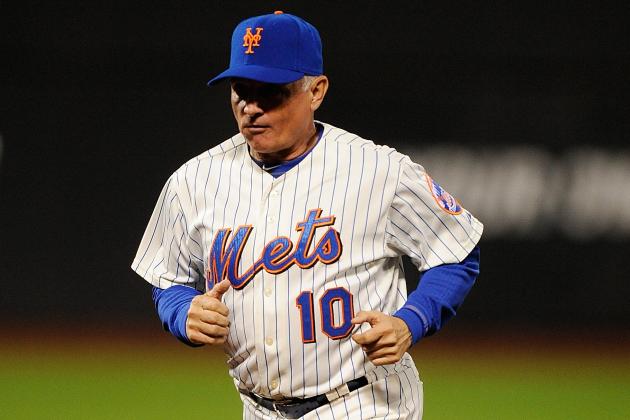 Patrick McDermott/Getty Images
Terry Collins has the New York Mets fighting for the NL East lead.
Last week: No. 4.
One sign of a focused team is winning the games they're supposed to win. The New York Mets played seven games against the Pittsburgh Pirates and San Diego Padres during the past week and won five of them.
A stretch like that could result in a letdown for a club that's played above expectations and might not be ready to cope with success. Especially with injuries to the middle infield, a slump by Andres Torres and a bullpen that continues to struggle. Instead, the Mets saw games on the schedule they should win and did just that, keeping them in the mix for the NL East lead.
Eight days ago, Terry Collins' team was in fourth place, three-and-a-half games behind the Braves. But between the Braves' eight-game slide and the Mets' successful week, Collins has his club tied for second place, two-and-a-half games behind the Nats.
The Mets need whatever cushion they can build as they face what looks like a brutal June schedule ahead of them. This could be the make-or-break stretch of the Mets' season, with games against the top teams in the NL East, NL Central and AL East looming menacingly. We'll see if the Mets and their manager are truly contenders over the next 30 days.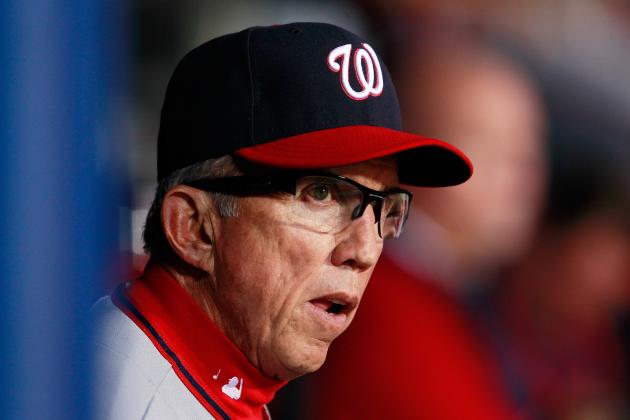 Kevin C. Cox/Getty Images
Davey Johnson continues to move pieces around, helping the Nationals to regain first place in the NL East.
Last week: No. 2.
Sure, the Braves running into a sinkhole has helped the Nationals regain first place in the NL East. But Davey Johnson's team is helping their own cause by winning key games against division rivals.
With the Phillies, Braves and Marlins on the slate over the past week, the Nats won five of seven games, stepping on their fellow NL East teams to build a two-and-a-half-game first-place lead in the division. With eight more games against division opponents before getting back to interleague play, the Nationals could soon increase that margin.
Johnson has moved a few pieces around to get the most out of his team in recent games. Rather than continue to cross fingers and hope Henry Rodriguez would find control on his pitches, the Nats skipper made a change at closer and Tyler Clippard has converted his last three save opportunities.
Tinkering with the lineup has yielded positive results, too. Ian Desmond was ill-suited for the lead-off role, but since Johnson pushed him down to the No. 5 in the batting order, the Nats shortstop has been a run producer. That's allowed rookie Steve Lombardozzi to shine in the lead-off spot and create a more balanced lineup.
Finding at-bats for Lombardozzi when Michael Morse returns from his lat injury gives Johnson a fun puzzle to work with. But so far this season, Johnson has made the right move more often than the wrong one.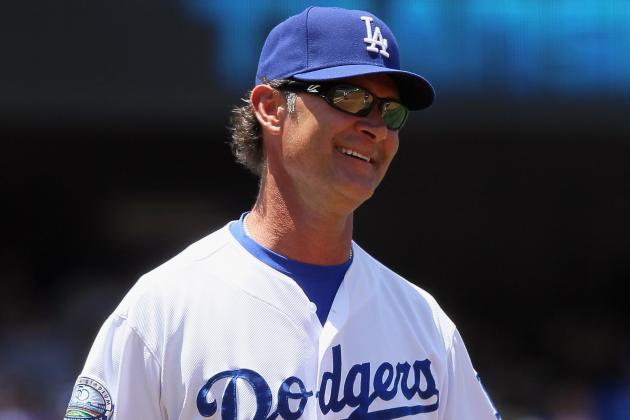 Jeff Gross/Getty Images
Don Mattingly has plenty of reasons to smile with the way his Los Angeles Dodgers are playing.
Last week: No. 1.
No change at the top, as the Los Angeles Dodgers keep winning.
Don Mattingly's club hasn't suffered a letdown since a three-game sweep over the St. Louis Cardinals that may have confirmed their status as the best team in the National League. The Dodgers won two of three from both the Arizona Diamondbacks and Houston Astros, helping them maintain the largest first-place lead in baseball.
A shoulder injury to Ted Lilly is the latest test for the Dodgers' depth. Nathan Eovaldi (3.09 ERA, 30 strikeouts in 35 innings) could be a suitable replacement while Lilly is on the DL. But Dodgers general manager Ned Colletti could help his skipper out in a big way if he's able to win the Roy Oswalt sweepstakes. Colletti has already made an offer to Oswalt, according to Yahoo Sports' Tim Brown.
But Mattingly has been able to help himself on the field by putting his players in a position to succeed. The latest example of that was moving Jerry Hairston Jr. into the No. 3 spot of the lineup on Sunday. Hairston responded with a 5-for-5 day, one of his best performances in recent memory. Those sorts of moves have been paying off for Mattingly all season long.
After finishing off a four-game set with the Milwaukee Brewers, the Dodgers face a formidable test with a 10-game road trip to Colorado, Philadelphia and Seattle. With no days off during that span, the Dodgers could have a difficult time compiling a winning record during that trip. The late June schedule includes another nine-game trip, though they won't leave the state of California for that.
Helping the Dodgers power through those road games could be the return of Matt Kemp, who's set to be activated from the disabled list this week. That will be the first good bit of injury news Mattingly has received in a while.
Follow @iancass on Twitter