Fantasy Baseball 2012: 10 Potential Call-Ups You Must Pick Up
Wil Myers' future is so bright, he's got to wear shades.
Christian Petersen/Getty Images
By now, all the early season breakout players have been scooped up off your league's waiver wire. But if you were late to the party, don't fret. Help is on the way.
A handful of rookie call-ups have already made big impacts at the major league level this season (see Bryce Harper, Mike Trout and Matt Adams), and plenty more are lining up to do the same. Hopefully you've learned your lesson by now. If you take the wait-and-see approach, all too often what you see is your opponent grabbing the next rising star before you can.
The time to act is now. Here are tomorrow's MLB hot-shot fantasy rookies who are killing it in the minors today. Their chance in the Big Show is coming soon, so you better grab them while you still can.
10. Ryan Wheeler, 1B/3B, AAA Reno (Diamondbacks)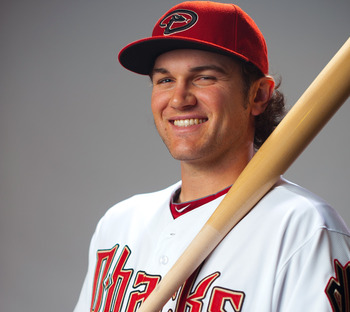 Rob Tringali/Getty Images
If Arizona manager Kirk Gibson can't figure out what to do with his own lineup, then it's anyone's guess as to how or if it will ever pan out. But once all the roster shuffling stops, it would come as no surprise if Ryan Wheeler lands in the big leagues.
Ryan Roberts can't seem to lock up consistent playing time even when he plays well, and Paul Goldschmidt has significantly cooled off from his hot start. Both are now at risk of losing their spots to Wheeler, who was named Pacific Coast League Player of the Week on April 30.
Wheeler offers above-average power, and, although he's not a much of a threat on the basepaths, his hot bat could earn him a promotion very soon.
2012 Minor League Stats: .316/.364/.517, 19 R, 6 HR, 42 RBI, 0 SB
9. Corey Brown, Outfield, AAA Syracuse (Nationals)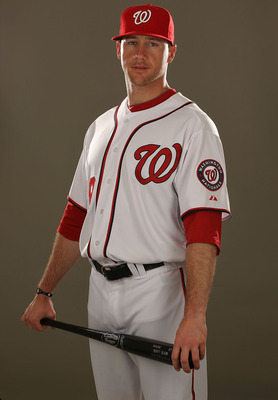 Al Bello/Getty Images
Bryce Harper has been as good as, if not better than, expected so far, but he can't solve Washington's outfield woes all by himself. With the Nationals still leading the highly competitive NL East, it's all hands on deck in the nation's capital and Corey Brown very well could be next. After a hot start in the minors he has only improved.
He won't help your team's batting average, but his power/speed combo is always something highly coveted by fantasy owners. If your league counts on base percentage, his plate discipline should translate to a healthy dose of walks at the next level as well. It's time to see what Brown can do for you.

2012 Minor League Stats: .297/.399/.584, 41 R, 12 HR, 30 RBI, 6 SB
8. Yasmani Grandal, C, AAA Tuscon (Padres)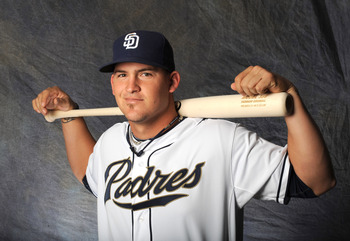 Rich Pilling/Getty Images
With all apologies to Yonder Alonso, Yasmani Grandal may be the best prospect the Padres acquired when they dealt Mat Latos to Cincinnati. Current San Diego catcher Nick Hundley is not making a difference at the big league level, while Grandal continues to rake in the minors after a white-hot start in Triple-A.
He has room for improvement defensively, but that doesn't count in fantasy anyway. He's a catcher that can (snap your finger and point) get on base, and even just the hint of power he possesses could offer fantasy value at a position where power is hard to find.

2012 Minor League Stats: .336/.443/.514, 20 R, 3HR, 22 RBI, 0 SB
7. Roger Kieschnick, Outfield, AAA Fresno (Giants)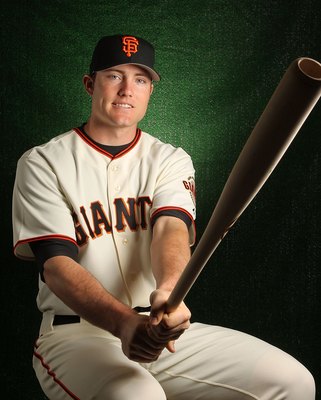 Jed Jacobsohn/Getty Images
Right field has not exactly been a position of strength for San Francisco ever since Cody Ross came to town for a late World Series run. That could mean big league at-bats for Roger Kieschnick, who brings big power with athleticism. But while he may be a good runner for his size, he doesn't steal many bases. His strikeouts do pile up rather quickly as well.
You're looking at a poor-man's Adam Dunn here.
After a breakout year in 2009, injuries and a pair of mediocre seasons in Double-A slowed down Kieschnick's track to the Big Show. In 2010, the former Texas Tech star posted an ugly .613 OPS at Richmond while a stress fracture in his lower back was affecting his performance. He went on to strike out 121 times in 2011 with only 34 walks in 459 at bats for a .255 batting average.
Now, at 25 years of age, the third-round pick draws comparisons to Chicago's Bryan LaHair, who has already shown that late-blooming power hitters should not be overlooked even if they do carry high strikeout rates.
Kieschnick can be too much of a pull hitter and can struggle against lefties at times, but his 1.012 OPS so far this season can make up for it.
2012 Minor League Stats: .312/.392/.621, 44 R, 13 HR, 34 RBI, 0 SB
6. Travis D'Arnaud, C, AAA Las Vegas (Blue Jays)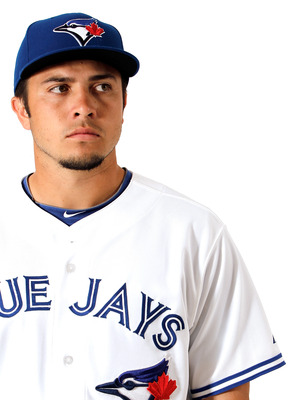 Jonathan Ferrey/Getty Images
Considered the best catching prospect in the game in terms of offensive upside, D'Arnaud started off slow while recovering from offseason wrist surgery. A recent power spree of seven home runs in 10 games, however, came as strong evidence of both his health and his readiness for the next level.
D'Arnaud would be placed much higher on a list ranking skill alone. However, the key word here is "soon," and J.P. Arencibia is making D'Arnaud's path to the majors a tad complicated after earning AL Player of the Week honors for the period ending on May 20.
But as a high strikeout hitter, Arencibia is prone to long, devastating slumps, and D'Arnaud will be ready to rake the moment Toronto gives him the green light. If you have the roster space, he is definitely worth the stash, as he brings a rare combo of consistency and power at the catching position.
2012 Minor League Stats: .318/.376/.585, 30 R, 11 HR, 31 RBI, 1 SB
5. Matt LaPorta, 1B, AAA Columbus (Indians)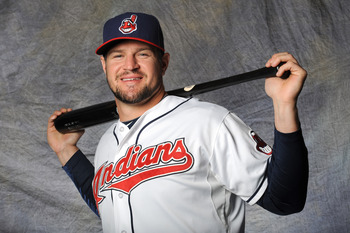 Rich Pilling/Getty Images
The only thing standing between Matt LaPorta and a return to the Big Show is Casey Kotchman—that and perhaps some reluctance from the Cleveland front office. LaPorta certainly isn't holding himself back with his 13 home runs and 1.035 OPS. Kotchman has begun to pick it up a bit lately but is still hitting just .219 for the season (with a .299 on-base percentage and .329 slugging percentage), so he's still ripe for replacement.
While Laporta's major league track record does give reason for some pause, let's remember that he was the centerpiece of the deal that sent C.C. Sabathia to Milwaukee. An investment like that should come with another chance, and LaPorta is certainly earning it.
2012 Minor League Stats: .316/.410/.625, 30 R, 13 HR, 30 RBI, 0 SB
4. Trevor Bauer, SP, AAA Reno (Diamondbacks)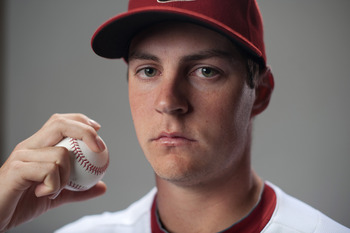 Rob Tringali/Getty Images
Trevor Bauer's Triple-A debut (8 IP, 1 ER, 4 H, 1 BB, 11 K) left fantasy owners everywhere drooling for more. Unfortunately, that "more" came in the form of five walks in five innings during outing No. 2.
The strikeout artist was supposed to be tested by his new venue, which Yahoo!'s Brad Evans calls "quite possibly the tiniest, most unfriendly pitching venue in all of professional baseball. It's an environment so sinister, ERAs typically resemble Jabba the Hutt's waistline."
Instead, Bauer struggled with his command. The less-than-inspiring follow-up puts a damper on any immediate hype, but the phenom and his mid-90s fastball should still make their way to the majors sooner rather than later. When he and his four other "plus" pitches do, Evans thinks Bauer could make an impact similar to that seen from Stephen Strasburg.
Yes, that Stephen Strasburg.
Go grab Bauer now. You will thank him and all of his strikeouts later.
2012 Minor League Stats: (AAA Reno) 1-0, 13 IP, 1.38 ERA, 5 H, 6 BB, 16 K; (AA Mobile) 7-1, 48.1 IP, 1.68 ERA, 38 H, 26 BB, 60 K
3. Danny Hultzen, SP, AA Jackson (Mariners)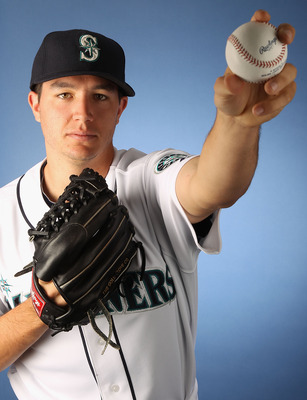 Christian Petersen/Getty Images
Danny Hultzen may not have as high a ceiling as his draft mate Trevor Bauer, but he's more equipped to exceed in the majors right now. Even as the No. 2 overall pick in 2011, Hultzen is often overshadowed by Bauer and all of his fans (both in the stands and at the plate).
But this lefty recently overcame his early-season struggles with walks and is cruising through Double-A, much like Bauer did. He features a low to mid-90's fastball, a devastating changeup and a good slider that he can throw for strikes.
Most importantly for fantasy owners, he could be called up before the All-Star break.
2012 Minor League Stats: 50.2 IP, 1.78 ERA, 25 H, 25 BB, 56 K
2. Anthony Rizzo, 1B, AAA Iowa (Cubs)
Jamie Squire/Getty Images
How does a .280-290 average with 25-30 homers a year sound to you?
Well, that's where optimists say Anthony Rizzo's peak—a peak that just seems to be climbing higher every day—lies once he is established in the majors. After switching organizations, he is posting similar numbers in Iowa as he did in Tuscon, but the former pull-happy hitter is now flashing his power to all fields
As Rizzo keeps crushing Triple-A pitching, it is getting tougher for the Cubs to keep him there. His time in San Diego last year does present some service-time issues that offer Chicago incentive to wait until July to call him up so that they can maintain control for an extra year. But the power-deprived C.U.B.S. could certainly use Rizzo's before they once again become Completely Useless By September (or much earlier).
What Chicago decides to do with cooling rookie Bryan LaHair must also be sorted out in order to make way for a Rizzo promotion, but, if anything, that is a good problem to have in the Windy City.
2012 Minor League Stats: .354/.415/.713, 35 R, 17 HR, 46 RBI, 2 SB
1. Wil Myers, 3B/OF, AAA Omaha (Royals)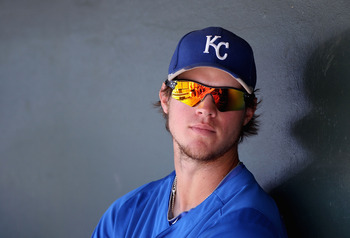 Christian Petersen/Getty Images
The only question left for Wil Myers is when he ends up in Kansas City. He already crushed Double-A ball to the tune of .343/.414/.731 with 13 homers in 35 games. During his 11-game stay in Triple-A with Omaha, he has continued to show power while hitting for a more sustainable average (.282).
It's important to note that he hasn't played third base since moving up to Triple-A, as he's been playing exclusively in center field. Kansas City's Jarrod Dyson and Mitch Maier have been filling in for regular center fielder Lorenzo Cain (hip).
The minor league numbers aren't a fluke. His scouting reports this year match his production. Act accordingly.
2012 Minor League Stats: (AAA Omaha - 11 Games) .282/.349/.590, 5 R, 3 HR, 6 RBI, 0 SB; (AA Northwest Arkansas - 35 Games) .343/.414/.731, 32 R, 13 HR, 30 RBI, 4 SB
Keep Reading