St. Louis Rams: Memorial Day News and Notes at Noon
May 28, 2012

Welcome to Monday's St. Louis Rams "News and Notes at Noon," the one-stop destination for all major Rams headlines and other information of interest for Rams Nation.  
I want to begin by sending my very best on this Memorial Day to all the troops, their loved ones and all former soldiers and military personnel who have served their nation. 
Rams Adjust Sam Bradford's Contract
Brian McIntyre of nfl.com reports that St. Louis quarterback Sam Bradford agreed to a slight contract adjustment, as you can read here.  
The adjustments were minor and only impacted how and when his 2012 salary would be delivered, not the dollar amount that he would receive.  Furthermore, there were no changes to his contract structure beyond this year.  
Updates From Ron Clements of CBS Sports Regarding OTA's and Rookie Signings
Ron Clements of CBS Sports shared a plethora of updates regarding the Rams at the end of last week, as seen here. 
One of many reports there include this one inferring that St. Louis general manager Les Snead plans to have each drafted player under contract by the conclusion of minicamp, which takes place June 12-14.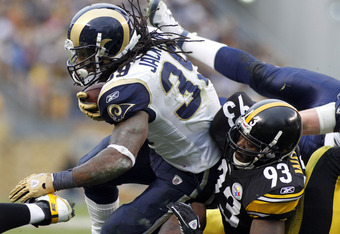 Justin K. Aller/Getty Images
Steven Jackson Looks at Life On and Off the Field 
In a video interview with Laura Okmin of msn.foxsports.com, three time Pro Bowl running back Steven Jackson touches on life on and off the field during his career with the Rams. 
One of the topics touched on is Jackson's enjoyment of traveling the world.  
Rams Rookie Wide Receivers Catching On With Their Quarterback
In an article for the St. Louis Post-Dispatch, Kathleen Nelson profiles rookie wide receivers Brian Quick (round two) and Chris Givens (round four). 
Both Quick and Givens have a shot at earning significant playing time this year.  Bradford likes what he has seen from both players thus far:
Givens first of all is extremely fast, I think he's a guy that defenses are going to have to be extremely aware of. If they fall asleep on him for a half-second at all, he's going to be by them. I think that's nice to have, just that added speed.

Then Quick, it's just extremely impressive watching him move. As big as he is, as tall as he is, he gets in and out of breaks really well.
One of the more intriguing training camp battles will take place at wide receiver, where six spots will likely be available from a group that includes the aforementioned Quick and Givens, Danny Amendola, Greg Salas, Steve Smith, Danario Alexander, Austin Pettis and Brandon Gibson.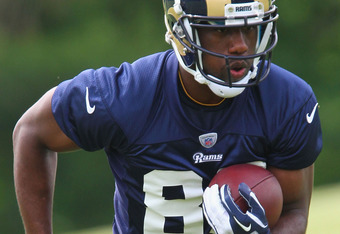 Dilip Vishwanat/Getty Images
Brian Quick Working Hard, Getting Ready To Make An Impact 
Rookie wideout Brian Quick is working hard to get ready for the upcoming campaign, according to an exceptional and detailed piece from Nick Wagoner at stlouisrams.com. 
The tall and talented Quick shares confidence in the above-linked article: 
I'll be able to take it (my football talent) how far I want it to go. At the end of the day, you still have to come out here and work just like the other guys do. If you look at other guys that have been successful, I try to follow in their footsteps.
One Rams player that has been extremely impressed with Quick is quarterback Kellen Clemens, who assisted with his workout at Appalachian State:
"You saw a very, very quality wide receiver (at the workout). He was a very good player with all of his stats at App State and he really impressed us with what he did at the workout and then you are just left salivating at what he could be. I mean, the upside is, well the sky is the limit for that kid.

He's an impressive young man. He could have a very, very good career in this league. You want to see a guy that has some ability but even more important has the hunger to take it to the next level and be an elite player. In throwing to him and getting to know him in that short hour and a half, two hours, it was fairly clear to see this kid was hungry and excited. He didn't have any ego which you run into sometimes especially at that position.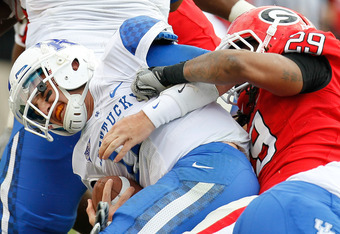 Kevin C. Cox/Getty Images
According to the above-linked article, head coach Jeff Fisher expects Quick to play and contribute early on: 
We wouldn't have taken him at the spot where we took him were we not convinced that he was one of those guys that could learn fast and help us very early in the season.

 
Jeff Fisher Says Sam Bradford Is a Franchise Quarterback
St. Louis head coach Jeff Fisher is not worried about Sam Bradford and his abysmal 2011 campaign, according to the words he told Jim Rome on Rome as shared in this piece by Dan Hanzus at nfl.com: 
You have to kind of delete last year, look back to the way he played his rookie year, under Pat Shurmur, who did a great job with him in this offense. We're very excited. Brian Schottenheimer's an outstanding coach and we've got a fabulous quarterbacks coach in Frank Cignetti. They're off to a real good start. It's really fun to watch him work and watch him improve.

The reason I came here is because of Sam. We've got a franchise quarterback here.
Fisher has been consistently complimentary of Bradford since taking over as Rams head coach. Perhaps this is part of a process of instilling a strong confidence level in a young QB who seemed to lose a bit of his swagger and confidence last season. 
In the above-linked Rome interview, Fisher also talks about cornerback Janoris Jenkins, the Rams defense and much more. 
Tony Softli's Top 50 2013 NFL Draft Prospects
Former NFL executive Tony Softli has released his top 50 NFL draft prospects for 2013 in this submission for 101sports.com. 
USC quarterback Matt Barkley takes the No. 1 spot with Arkansas QB Tyler Wilson checking in at No. 2.  Please click the above-linked article for Softli's complete list.  
Nick Wagoner's Friday OTA Review 
In case you missed it, Nick Wagoner reviewed the last day of last week's OTA in this piece for stlouisrams.com.  
Among other things, Wagoner said that Bradford had one of his better days thus far, that Steve Smith and Greg Salas had nice touchdown catches and that the Rams rookie cornerbacks have some tremendous ball skills. 
Have a great day as always, STL Rams Nation. 
Shane Gray covers the St. Louis Rams daily as a Featured Columnist for Bleacher Report. You are encouraged to check out the rest of his work here. Gray also owns and operates stlramscentral.com.