Nick Fairley Arrested: Should He Worry About His Job Like Us?
May 28, 2012

Ezra Shaw/Getty Images
Are professional athletes more likely to engage in reckless, dangerous and illegal behavior than the rest of us? As an employee, do they feel the same concern over losing their job for poor behavior as we do? Let's look at three recent issues and discuss after.
Detroit Lions defensive tackle Nick Fairley was arrested early Sunday morning, his second arrest in Alabama in the last two months.
Fairley passed a state trooper traveling at 100 mph. After initially refusing to pull over, Fairley finally did and was arrested without incident, appearing to be impaired. Prior to that arrest, on April 3, citizens called the police to report a car speeding through Mobile, AL. Fairley was eventually pulled over and arrested for marijuana possession.  
Fairley just completed the first year of a four-year deal worth just under $10 million.
Chicago Bears' wide receiver Sam Hurd, meanwhile, is facing charges of attempting to purchase large quantities of cocaine and marijuana with the intent to distribute. After playing for the Cowboys from 2006-2010, Hurd signed a three-year, $5 million free-agent contract with the Bears prior to the 2011 season. 
Also, former Buffalo Sabres farmhand Sean McMorrow pleaded guilty to conspiracy to possess with intent to distribute large amounts of marijuana, which he smuggled from Canada to the United States. He faces a penalty of 20 years in prison and a fine of $1 million. McMorrow played in Scotland last year.
I've run into four situations of poor behavior in my own workplace.
At 3 a.m., a new employee was found on the roof of the hotel where training was being held at, drunk in his underwear. Getting bailed out by the vice president ended his employment at the company.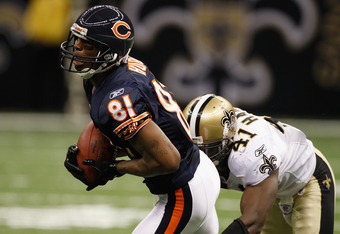 Chris Graythen/Getty Images
At the same company, a sales representative was arrested and charged with assault and kidnapping when his date refused his sexual advances. He was in jail for three days without telling his boss.
During training for a new job, another new employee was sent home for failing a drug test.
And finally, at a national meeting, a sales representative got up on stage while a singer was performing and danced around him quite provocatively, obviously quite drunk.
In all four situations, the employees who misbehaved were fired immediately and without debate.
This is an interesting question. Professional sports is an industry, a profession. To the people involved, it's their job, their living. But how much is it really like our jobs? Where's the line that marks the differences?
While the athletes are employees, they are also the product. We've seen the disasters that have been replacement players.
But I don't think that really differs from any other job. In every job, your pay and job security depend on three things: the revenue produced by your industry and company, your role in the production of that revenue and how easily you're replaced. Professional athletes just have more—a lot more—chips on their side than you or I do at our jobs. And even within our jobs, some people have more chips than others. The successful sales rep gets more rope than the rep at the bottom of the rankings.
Even within professional sports, this applies. In the three cases above, Fairley clearly has more chips than Hurd, and McMorrow is out. Obviously, the severity of their offenses has to be taken into account also.
What do you think? Am I on to something? Or am I an idiot?
Follow me on Twitter@sprtsramblngman