Pittsburgh Steelers' Isaac Redman Targets Repeat of Barry Foster's 1992 Success
May 28, 2012

A perfect storm of events has presumably given Isaac Redman the big break his NFL career has needed.
With Todd Haley's run-first attack taking over the Steelers' offensive playbook and Rashard Mendenhall out for presumably the entire 2012 regular season, Redman has the opportunity to step into the starter's spot for a team that appears eager to get back to being a dominant rushing attack.
Redman (6'0", 230 pounds), a third-year back out of Bowie State, has averaged 4.5 yards per carry on only 162 touches since joining the active roster in 2010. But in all fairness, most of Redman's utility has come in short-yardage or goal-line situations.
Mendenhall's injury now puts Redman in the position to make a name for himself beyond just his short-yardage utility. Perhaps it is fitting that the 2012 season marks 20 years since another Pittsburgh running back emerged on the national stage in the wake of a coaching change.
In 1990, legendary Steelers coach Chuck Noll drafted Barry Foster (5'10", 223 pounds) as the 19th pick in the fifth round of the NFL draft. The Arkansas back—at 5'10, 223 pounds—was brought in primarily to be a dual-threat not only in the backfield for the Steelers but also as a special teams returner.
The 1990 season saw Foster in both roles but only in a small capacity, getting only 36 touches from scrimmage and only returning three kicks. In 1991, Foster was moved to the running back role exclusively, and started off the season strong with a week-two performance against the Buffalo Bills that saw him rush for 121 yards including a 56-yard scamper.
But an ankle injury limited Foster to only nine starts in 1991 as the Steelers plummeted to seventeenth in the league in rushing and missed the playoffs at 7-9. The 1992 season saw a milestone changing of the guard in Pittsburgh, as Bill Cowher stepped into the role of head coach, replacing Noll and beginning a new chapter in Steelers history.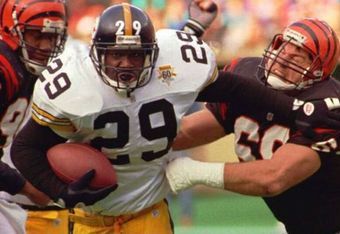 Committed to establishing the run, Cowher built the 1992 season around a fully-healed Foster, who would start in fifteen out of sixteen games, touching the ball 390 times from scrimmage and racking up not only an AFC leading 1,690 yards (23 short of the NFL lead) but also the Steelers' team record for a season previously held by Franco Harris.
Behind Foster's rushing success (and AFC Offensive Player of the Year honors), the Steelers finished 1992 with a record of 11-5, losing in the Divisional Playoffs to the Buffalo Bills.
As impressive as 1992 was for Foster, 1993 looked even more promising before another ankle injury limited him to only nine games.
The same was the case in 1994, as a sprained knee limited him to only eleven games as the Steelers played all the way to the AFC Championship Game that year, narrowly losing to the San Diego Chargers, 17-13. Sadly, it would be Foster's last game as a Steeler amidst his nagging injuries and the rise of Bam Morris in his absence.
Foster would only play one more year in the league…
Twenty years later, and Foster's season rushing record of 1,690 yards still stands over a Steelers team in the midst of another coaching change with Haley in as offensive coordinator. As Foster was primarily an unknown in his first two years with the Steelers (132 attempts, 691 yards), Redman is in a similar position (162 attempts, 726 yards). And just like Foster in 1992, Redman is being spirited as the go-to guy in 2012.
The round number timing is no guarantee of success for Redman, but it can never hurt to have a little history behind him either.