Albert Pujols vs. Alex Rodriguez: Who Has Best Shot at Bonds' Home Run Record?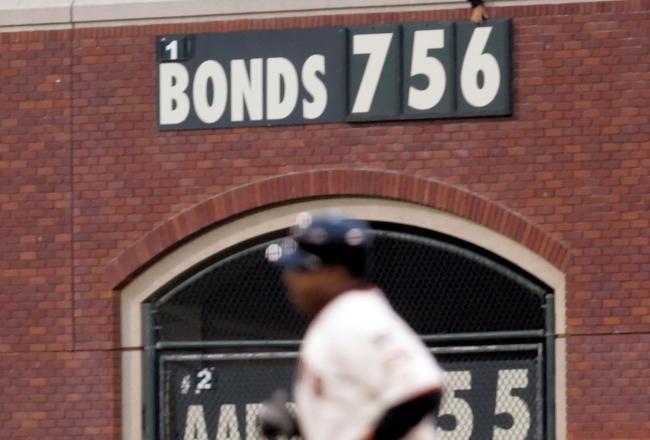 Major League Baseball's career home run record is without a doubt the most hallowed record in American professional sports. Every little kid who ever picks up a baseball bat will daydream about breaking it at some point.
Clearly, that's easier said than done. Babe Ruth held the record for close to 40 years before Hank Aaron broke it in 1974, and Aaron held the record for over 30 years before Barry Bonds broke it in 2007.
And Bonds, as we all know, had a little—ahem—"help" in his pursuit of baseball's all-time home run record. Nonetheless, his career total of 762 still stands. Like it or not, that's the score to beat.
Odds are Bonds isn't going to hold the record for nearly as long as Ruth or Aaron did. There are two active players who stand a very good chance of topping it: New York Yankees third baseman Alex Rodriguez and Los Angeles Angels first baseman Albert Pujols.
A-Rod is currently sitting on 636 career home runs. Pujols just hit the 450th career home run of his career on Thursday night, and he holds the distinction of being the fourth-youngest player to ever reach 450 home runs.
So which of them has the better shot at breaking Bonds' home run record?
That's the kind of question that calls for immediate discussion.
What A-Rod Needs to Do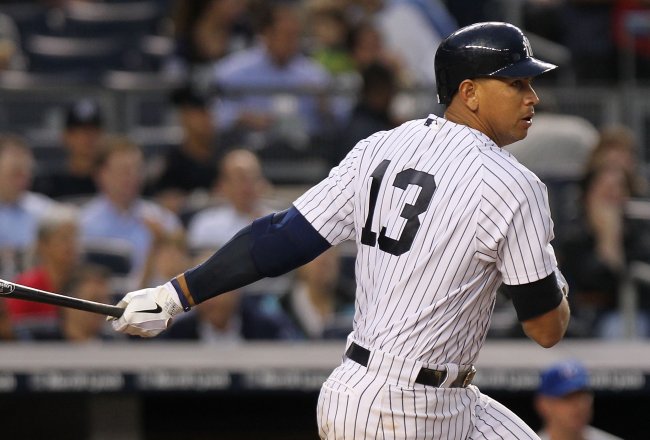 Nick Laham/Getty Images
Alex Rodriguez used to be a lock for at least 30 home runs and 100 RBI every year, but that's not the kind of player he's going to be from now until the end of his career.
A-Rod is getting old. He's 36 now, and he's going to turn 37 in July. His body has a lot of mileage on it, and he's shown over the last few years that he's just not going to be able to stay healthy for a full season.
Nevertheless, he still has time on his side. He's signed through the 2017 season, meaning he has five-and-a-half seasons to hit the 126 home runs he needs just to tie Bonds.
A-Rod has seven home runs in 43 games this season. Per ESPN.com, that puts him on pace for 26 home runs over 158 games played. That would give him 655 career home runs at the end of the season, putting him just 107 behind Bonds.
The problem with that projection is the 158-games-played part. Given A-Rod's recent history, that's not going to happen. The bar should be set at something more like 135 games.
So let's say A-Rod hits 20 home runs this year. That would put him at 649 for his career.
He would still be in good shape, believe it or not. If A-Rod hits 20 home runs a year from 2013 through the end of his current contract in 2017, he would find himself with 749 career home runs, just 13 away from Bonds.
So to break the record, all A-Rod would have to do is pitch in a few extra home runs per season. He could hit 23 here, 24 there, maybe even as many as 25 or 26. If he could do that, he could easily break Bonds' record before his time is up in 2017.
We're talking about relatively small home run numbers compared to what we're used to seeing from him, but I look at that as an advantage. A-Rod doesn't need to be a prolific home run hitter in order to catch Bonds.
If he somehow manages to get a second wind and morph back into a prolific home run hitter in the final five years of his career, he's going to surpass Bonds with ease.
What Pujols Needs to Do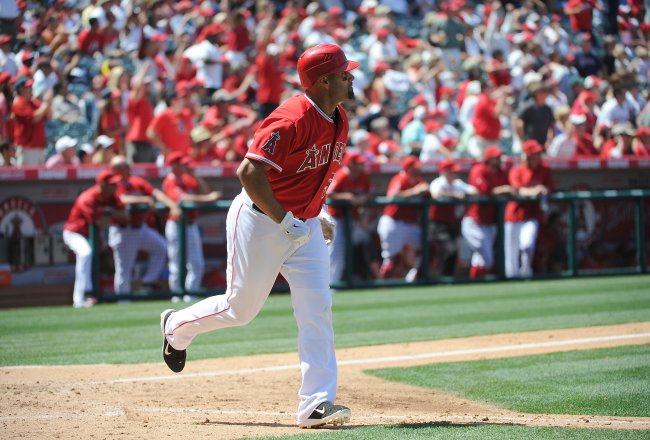 Lisa Blumenfeld/Getty Images
Albert Pujols is currently on pace to have the worst season of his career. He's currently batting .225 with five home runs, and we're almost at the end of May.
However, things are looking up for Pujols. In nine games since the Angels fired hitting coach Mickey Hatcher, Pujols is hitting .278 with four home runs. He hit .212 with one home run in 36 games prior.
Because of Pujols' recent surge, his season projection of 18 home runs on ESPN.com is a little conservative. He looks like his old self in the batter's box, so it's fair to expect him to hit somewhere between 25 and 30 home runs (numbers suggested by FanGraphs).
Let's say he hits 25 home runs this season. That would bring his career total to 470, 292 home runs away from Bonds.
If Pujols averages 25 home runs per season up until the end of his contract in 2021, he would end up with 695 home runs, 67 short of Bonds' record.
So yeah, 25 a year is not going to cut it, and it must be kept in mind that A-Rod could break Bonds' record at some point, thus setting the bar even higher.
It would take something more like a 35 homer-per-year average for Pujols to have a shot at breaking the all-time home run record. If he ends with 25 this year and then hits 35 a year from 2013 to 2021, he would end up with 785 career home runs.
This is asking a lot, but we're talking about a guy who never hit fewer than 32 home runs in the first 11 seasons of his career. In addition, Pujols has arguably the best hitting mechanics of any right-handed hitter in MLB history.
It's not entirely out of the question that he will be able to do exactly what he did in the first 11 years of his career over the last nine years of his career.
What's Standing in A-Rod's Way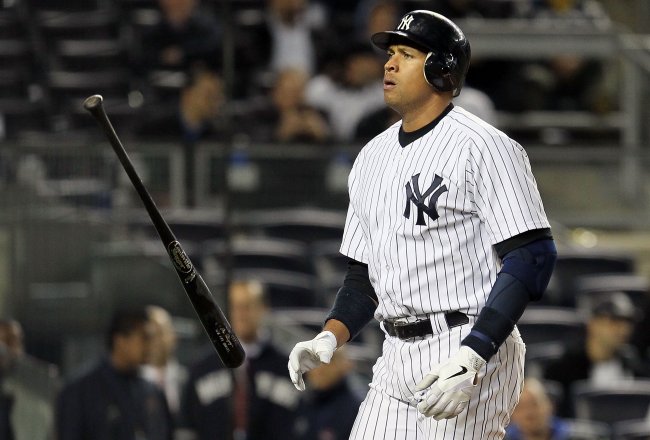 Jim McIsaac/Getty Images
Three things come to mind: age, injury and regression.
We can all agree that A-Rod is going to be a major injury risk in the remaining years of his career. He's been done in by nagging injuries each year since 2008, and that's going to continue to be the case no matter what kind of shape he keeps himself in.
The chief concern is that of a major injury, perhaps more than one, happening at some point down the line. Considering the amount of wear and tear A-Rod has in his knees and hips, it almost seems likely that he will suffer at least one injury that will put him on the shelf for an extended period of time.
Even if he manages to avoid a major injury, A-Rod still has age to worry about. For a guy that already looks over the hill, just imagine how old he will look when he turns 40 in 2015.
I'll maintain my assertion that A-Rod has time on his side, but that doesn't mean Father Time isn't allowed to interfere with his career. In the years to come, he could easily go from being a shell of his former self to being next to useless.
What's Standing in Pujols' Way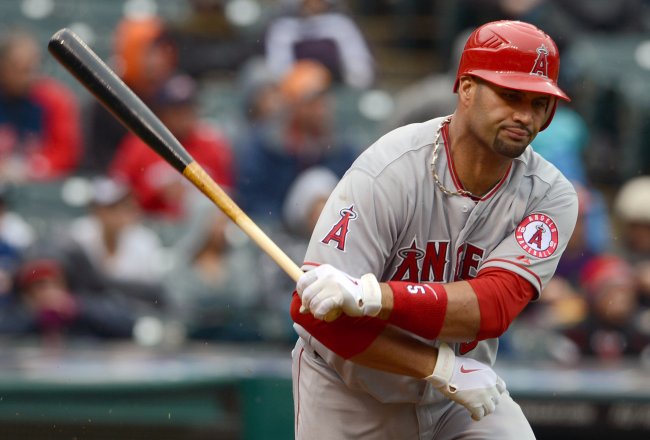 Jason Miller/Getty Images
Pujols has managed to stay pretty healthy throughout his career, so the fear of injury isn't quite as bad with him as it is with A-Rod. It helps that Pujols plays first base, one of the few positions in baseball that doesn't do a lot of damage to a player's body.
Nonetheless, Pujols still has to worry about age and regression. He's already starting to look a little old, and he still has nine years left to go on his contract. He will be past 40 by the time it finally comes to an end.
But let's be clear about one thing: Pujols may be starting to look a little old, but his struggles earlier this season had more to do with his mechanics than his age. He's since fixed his mechanics, and the results speak for themselves.
There will come a time when Pujols' bat will start to slow down, and then it will be on him to make adjustments. I trust that he will.
The best example I can think of is David Ortiz. He looked doomed after he lost the bat speed that made him one of the game's most feared hitters between 2003 and 2007, but he's still ticking because he figured out a way to compensate for it.
Pujols will do the same. He won't be able to hit 40 home runs year after year, but he will be able to stay productive.
Verdict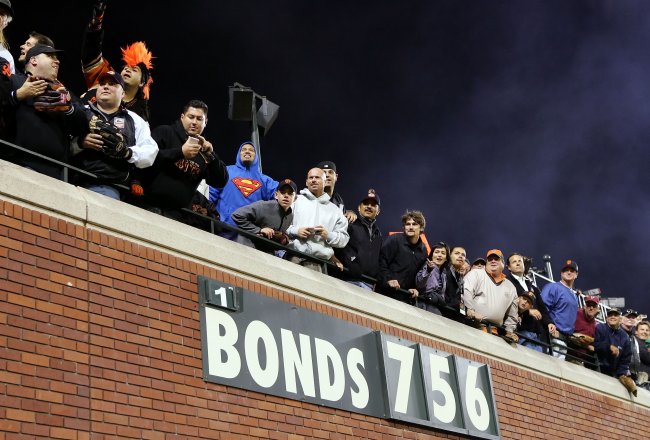 Lisa Blumenfeld/Getty Images
Since A-Rod is a lot closer to Bonds' record than Pujols is, the first question we should ask is whether or not he will catch him.
I think he will.
It won't be easy, but A-Rod has a significant amount of time left to hit a relatively small number of home runs. The injury and age concerns are very real, but they won't keep A-Rod from breaking the record unless he literally falls apart.
He won't shatter the record, though. In fact, I would be shocked if A-Rod surpassed 770 career home runs.
Who will be baseball's all-time home run champ?
The question then becomes whether Pujols will catch A-Rod.
He won't.
From where Pujols is now, he needs to hit over 300 home runs over the next nine-and-a-half years just to catch Bonds. That's a lot of home runs, and the bar is only going to be raised higher once A-Rod breaks Bonds' record.
Pujols will be able to stay productive for the majority of his 10-year contract with the Angels, but asking him to slug over 300 home runs over the next nine-plus years is asking a bit too much. I have no doubt that he will surpass Ruth and will make a run at Aaron, but that's where my expectations end.
I would love to see Pujols on top of baseball's all-time home run list, but it's not going to happen. The list will read "1) Rodriguez, 2) Bonds."
For better or for worse.
If you want to talk baseball and/or advanced robotics, hit me up on Twitter.
This article is
What is the duplicate article?
Why is this article offensive?
Where is this article plagiarized from?
Why is this article poorly edited?