Whitney Mercilus and Other Early Candidates for Defensive Rookie of the Year
May 24, 2012

Jonathan Daniel/Getty Images
The 2012 NFL draft was deep with defensive talent, particularly at defensive tackle and cornerback. There are already several viable candidates to emulate 2011's seventh-overall selection, Aldon Smith, and capture the award for defensive rookie of the year.
Here is an early projection of the five first-year defenders most likely to be in the running for the award:
Whitney Mercilus DE/OLB, Houston Texans
Arguably the strongest candidate on this list, rush end Whitney Mercilus has gone to the ideal defensive scheme to suit his natural pass-rushing ability. Pairing Houston Texans defensive coordinator Wade Phillips with the player who led college football in sacks is a dream scenario.
Phillips' system is a less a 3-4 and more of a 5-2 front, requiring almost constant blitzing from the two outside linebackers. Mercilus has the initial burst, length and closing speed to put up monster numbers in this defense.
Morris Claiborne, CB, Dallas Cowboys
The Dallas Cowboys did the smart thing when they traded for LSU cover man Morris Claiborne. Defensive coordinator Rob Ryan runs a heavy-blitz, multiple front defense that needs cornerbacks capable of surviving in isolated man coverage.
Claiborne offers true shutdown potential on the outside. He possesses the size, anticipation and ball skills to flourish in a defense that can count on consistent pressure from the likes of DeMarcus Ware and Jay Ratliff. Playing across from free-agent acquisition Brandon Carr should also ensure Claiborne sees plenty of the ball.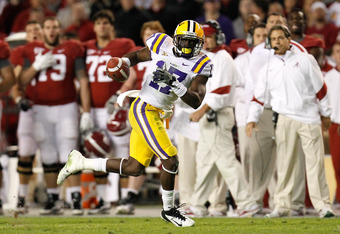 Kevin C. Cox/Getty Images
Chandler Jones, DE, New England Patriots
Ex-Syracuse star Chandler Jones is being positioned to be the chief pass-rush threat in Bill Belichick's hybrid schemes. Jones has the speed and long arms to cause havoc as a 'joker' rusher on the outside.
Belichick will be able to design plenty of fronts to help create favourable matchups for Jones. Having the superb Vince Wilfork clogging up the middle will also ensure one-on-one rush opportunities on the outside.
Luke Kuechly, LB, Carolina Panthers
Former Boston College tackling machine Luke Kuechly should post a high number of stops in his first season as a pro. He will align at weak-side linebacker and be joined by terrific duo Jon Beason and James Anderson.
That's excellent company for a rookie to keep and Kuechly will be in a position to make a lot of plays in Ron Rivera's linebacker-friendly defense. Playing behind brilliant defensive end Charles Johnson should leave Kuechly free to roam the field and get around the ball.
Stephon Gilmore, CB, Buffalo Bills
Stephon Gilmore has joined a Buffalo Bills defense that has added pass-rushers Mario Williams and Mark Anderson to the mix, and has the huge Marcell Dareus pushing the pocket up front. Gilmore is the kind of aggressive, ball-hawking cornerback who will relish capitalising on this pressure.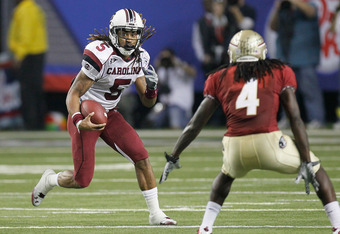 Kevin C. Cox/Getty Images
New defensive coordinator Dave Wannstedt likes to utilise aggressive coverage and has relied on bump-and-run concepts in the past. At 6'0" and 190 pounds, Gilmore has the size and speed to rough up receivers at the line and also stay close deep down the field.
Conclusion
Rookie of the year awards are all about numbers, and that's why Mercilus is the best early candidate to claim this season's prize. He will be given plenty of opportunities to do what he does best and rush the passer.
Claiborne has a strong chance if he can deliver the tight coverage and big plays in the secondary that the Cowboys need to make their daring system work. If Kuechly can spearhead the defensive revival the Panthers need to become a playoff contender, he will be hard to overlook when the votes are submitted.