Fantasy Baseball: 10 Primary DH Sluggers Worth Getting on Your Team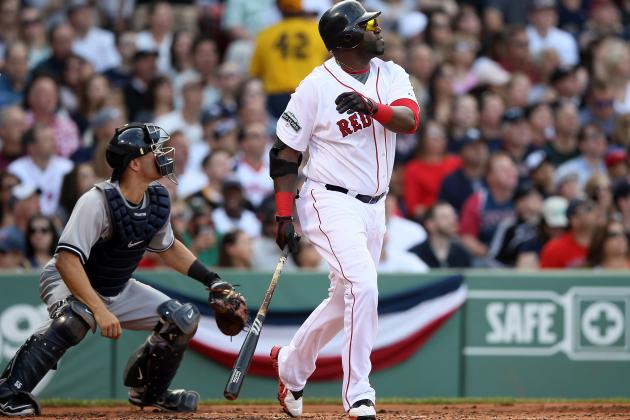 Elsa/Getty Images

If your fantasy baseball team is in need of power, grabbing a DH on the waiver wire or trading for one can certainly solve that problem, as they often are some of the game's best sluggers.
Here are 10 of the best DH's whom you should look to acquire.
(While some of these players qualify at an additional position or two, the majority of their at-bats this season have come when a DH.)
Begin Slideshow

»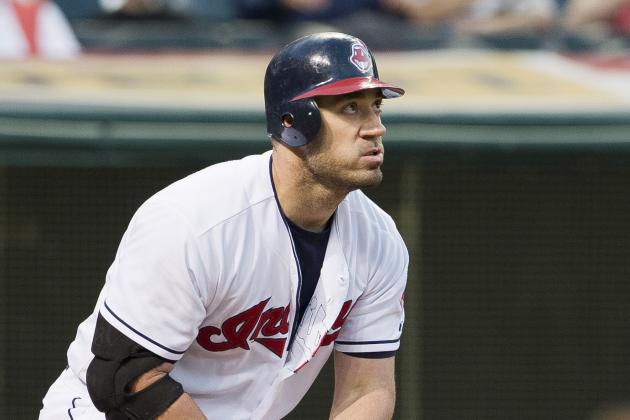 Jason Miller/Getty Images

After he hit only 47 home runs in the past four seasons, it was fair for fantasy owners to write off Travis Hafner as a legitimate source of power entering 2012.
But Hafner has already hit six home runs this season, which has him on pace to finish with 23. And he's also been a huge asset in the RBI department with 23 (on pace for 87).
Hafner is too much of an injury concern (under 100 games played in three of last four seasons) and doesn't provide nearly enough runs (on pace for 53) for ownership in 10-team leagues, but he's definitely worth a roster spot in deeper formats.
Al Bello/Getty Images

Once a perennial fantasy stud, Justin Morneau was ignored by many fantasy owners this year after two consecutive injury plagued seasons in 2010 and 2011.
While he's already had a stint on the DL this season and is clearly no longer the player he once was, he's worth on a spot on your team.
Currently the owner of a .230/.310/.470 slash line, Morneau has already hit six home runs in only 100 at-bats. Furthermore, two of those home runs have come since he returned from the DL last Wednesday.
Morneau is productive enough that when healthy, he's a fantasy asset. Twenty-five home runs from him is not out of the realm of possibility.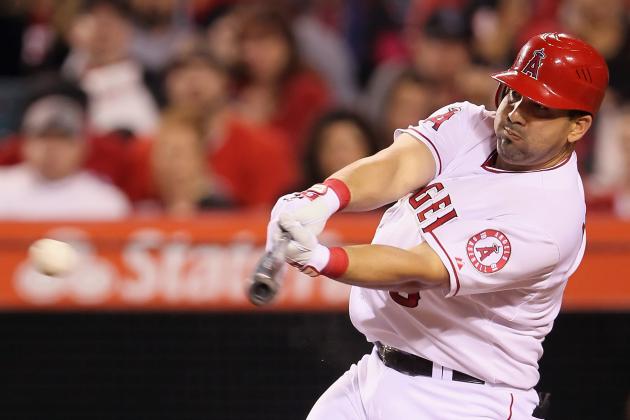 Jeff Gross/Getty Images

Entering the season after not playing in a MLB game in 22 months due to a leg injury, Kendrys Morales has been a decent fantasy contributor thus far in 2012.
He's stayed relatively healthy and is batting .287, but Morales has only hit three home runs along with 13 runs and 11 RBI.
Morales just hasn't looked like the 30 home run guy he did in 2009 and the start of 2010, but considering the layoff he's had, some of that can fairly be attributed to rust.
He still has 15-20 home run potential and hits in a great spot (fourth) in the lineup to rack up RBI; Morales is worth stashing for when he gets it going.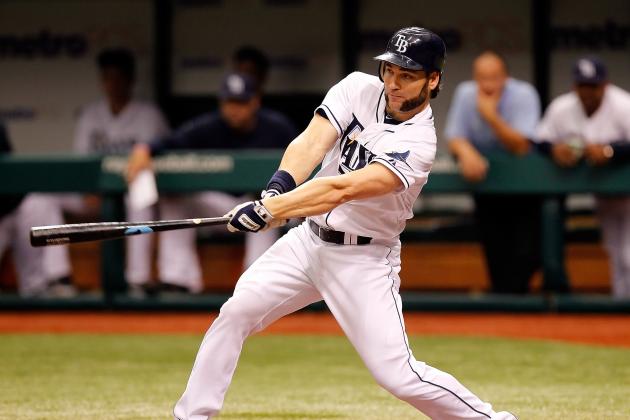 J. Meric/Getty Images

Luke Scott has been excellent in his first year with the Tampa Bay Rays.
He's hit already launched eight balls and batted in 31 runs, which have him on pace for 29 and 112, respectively.
Scott's never topped more than 77 RBI in a season, so it seems unlikely he'll fulfill that pace. But still, if he gives you 80-90 RBI, that's plenty fine.
Also, expect him to continue hitting the long ball at a high clip; Scott averaged 25 of them from 2008-2010.
Scott is currently owned in 79.7 percent of ESPN standard leagues.
With the level production he's delivering and will continue to, he should be owned in all of them.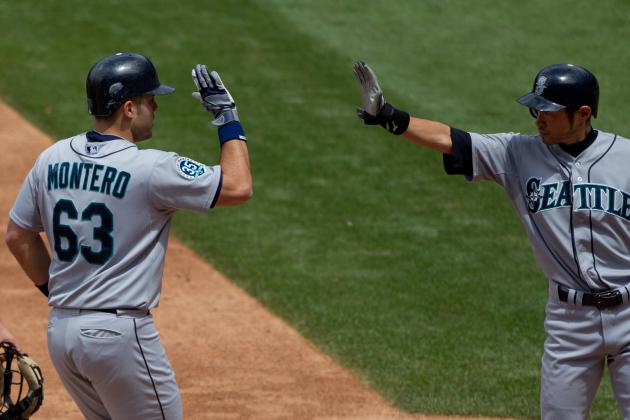 Justin Edmonds/Getty Images

With a batting average of .257 and an OBP of only .293 so far, Jesus Montero might not be playing too well from a real-life standpoint. but from a fantasy perspective, he's been very useful.
Montero currently has six home runs and 22 RBI, which put him on pace for 21 and 77, respectively.
Getting that type of production from someone who also qualifies at fantasy's weakest position (catcher), has great value.
Plus, albeit in a small sample size of 61 at-bats, Montero displayed the ability to hit for average (.328) last season with the Yankees.
Don't be surprised at all if he hits .275-.285 the rest of the way.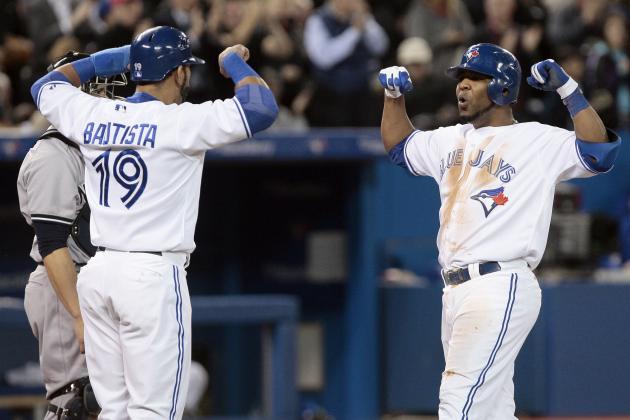 Abelimages/Getty Images

A late-round pick in the majority of fantasy drafts this season, Edwin Encarnacion has been fantasy's best value thus far, currently ranking sixth overall on ESPN's Player Rater.
He's hit 14 long balls with 37 RBI, 25 runs, six steals and a .269 average. That has him on pace for an unfathomable fantasy season of 50 home runs, 133 RBI, 90 runs and 22 steals.
Although maybe not to this degree, we all knew Encarnacion had power, as he's hit 26 home runs in a season before.
What's held up Encarnacion from having much fantasy value in the past was his inability to stay healthy; he played in less than 100 games in two of the past three seasons.
But this season, he's played in every single one of the Blue Jays 45 games.
He will almost certainly not reach the aforementioned statistical paces, but that doesn't mean Encarnacion's performance has been a fluke or that you shouldn't try and trade for him.
Encarnacion's always had great potential and now seems to be realizing it. He likely ends the year with 35-40 home runs.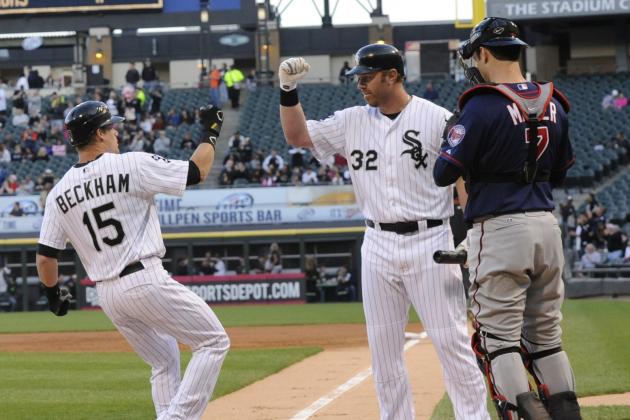 David Banks/Getty Images

After he had one of the most disappointing fantasy seasons in recent memory in 2011 (.159 average, 11 home runs and 42 RBI), it appeared to many (including me) that Dunn was, well, done.
But so far in 2012, Dunn is looking like the guy who hit at least 38 home runs in seven consecutive seasons.
Actually, he's looked better than that. Dunn is currently on pace for an incredible 52 home runs, 122 RBI and 92 runs.
It appears that Dunn's 2011 performance was just an inexplicable aberration.
If Dunn's current owner in your league wants to sell high, let him. Expect at least 25-30 bombs from Dunn the rest of the way.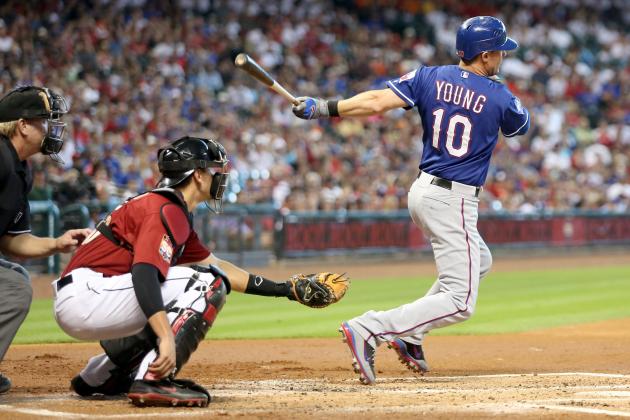 Thomas B. Shea/Getty Images

After a season in which he finished third in the AL in batting average (.338), hit 11 home runs and tallied 106 RBI along with 88 runs, Michael Young (.267 average and three home runs) has been a bit of a fantasy disappointment this year.
But Young's been one of the most consistent hitters over the years (.308 BA), so expect his average to begin rising in no time.
Plus, Young hits in the middle of baseball's best lineup (first in runs scored), so he should be able to amass at least 80 runs and 80 RBI before the season's done.
Young might not be able to reach the 20 home run plateau he did as recently as 2009 and 2010, but he should be able to finish with 10-15 bombs. And considering what he can produce in the other mentioned fantasy categories, Young's a great option for your team.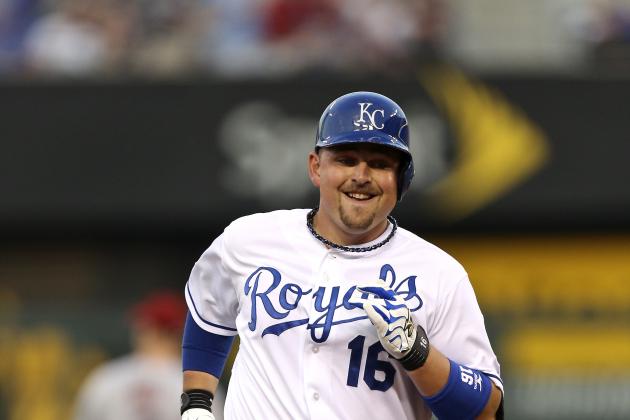 Ed Zurga/Getty Images

Fantasy owners have long awaited a power breakout from Billy Butler.
He has always been a great hitter (.297 career average) and a doubles machine, hitting at least 44 of them in each of the past three seasons. But during that time, he never hit more than 21 home runs in a season.
Well, fantasy owners are rejoicing this season as Butler has already hit nine home runs, which has him on pace for 34. He's also hitting .299 and with 32 RBI (on pace for 121).
Now that Butler's hitting for power, there's really nothing holding him back from fantasy superstardom. Simply put, he's consistently fantastic and a great trade target.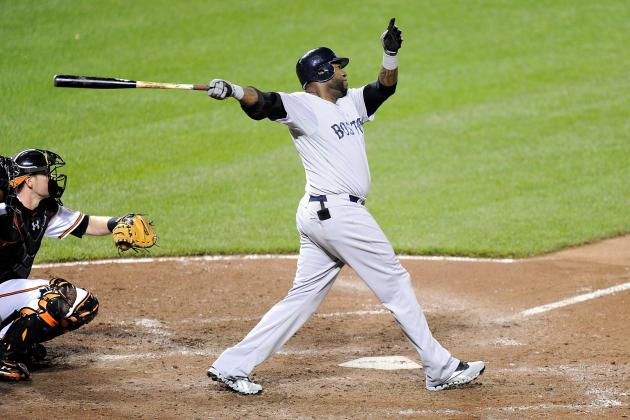 Greg Fiume/Getty Images

At age 36, in his 15th season in the major leagues, Big Papi has played like he's still in his prime so far in 2012.
Ortiz currently sports a slash line of .325/.383/.533 with 10 home runs as well as 30 runs and RBI. That puts him on pace for 37 home runs with 110 runs and RBI.
The only one of those paces that seems a bit unlikely is the 110 runs, considering Papi hasn't topped the 90 mark since 2007.
But pencil Papi in for a .300 average with 30 home runs and 100 RBI, and if he can reach around 90-95 runs, then he won't just finish the season as the best DH, he'll finish as one of fantasy's best overall.