NFL Free Agency: 5 Best Defensive Tackles Left on the Market
May 23, 2012

Wesley Hitt/Getty Images
Although edge rushers like DeMarcus Ware and Jared Allen get all the headlines, defensive tackles remain the most important players on a defense. There are some intriguing options left on the free-agent market for those teams needing to plug the middle. Here are the five best defensive tackles still available:
Anthony Adams, Chicago Bears
Anthony Adams was surprisingly released by the Chicago Bears in March, but the veteran remains one of the more proficient 4-3 nose tackles in the league. Adams excels at tying up blockers and creating clear lanes of pursuit for linebackers.
Players like Brian Urlacher and Lance Briggs have benefited from Adams' ability to command double-teams. Any 4-3 team running an odd front and looking to get more stout in the middle should strongly consider offering Adams a contract.
Fred Robbins, St. Louis Rams
Age may have finally caught up with Fred Robbins, but the 35-year-old is still a force against the run. Robbins offers the size to push the pocket and be the focal point of a rush defense.
Any 4-3 team soft against the run should be willing to overlook the age concerns and add this Super Bowl winner to the rotation.
Aubrayo Franklin, New Orleans Saints
It's remarkable how far Aubrayo Franklin's stock has fallen in only one season. This time last year he was the hottest commodity amongst free-agent nose tackles.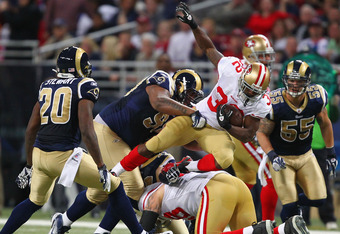 Dilip Vishwanat/Getty Images
However, an ill-suited role in the New Orleans Saints' 4-3 front left Franklin out in the cold. Don't doubt his ability. The 31-year-old can still anchor the interior as well as anybody and is a hulking run stuffer.
At 6'1" and 317 pounds, Franklin offers natural leverage and raw power to take on and force back blockers. He operates best when head-up on a center and should interest teams running a traditional, 2-gap 3-4.
Albert Haynesworth, Tampa Bay Buccaneers
The attitude and work ethic issues surrounding Albert Haynesworth are well-documented. However, the disgruntled veteran can still be devastating when he plays to his ability.
Finding the right role for Haynesworth shouldn't be as tricky as it seems. He is a pure pass-rusher from the defensive tackle position and should only be utilized in the situations which demand his talents.
Keeping him happy in limited action is the hard part, but this is certainly Haynesworth's last chance to rescue his controversial career. Given how often teams employ nickel fronts to combat pass-happy offenses, a player like Haynesworth could be very useful for the right coach.
Tommie Harris, San Diego Chargers
Another player who works best as an interior rusher is Tommie Harris. Released after only one season with the San Diego Chargers, Harris still has enough savvy and quickness to apply pressure through the middle.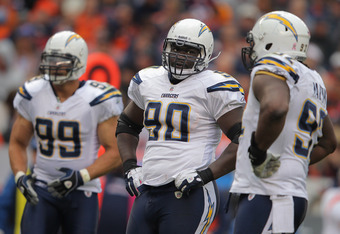 Doug Pensinger/Getty Images
He notched three sacks in 2011 and as a 3-technique tackle, Harris can still be a productive lineman. Despite seeming to have been around forever, the former Chicago Bears standout is still only 29.
Harris would be a useful addition to a 4-3 rotation. Teams like the Cleveland Browns and Jacksonville Jaguars could both use an inside pass rusher like Harris.
Conclusion
Stout play in the middle is essential for any defense. Successful outside rushers rely on their interior mates to occupy blockers and create one-on-one matchups.
A consistent push on the pocket forces the running back to bounce plays to the outside and pressure up the middle causes quarterbacks to leave the pocket and run right into the edge rushers.
No matter the alignment, teams looking for help in the middle of the defense should consider offering a short-term deal to one of these experienced tackles.