3 Undrafted Free Agents Who Will Likely Make an Impact
May 23, 2012

Chris Trotman/Getty Images
Three undrafted rookies from the 2011 NFL class that went on to make their respective signing clubs' rosters and provide impactful playing time are Doug Baldwin, Dane Sanzenbacher and Henry Hynoski.
Baldwin was by far the headliner, drawing Rookie of the Year consideration and performing as one of the top slot receivers in the NFL last year for the Seattle Seahawks according to Pro Football Focus. 
Within his surface line of 51 receptions-792 yards-15.5 average-4 touchdowns, the Stanford product averaged 6.2 yards after catch and was only charged with seven drops.
The Chicago Bears' Sanzenbacher was another undrafted prospect turned useful slot receiver.  Pro Football Focus charted him at 404 total snaps, though he graded negatively overall. 
His biggest struggles appeared to be with drops (20.6 drop percentage, seven of 34 targets) and lack of yards after reception (2.2 average).  The latter aspect was not surprising given the lack of explosion apparent in his evaluation at Ohio State and his testing metrics.
Hynoski proved to be a valuable weapon in the Super Bowl-winning New York Giants' offensive backfield.  Spread over 373 snaps, the hulking rookie from Pitt performed more consistently as a receiver and in pass protection than in lead run blocking per PFF's grades.
But at just over 6'0" and 260 pounds, he has the build and power to be a weapon in the ground game; development which could result in him being a complete-skillset fullback.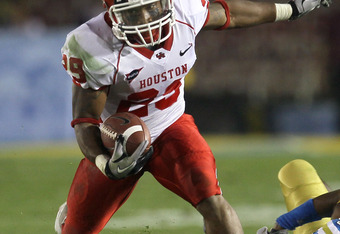 Stephen Dunn/Getty Images
Our attention now turns to the most recent crop of undrafted free agents following the 2012 lottery and seeking to identify three candidates that could emerge as significant agents of playing time for their teams, even if a Baldwin-like performance cannot be expected.
Michael Hayes, RB, University of Houston, 5'8.5" 200 lbs, San Diego Chargers
Anyone following my writing and opinions knows that Hayes has been a personal favorite of mine throughout the 2012 evaluation process as a late-round/PFA gem at running back.  In a previous article, I succinctly discuss his physical characteristics and positional traits that translate very well to a potential No. 2 role.
My anticipation for Hayes' NFL career heightened when he signed with the Chargers, who have left the all-important role of backup halfback wide open behind incumbent bell cow Ryan Mathews.  Look for him to beat out fellow rookie Edwin Baker (seventh round, Michigan State) and former undrafted veteran (2009) Curtis Brinkley.
With his advanced ability as a receiver and change-of-pace offering to Mathews' physical style, along with the latter's struggles with health and fumbles, Hayes could see between 75 and 100 touches and approach 500 yards from scrimmage in 2012.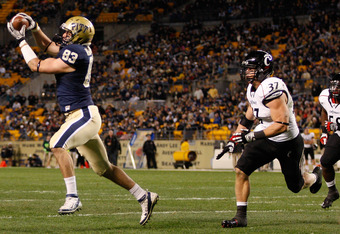 Jared Wickerham/Getty Images
J.K. Schaffer, MLB, University of Cincinnati, 6'0.5" 240 lbs, Jacksonville Jaguars
As a proponent of the 4-3 defensive alignment, I tend to put a lot of emphasis on a middle linebacker prospect's missile capability.  Someone that combines violence with speed, athleticism and targeted abandon.
When I evaluated Schaffer last winter, there just was not enough dynamic for me to put on a draftable grade or even like him much as a UDFA.  But he plays with a non-stop motor, is a sure tackler, and does possess a lot of strength and explosion in the phone booth: a confined area at the point of attack where two men converge for positioning that often makes or breaks the success of that play.
He still lacks the ideal speed and range to play mike 'backer for me but Ourlads' latest depth chart has him No. 2 behind Paul Posluszny in Jacksonville.  This means that organization thinks enough of him that he is one injury away from being a starter.  Schaffer's profile also lends itself to a value projection on special teams and he may even develop into a strong-side outside linebacker in a 4-3.
Drew Butler, P, University of Georgia, 6'1" 205 lbs, Pittsburgh Steelers
A punter may seem an odd choice for a small grouping of undrafted free agents that may impact their teams as rookies.  But it is a vital role on every club and, as my No. 2-rated punter in this class (behind the Jags' Bryan Anger, third round out of Cal), Butler should easily beat out incumbent veteran Jeremy Kapinos.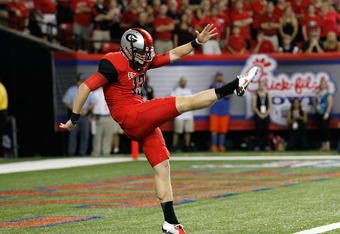 Kevin C. Cox/Getty Images
The son of former University of Georgia and Chicago Bear Super Bowl kicker Kevin Butler, he enjoyed a stellar career for the Bulldogs. 
His career gross average of 45.7 yards per punt ranked second in the class, while he placed four times as many kicks inside the 20-yard line vs. touchbacks and forced a fair catch on almost one quarter of his efforts.
The Steelers made two brilliant signings after the 2012 draft that should greatly enhance their special teams right away.  Butler was one; and Marquis Maze, the dual return specialist from the University of Alabama, is the other. 
These two are also part of the icing on the cake that was another seemingly strong draft haul for the Black and Gold.