NFL's New Padding Rule Is Just Another Sign League Isn't Interested in Safety
May 22, 2012

Chip Somodevilla/Getty Images
If the NFL is ever going to be serious about player safety, the league office needs to stop being so hilariously awful in terms of the issues.
Coming out of the owners meetings this week in Palm Beach, Fla., the league announced that players will need to start wearing soft padding around the thighs and knees in 2013. While the NFLPA plans to file a grievance, the league contends that the decision does not need to be collectively bargained with the union because it is a rule that affects play.
It would be funny, if it wasn't so sad.
Proponents of the issue (read: anyone who refuses to question the league office about anything) see this as a no-brainer. More pads mean more safety, correct? Plus, we all wore these in high school, and they told us it made us safer.
Try this at home: Take an egg out of your refrigerator and wrap it in a bunch of towels. Then, put all of the pillows from everywhere in your house on top of it. Take a decent-sized book and drop it on the pillows. If you did it right, the egg should be safe, right? Right. That is, essentially, how soft padding works around your thigh and knee on a football field.
Now, take that same setup outside and drive your Ford F-150 over it.
Think the egg is still safe? You either have an absurd amount of really nice pillows or you need to retake high-school physics.
Thigh and knee pads make sense on the youth and high-school levels of football, where hits can be measured in hundreds of pounds of force. On the NFL field, however, the impact of player collisions can reach thousands of pounds, and even tons.
The force of an NFL hit has been compared to a violent car crash. Think we can stop automobile accident fatalities by taping some inch-thick foam padding to the front of bumpers? Moreover, could we even stop the protected bumpers from a modicum of damage when the force so greatly outweighs the intended buffer?
The reason most NFL players don't wear soft padding is because they know it doesn't work. What it does is make players feel more bulky and can limit flexibility, mobility and speed. For wide receivers and cornerbacks who need to cut on a dime and accelerate quickly, having every little edge helps. So when players noticed the pads didn't stop deep-tissue bruising on the parts they were meant to protect, they started taking them out.
Now, you have players who believe putting those pads back in takes away the edge they once gained. A player without an edge is a player who doesn't have a whole lot of use on the football field. That player then loses money.
Players (even potentially) losing money makes this an issue that needs to be collectively bargained and done so with hard evidence.
Last year, I sat in on some meetings (along with Deputy NFL Editor Dylan MacNamara) with the NFLPA and bloggers from around the country. As we sat in meetings discussing the then-impending lockout and player safety, news came in about the NFL potentially discussing soft padding.
The result of that news in the room was laughter—from union heads DeMaurice Smith and George Atallah to players like Charlie Batch. Even the NFLPA's medical specialist thought the league's extended olive branch was ridiculously too little and too late.
NFL player safety is a big issue that should've been advanced years ago, while the NFL was turning a blind eye and funding ludicrous studies that sought to limit culpability more than they would ever limit brain injuries.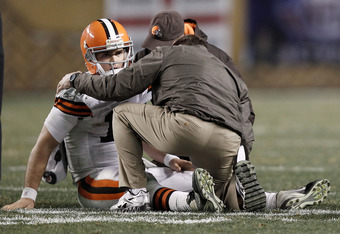 Jared Wickerham/Getty Images
Last year, the NFL invited media to a press conference at the scouting combine to hear about the new return-to-play concussion testing. That, too, was a joke. The examination not only failed to do more than what was already being done, but it also wasn't mandatory. As we saw with Colt McCoy, it needed to be.
Now, the NFL is answering the call for player health with near-useless padding that none of the players actually want to wear.
With more than 1,000 former players suing the league, the NFL needs to stop fooling around and finally get serious about its players' health. The future of these men and the future of the game itself depends on it.
Michael Schottey is an NFL Associate Editor for Bleacher Report and an award-winning member of the Pro Football Writers of America. He has professionally covered both the Minnesota Vikings and the Detroit Lions, as well as NFL events like the scouting combine and the Senior Bowl.