Bryce Harper vs. Mike Trout: Why Trout Is the Better Player to Build Around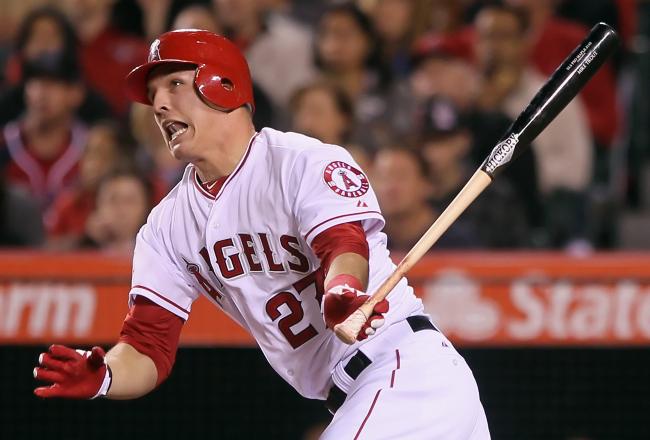 Jeff Gross/Getty Images
It was only a matter of time before Bryce Harper and Mike Trout found themselves in the big leagues together this season. It just so happened that both of them were called up sooner than a lot of people probably expected.
It's a good bet that both of them are in the Show to stay. Harper has settled in as a key cog in the Washington Nationals' lineup, and Trout has become an integral part of the Los Angeles Angels' plans for the season. For both franchises, things are as they should be.
Between the two of them, Harper has received much more attention from the media and baseball fans in general. He's been under the microscope since the very moment he stepped between the lines back on April 28 in Los Angeles. His triumphs have been praised, and his failures have been scrutinized.
Trout, meanwhile, has gone about his business in relative obscurity, which has a lot to do with the blasted "East Coast bias." If you haven't been paying attention over the last couple weeks, here's a spoiler:
Trout is having a better season than Harper. There's really no contest.
After 21 games, Trout finds himself with a very solid batting line of .350/.413/.600 with an OPS of 1.013. He has four home runs and six stolen bases, and he's played well-above-average defense for the Angels, primarily in center field.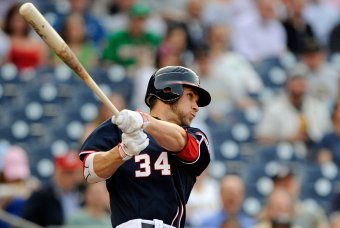 Harper has been good. Not great, but good.
Patrick McDermott/Getty Images
Trout's numbers dwarf Harper's. In 22 games, Harper is hitting .256/.340/.451 with a .792 OPS. He has two home runs and a pair of stolen bases, one of which was a wonderfully executed steal of home against the Phillies. We've seen him make some exciting plays in the field, but he's actually providing the Nationals with below-average defense in the outfield.
When comparing two players, we often turn to WAR to determine once and for all which of them is superior. According to FanGraphs, Trout has a WAR of 1.5, tops among all qualified rookies in baseball.
Harper's is 0.4. Again, no contest.
Granted, this is a slightly unfair comparison to make, as Trout is a year older than Harper and he has considerably more professional experience under his belt. He started playing professionally in 2009 and broke into the majors last season. Harper started playing professionally in 2010 and he broke into the majors just a couple of weeks ago.
With Harper, it's all about what the future holds, and the consensus is that the sky is the limit. He may not be a better player than Trout now, but he may be someday.
The hype surrounding Harper says yes. The reality of the situation says otherwise. Trout is a better player now, and he's going to be a better player later.
ESPN baseball guru Keith Law (Insider access required) said it best when he wrote that Trout is the "perfect prospect." He can hit, he can hit for power, he can field, and he can run like the wind. Prospects with Trout's skill set tend to be few and far between, and he's one of those rare birds who is both a great athlete and a great baseball player.
Trout's speed is his best asset. He's an 80 runner, which is as good as it gets, and his speed allows him to wreak havoc on the basepaths and chase down balls in the outfield. The scary part is that he's big, too, as he stands at about 6'1" and 200 pounds. If he wasn't a baseball player, he could probably make it in the NFL as a running back.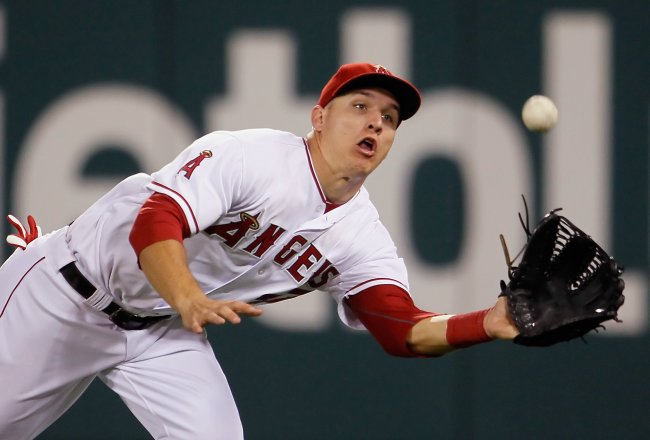 Trout can go get the ball as well as any center fielder in baseball.
Jeff Gross/Getty Images
So far, Trout's size is translating into better power than advertised. Kevin Goldstein of Baseball Prospectus, for example, wrote that Trout had the goods to hit 18-to-25 home runs annually. He's on pace for 15 home runs this season, and it wouldn't be a huge shock if he surpassed that total. Down the road, Trout could challenge the 30-home run mark year after year.
Defensively, Trout has the goods to be a perennial Gold Glover in center field. Per FanGraphs, he has a UZR/150 of 15.4 and three defensive runs saved for his time in center field (exactly 134 innings). Figures like those make him at least a top-10 center fielder, and he could easily edge his way into the top five in Major League Baseball before long.
For now, the Angels are using Trout at leadoff because—let's face it—they need a leadoff hitter, and there's no reason to move Trout anywhere in the lineup given how well he's taken to batting No. 1. Down the road, though, he's going to be a middle-of-the-order hitter. If Albert Pujols can return to his old form, he and Trout are going to form a very dangerous duo in the middle of the Angels' lineup.
So eventually, the Angels are going to have a middle-of-the-order hitter with a very good bat, game-changing speed and Gold Glove outfield abilities.
Players like that are extraordinarily rare. Names that spring to mind are guys like Ken Griffey Jr., when he was in his prime, and Barry Bonds throughout the entire decade of the '90s.
If you could pick one player...
If all goes well, Harper will develop into a perennial 40-homer threat, and his gun of an arm will come to be feared. His ceiling, however, is not as high as Trout's. He will not make as big of an impact player as Trout will. In fact, Harper may not even be the biggest impact player on his own team a few years from now (see: Strasburg, Stephen).
So if somebody were to sit you down and ask you to choose a player to build a team around, the smart choice would be Mike Trout, not Bryce Harper.
Since you're not likely to make that choice anytime in the near future, my advice to you is this:
Just sit back, relax, and watch. The fact that these two guys are coming along at the same time is almost too good to be true.
If you want to talk baseball and/or favorite Lennon/McCartney compositions, hit me up on Twitter.
This article is
What is the duplicate article?
Why is this article offensive?
Where is this article plagiarized from?
Why is this article poorly edited?