Yu Darvish: Texas Rangers Ace Takes Home AL Worst of the Night Honors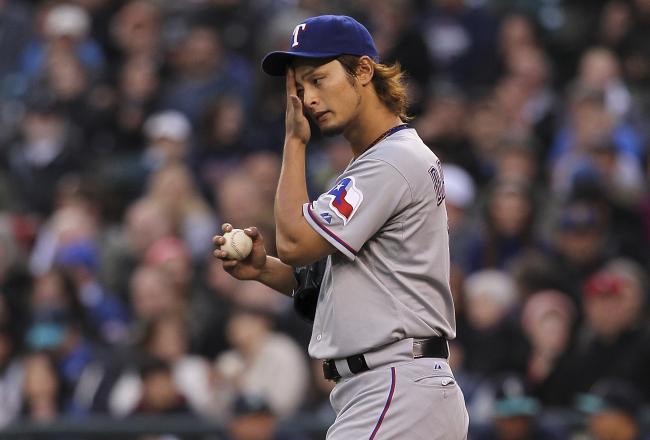 Otto Greule Jr/Getty Images
His major-league career is still very young, but we already seem to have found Yu Darvish's personal Kryptonite.
It's the Seattle Mariners.
Darvish made his first career start against the Mariners in Arlington way back on April 9th, and they knocked him around for five earned runs on eight hits and four walks in 5.2 innings. Darvish won the game, but it wasn't the kind of beginning to his career that he was looking for.
Darvish's Texas Rangers took on the Mariners again on Monday night, this time in their neck of the woods at Safeco Field. His second start against Seattle didn't go much better than the first.
In fact, it went worse.
The tone for the evening was set early on when a first-inning triple by Ichiro Suzuki brought home Michael Saunders, who had walked, to give the Mariners a 1-0 lead. It wasn't nearly as brutal as the first inning Darvish had to suffer through in his debut against the Mariners, but walks leading to runs scored would be a theme of sorts for the rest of Darvish's evening.
After getting through the bottom of the second without any harm done, Darvish ran into trouble again in the bottom of the third. A single by Brendan Ryan and a walk to Dustin Ackley to open the inning led to a run when Ichiro hit an RBI single to center, and another run would score on a sac-fly by Jesus Montero after Darvish had walked Kyle Seager.
That made it 4-0 in favor of the Mariners, and the hits kept coming in the bottom of the fourth. Darvish started the inning by walking John Jaso and Mike Carp, and he went on to walk Ryan to load the bases with nobody out after a passed ball had moved Jaso and Carp up to second and third.
A single by Ackley brought home Seattle's fifth run. Darvish managed to escape further damage, but his day was done after he got the final three outs of the inning. He took a seat and watched Felix Hernandez dominate the Rangers through the eighth inning.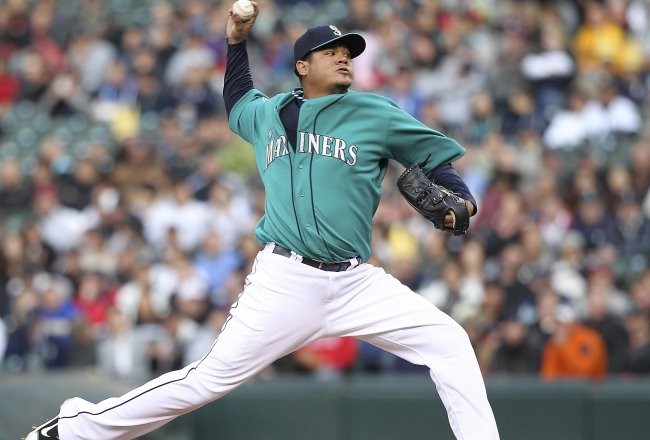 King Felix gave up one run in eight innings of work on Monday night.
Otto Greule Jr/Getty Images
Darvish's final line score features some pretty ugly numbers: 4 IP, 4 H, 5 R, 4 ER, 6 BB, 5 SO. He saw his ERA jump from 2.60 to 3.05.
Now, to be fair to Darvish, a bad throw from Josh Hamilton in the bottom of the third caused further trouble and ultimately led to an unearned run. If that play doesn't happen, the narrative of the game probably changes completely.
But this is not to say Darvish doesn't deserve to be blamed for his lousy outing. On the contrary, he deserves the lion's share of the blame.
This has everything to do with Darvish's six walks, a new career high. You can forgive the walks to a certain extent because Darvish's stuff moves so much, but there's simply no excuse for walking six guys in four innings. Especially not when these six guys play for a team that ranks 29th in baseball in on-base percentage.
Looking for a silver lining?
Very well.
Who's going to have a better season when all is said and done?
The good news is that Darvish has a record of 5-1 and an ERA of 1.94 in seven starts against teams other than the Mariners. He has 53 strikeouts in 46.1 innings pitched in these games, and only 22 walks.
Against the Mariners, Darvish is 1-1 with an 8.38 ERA and 10 walks in 9.2 innings pitched.
So all he has to do, really, is avoid the Mariners. If he can do that, he's a shoo-in for the American League Cy Young.
That award might just be in Darvish's future. The award that's in his present is none other than the American League "Worst of the Night" award. I give one out every weekday, and Darvish earned today's award with his fail in the Northwest on Monday night.
Darvish fans (of which there are a lot) shouldn't worry; he's not likely to get this award again.
...Unless he faces the Mariners again this season.
If you ever want to nominate somebody for American League "Worst of the Night" honors, hit me up on Twitter.
This article is
What is the duplicate article?
Why is this article offensive?
Where is this article plagiarized from?
Why is this article poorly edited?