Seattle Seahawks: 4 Reasons Pete Carroll's Time Is Running out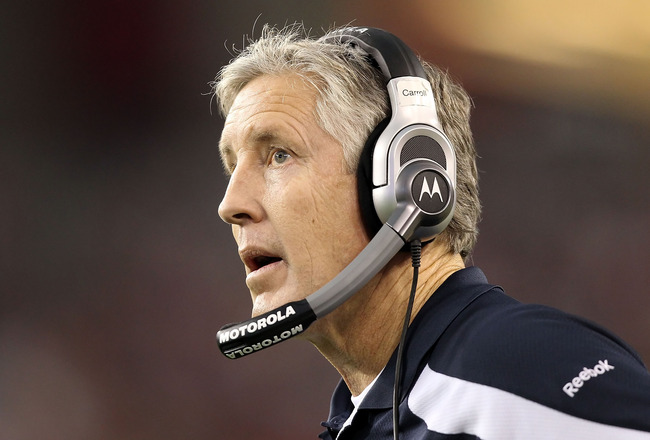 Christian Petersen/Getty Images
Pete Carroll and the Seattle Seahawks miss the playoffs again and finish with a losing record for the third consecutive year.
Chances are you will hear this at the end of the 2012 NFL season and Carroll is going to be on an extremely hot seat.
Carroll needs to show signs of improvement in his third year as head coach or else he will be heading on his way out of Seattle for the following reasons.
Consecutive Losing Seasons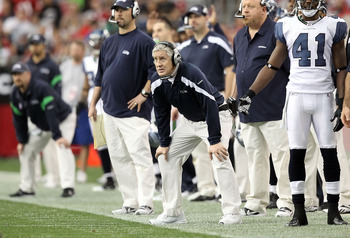 Christian Petersen/Getty Images
In his first two seasons, Pete Carroll has yet to have a winning record as the head coach of the Seattle Seahawks.
Every Seahawks fan will boast how they made the playoffs two years ago.
Congratulations. You made it as a 7-9 team in what was one of the weakest divisions in NFL history.
Carroll is entering his third season and needs to show some improvement. After two consecutive seasons finishing 7-9, a third losing season would show that no progress has been made.
At some point when no progress is being made, the Seahawks are going to find a new voice to lead their team.
Has Not Drafted Well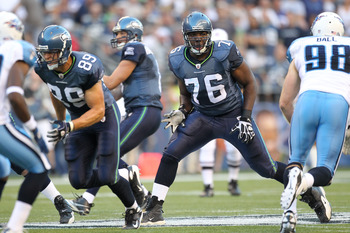 Otto Greule Jr/Getty Images
Outside of Earl Thomas, the rest of Pete Carroll's draft picks in the early rounds have had no impact.
Russell Okung, the sixth pick in the 2010 draft, has been injury-prone in his first two seasons. Second-round draft pick in 2010, Golden Tate, has only 600 receiving yards in his first two seasons.
In 2011, Carroll selected James Carpenter with his first-round draft pick. Carpenter ended up on injured reserve midway through the season after suffering a severe knee injury. His status for 2012 is still unknown.
This past draft, he made a very controversial pick, taking Bruce Irvin in the first round. Most draft experts had Irvin going in the second or third round.
Sure, it's not Carroll's fault that two of his first-round draft picks have dealt with injuries.
However, the organization is going to have to put the blame on someone if the Seahawks continue to underachieve. The blame always goes to the head coach, and Carroll will be on the chopping block.
Offense Continues to Struggle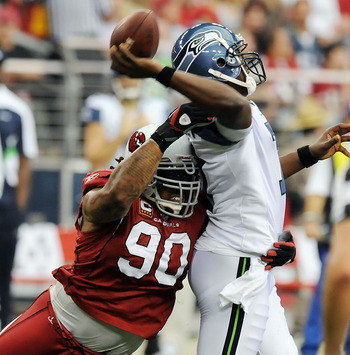 Norm Hall/Getty Images
The Seattle Seahawks have shown no improvement on the offensive side in their last two seasons.
Both seasons they have finished with the 28th-ranked offense in the league.
Pete Carroll needs to show significant improvement if he wants to keep his job. The Seahawks offense cannot continue to finish in the bottom half of the league.
They found a legit offensive threat in Marshawn Lynch this past season, but Carroll has to find a reliable quarterback if he wants the offense to take the next step.
Has Not Found a Legit Quarterback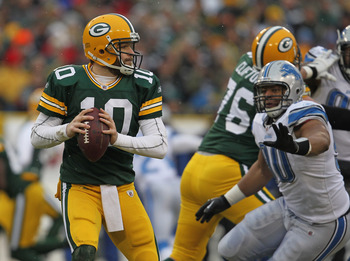 Jonathan Daniel/Getty Images
When it comes down to it, Pete Carroll's biggest flaw so far as the Seattle Seahawks head coach is that he has not found a legit quarterback to lead his team.
In his first season, he had an aging veteran in Matt Hasselbeck. Hasselbeck has been his best quarterback so far, which is not saying much.
This past season, Carroll brought in Tavaris Jackson. Jackson had been horrible with the Minnesota Vikings and no surprise here, he was horrible for the Seahawks.
Now Carroll is putting his trust into Matt Flynn. The Seahawks gave him a three-year contract worth $26 million.
Are you kidding me?
Flynn has thrown for 1,015 yards and nine touchdowns in his four NFL seasons. Now all of a sudden he is worth $26 million and is the answer to be the quarterback of the future?
If Flynn turns out to be a bust, then Carroll can say goodbye to Seattle.
Keep Reading

Seattle Seahawks: Like this team?