Houston Astros: Top Prospects We Can't Wait to See in the Bigs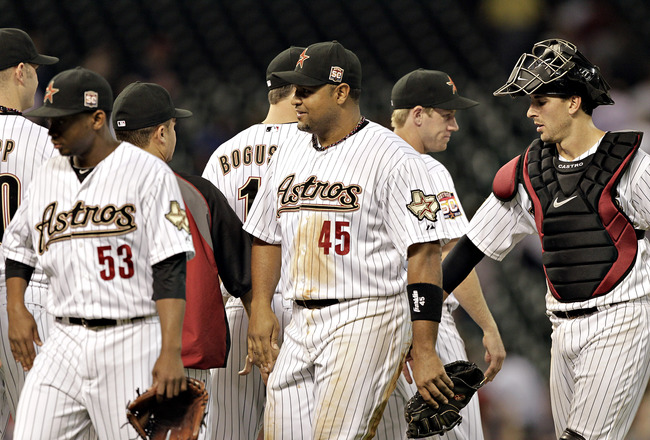 Bob Levey/Getty Images
The Houston Astros are not going to be making much noise in Major League Baseball this season, but they have positioned themselves well for the future with some bright prospects.
The overhaul began last year with trades of outfielders Hunter Pence and Michael Bourn as the team struggled.
General manager Jeff Luhnow comes from the St. Louis organization and made the right moves to get rid of Pence and Bourn to build for the future.
Baseball is a funny game, in which an organization can turn around in just one season, as proven by the Baltimore Orioles this year.
The Astros' lineup this season features many young players around the veteran Carlos Lee. They should continue to improve, and can do so dramatically with the addition of a few more prospects.
Here's a look at some of the prospects in the Astros organization you need to watch.
1. Jonathan Singleton
Matthew Stockman/Getty Images
The Astros acquired Jonathan Singleton from the Philadelphia Phillies in the trade for Hunter Pence.
He is rated as the Astros' top prospect and the 39th overall prospect according to Baseball America.
The big power-hitting first baseman is just 20 years old and is at the Astros' Double-A affiliate in Corpus Christi.
Singleton can hit for both power and average. He hit 13 home runs and drove in 63 runs in Class-A last season, and has hit at least .290 in each of his seasons in the Minors. He is hitting .293 so far in 2012.
The Phillies played Singleton in some left field due to the presence of Ryan Howard, but now that he's with the Astros he will remain a first baseman.
Current first baseman Carlos Lee is in the final year of his six-year deal, and Singleton will be the heir apparent.
Singleton has the potential to be a dependable everyday hitter at the big league level and could get some action in the Majors this year.
2. George Springer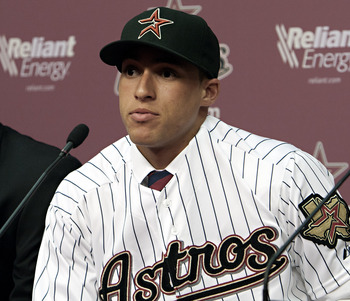 Bob Levey/Getty Images
The 2011 first-round draft choice out of Connecticut is already making people take notice of him.
Outfielder George Springer is in his first full season at Class-A Lancaster and he has not disappointed.
The right-handed Springer is hitting .335 with nine home runs and 33 RBI in just 39 games. He recently hit six homers in seven games and also has provided nine stolen bases this year.
Scouts considered Springer to be a raw player out of college with a high ceiling. Defense is considered his strength, as he has good speed to cover ground in center field and an excellent arm.
So far Springer is demonstrating why the Astros drafted him in the first round. He is a great talent that Astros fans should look forward to watching in the future.
The 22-year-old prospect will be moving up in the Minors if he continues to hit at this pace and improves on his strikeout numbers.
3. Jarred Cosart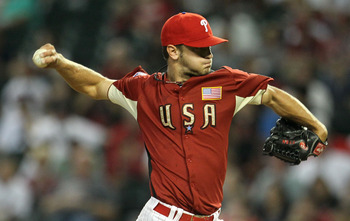 Jeff Gross/Getty Images
Jarred Cosart is another player the Astros acquired from the Phillies in the Hunter Pence deal.
The right-handed pitcher is showing off his electric stuff at Double-A this season. The 21-year-old currently is 2-2 with a 3.48 ERA.
His numbers at the Minor League-level aren't very impressive, but his stuff is.
Cosart has a fastball that can reach the upper 90s and a curveball that can be nasty, which is why Baseball America rates him as the 50th-best prospect.
Cosart needs to improve his command like most Minor League pitchers, and has dealt with injuries in the past.
However, just on talent, Cosart possesses stuff which could make him a top of the rotation pitcher.
The Astros will be patient with him to allow him to work on his command, but Cosart should be in their rotation in 2013.
4. Jonathan Villar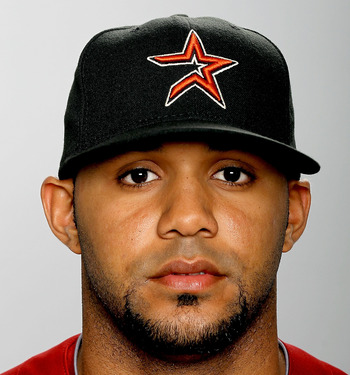 Matthew Stockman/Getty Images
Jonathan Villar possesses the tools to be a very good shortstop at the next level. The 21-year-old is already an above-average fielder with a strong arm.
Villar is currently at Double-A Corpus Christi where he has gotten off to a cool start with a .228 batting average and no home runs.
However, with two teams in 2011, Villar hit 14 home runs and had 52 RBI with 34 stolen bases.
Villar's biggest issue is his batting average, as he's never hit over .300 in a season and finished last year at .241, but he is just 21 years old.
Like Jarred Cosart, Villar has outstanding upside and has shown flashes of becoming a good shortstop at the next level.
Villar's fielding ability will allow him to make the next level, and his speed and power offer belief that he can become an effective hitter as well.
5. Brett Oberholtzer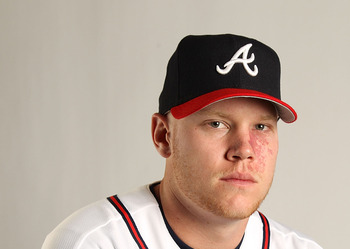 Mike Ehrmann/Getty Images
Brett Oberholtzer is a player the Astros acquired from the Atlanta Braves for Michael Bourn.
Oberholtzer is a left-handed pitcher who has a fastball around 90 mph with a slider, curveball and changeup.
Oberholtzer doesn't wow you with his stuff, but makes up for it with his command. He's struggled so far at the Triple-A level with a ERA over 6.00, but has posted a respectable ERA at every level of the Minors so far.
He projects to be a middle-of-the-rotation pitcher at the Major League-level.
Oberholtzer doesn't have as high a ceiling as Jarred Cosart, but should be an effective pitcher at the next level thanks to his excellent command.
Oberholtzer, along with the other top prospects in the Astros organization, offers fans a glimmer of hope.
Keep Reading

Houston Astros: Like this team?