MLB Trade Talk: Cole Hamels and Players Who Need to Be Dealt
May 21, 2012

Brian Garfinkel/Getty Images
Trade rumors are already swirling in the MLB as the July 31 trade deadline is approaching more and more rapidly.
Teams are looking to bolster their rosters for deep runs into the season while others are looking to dump some salary-hogging under-performers to make room for future prospects.
Either way, there are players out on the market that may be able to help out both ends of a trade. Let's take a look at four players who should be dealt by their squad sometime before the deadline.
Cole Hamels, SP, Philadelphia Phillies
Hamels was once the go-to starter in Philly, but that has changed dramatically after two of the better pitchers in baseball (Roy Halladay and Cliff Lee) came to town.  
Now Hamels is possibly the best No. 3 option in the Majors and the 28-year-old lefty has shown he can still be a No. 1 guy. This season, Hamels is 6-1 with a 2.48 ERA and 58 strikeouts. Additionally, Hamels has walked just 10 batters all year in his 54.1 innings pitched.
What makes Hamels an expendable trade piece is that he will be a free agent this summer, which means that the Phillies may not be able to afford to keep him happy with a big contract considering the other players on their payroll.  
This means Philadelphia should attempt to get a solid package in exchange for Hamels now, before they lose him to free agency and come up empty handed.
Kevin Youkilis, 3B, Boston Red Sox
It's been a less-than-stellar year so far for Boston, and Youkilis going down with an early injury certainly isn't helping them.  
However, Youkilis still holds value for the Red Sox, and they may be looking to trade him considering their teams recent decline and a hint of rebuilding in the air.
Teams needing some solid hitting from a third baseman could very well be interested in the 33-year-old Youkilis, who is a career .288 hitter. Though he may be on the decline now, a team like the Baltimore Orioles could possibly use him, considering they have Wilson Betemit starting at third base these days.
The Red Sox could definitely enjoy some benefits of dealing Youkilis in terms of payroll since he is currently making over $12 million this season while sitting on the DL.
Joe Saunders, SP, Arizona Diamondbacks
Saunders and the D'Backs haven't been too great thus far this season, but it's still very possible that we will see Saunders in a different uniform by the end of the season.
Arizona has two solid starters (Ian Kennedy and Trevor Cahill) in front of Saunders, which makes the 30-year-old trade bait at this point.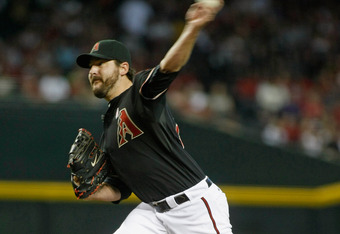 Ralph Freso/Getty Images
With a 2-3 record and 3.55 ERA, Saunders hasn't had a great year, but he could end up being a good starter on the back end of a rotation in need like the New York Yankees. Even if he still struggles there, he may find a new life in the bullpen as a long or middle reliever.
Overall, Saunders isn't really fitting into the Diamondbacks' long term plans as of now so he may be on the move this summer to a team that may be more welcoming to him.
Vernon Wells, OF, Los Angeles Angels of Anaheim
There was once a time when Wells was an All-Star outfielder who could be considered a deadly hitter and a great defensive outfielder. Those days may be long gone, however, as Wells' current numbers this season are just a fraction of what he was capable of in his prime.
That being said, Wells still has a nice paycheck of $24 million due to him this season and his numbers and performance thus far have not been nearly good enough to demand that sort of money.
The Angels as a whole are struggling enough and their outfield is getting shallower with Torri Hunter's unexpected leave of absence. Now with Peter Burjos starting in center field and Wells in right, the Angels now have put two mediocre hitters into their lineup that is already lacking offense.
Though Wells may have a huge contract that may make him untradable, the Angels should definitely look into getting what they can for the 33-year-old and building for the future around their solid core of Albert Pujols and Mike Trout.