Are Pitch Counts at the Root of Young Arm Injuries in the Major Leagues?
May 21, 2012

Greg Fiume/Getty Images
Washington Nationals fans saw their young phenom starting pitcher, Stephen Strasburg, hit his first major-league home run on Sunday. However, they also saw him lifted after five innings and 90 pitches due to tightness in his right forearm.
After the game, Strasburg chalked up the tightness to general arm fatigue.
"The bicep is fine," he said. "It's just throwing a lot of pitches early, then we put up a lot of runs and stuff. I just got a little tired, got a little tight, but that's nothing different than any other outing."
Considering the fact that Strasburg is coming off Tommy John surgery last year, there's going to be concern anytime he feels anything out of the ordinary in that golden arm of his.
However, how much of his tightness/soreness can be attributed to pitch counts?
In Major League Baseball, every team has its own philosophy regarding how to bring along pitching prospects at the minor-league level in order to prepare them properly for the rigors of a long season in the majors. In high school and college, pitchers are accustomed to generally throwing no more than 120-to-140 innings, and when drafted, many teams will monitor pitch counts and overall innings with the intention of gradually building up arm strength and stamina.
Last year, Seattle Mariners pitcher Michael Pineda started out like a house afire, with an 8-6 record and 3.03 ERA in 18 starts spanning 113 innings. The second half told a completely different story, as Pineda stumbled to the finish with a 1-4 record and 5.12 ERA in his final 10 starts spanning 58 innings. The Mariners eventually shut him down in September, but it was clear that Pineda's shoulder was suffering from a fatigued arm, with his velocity noticeably down from the first half as well.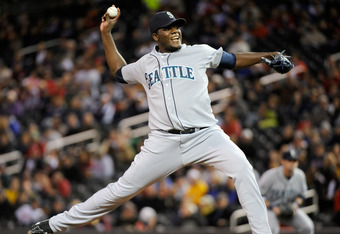 Hannah Foslien/Getty Images
Now, Pineda sits on the sidelines after surgery to repair a torn anterior labrum and will once again have to work on building back arm strength and stamina upon his return.
All too often, we have seen young pitchers suffer significant injuries, and even more so recently—Jordan Zimmermann and Strasburg both with Tommy John surgery for the Nats, Pineda's season-ending injury with the Yankees, Brandon McCarthy with the Oakland A's, who was placed on the disabled list on Sunday with a sore shoulder, and a host of other young hurlers who are currently suffering from elbow and shoulder ailments.
Oh, and let's not forget the Kansas City Royals, who lost both Danny Duffy and John Lamb—two young promising prospects—to Tommy John surgery as well.
It is estimated that around 14 percent of current major-league pitchers have undergone Tommy John surgery, with the number likely even higher at the minor-league level.
And we haven't even started on shoulder injuries yet.
Many experts, including former major-league pitchers, believe that the rise in shoulder and elbow injuries is the result of poor mechanics, not pitch counts. Oftentimes, pitchers alter their throwing motion immediately following Tommy John surgery to prevent similar injuries in the future. For pitchers with significant shoulder injuries, a change in mechanics is also often needed to prevent further recurrences.
One former minor-league pitcher is a big believer in the fact that arm injuries today are absolutely caused by bad mechanics and that with the right delivery, a pitcher should never have to worry about pitch counts.
Kyle Boddy saw his career cut short by a shoulder injury and was unable to get a definitive answer as to how to prevent further injuries. So, he took it upon himself to start up a company called Driveline Mechanics, which uses biomechanical research to discover flaws in a pitcher's throwing mechanics and works to better refine overall pitching mechanics.
Boddy's system completely breaks down a pitcher's delivery and works to change that delivery to relieve stress on the elbow and shoulder. Boddy also believes that pitchers should be constantly reviewing their delivery to make sure old habits haven't returned, also recommending yearly biomechanical video analysis.
Boddy's feelings regarding mechanics makes perfect sense. Hall of Fame pitchers Tom Seaver, Jim Palmer, Steve Carlton and others were pitchers who rarely, if ever, found themselves on the disabled list during their careers due to elbow or shoulder issues. They all were highly regarded for their outstanding pitching mechanics and delivery as well.
Pitch counts? They wouldn't even be necessary if a pitcher throws the baseball with the right mechanics and delivery.
Doug Mead is a featured columnist with Bleacher Report. His work has been featured on the Seattle Post-Intelligencer, SF Gate, CBS Sports, the Los Angeles Times and the Houston Chronicle. Follow Doug on Twitter, @Sports_A_Holic.