10 NFL Rookies with the Most Upside That Could Shine Early and Often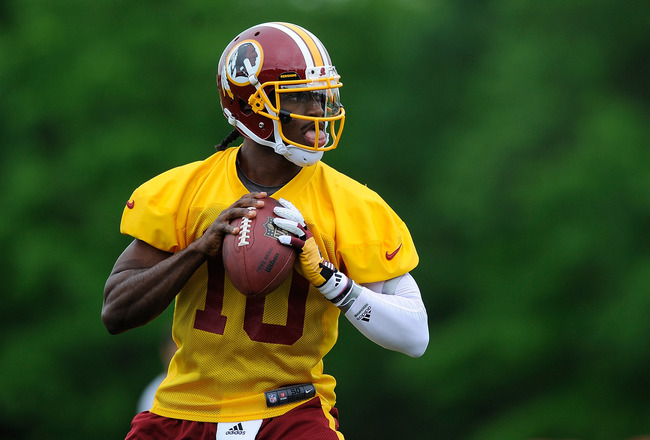 Patrick McDermott/Getty Images
Every year, experts take their pick as to which NFL rookies will have the biggest impact with their respective teams in their first season, and yet another talented crop of first-year players will attempt to leave their mark in 2012.
Ten players really stood out from the rest based on their upside and the team they were taken by, and that alone should set them up for a number of shining moments in their rookie seasons.
10. Nick Perry, Green Bay Packers, OLB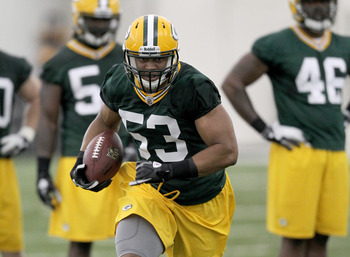 Mike McGinnis/Getty Images
The Green Bay Packers added a second standout USC linebacker to their defense with the selection of Nick Perry. The Packers have already developed a monster in former USC alum Clay Mathews, and if everything goes as planned, Perry could face the same fortune.
Originally a defensive end in college, Perry brings his 6"3', 270-lb. frame to outside linebacker where he's slated to be a pass-rush specialist. The former Trojan had success wreaking havoc in the backfield where he racked up 8.5 sacks and 13 tackles for loss in 2011.
9. Luke Kuechly, Carolina Panthers, LB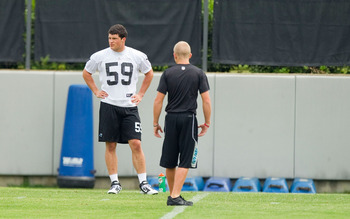 Brian A. Westerholt/Getty Images
Luke Kuechly couldn't have landed in a better spot than with the Carolina Panthers and defensive guru Ron Rivera. The injury bug bit the Panthers' linebackers hard last season as both Jon Beason and Thomas Davis went down with major injuries. Kuechly will not only act as an insurance policy but lay the groundwork as a future starter.
With Beason and Davis recovering from their injuries, Rivera has plans to use Kuechly at weakside linebacker. Regardless of where he plays, Kuechly has all the makings of a Pro Bowl linebacker. As an inside linebacker at Boston College, Kuechly totaled 191 tackles and 12 tackles for loss in 2011.
8. Courtney Upshaw, Baltimore Ravens, DE
Patrick McDermott/Getty Images
The Baltimore Ravens have to be counting their blessings knowing that they do have options to replace an injured Terrell Suggs, and second-round pick Courtney Upshaw is one of them. As Upshaw put it, "There's only one Suggs," and while that may be the case, the expectations for Upshaw to step up couldn't be higher.
With Suggs lost for the season, Upshaw, among others, will have to pick up the slack in the Ravens' pass rush. In 2011, Upshaw totaled 9.5 sacks and 18 tackles for loss at Alabama. If he can replicate that success to the next level, he should have no trouble fitting in Baltimore's defense, and who better to help him succeed than fellow Raven and veteran linebacker Ray Lewis?
7. Fletcher Cox, Philadelphia Eagles, DT
Rich Schultz/Getty Images
The additions of rookies Fletcher Cox and Vinny Curry to Philadelphia's defensive line has created speculation that the Eagles may already have the NFL's best defensive line. It's a little early to making bold statements like that, but the addition of Cox certainly doesn't hurt the line.
The former Mississippi State Bulldog plowed through offensive linemen for five sacks and 14.5 tackles for loss in 2011. Sacks were plentiful for the Eagles last season as they managed to reach 50 total, but you can never have too much help in the pass rush. Cox fits perfectly with Philly's defensive scheme, and good coaching should help him shine.
6. Morris Claiborne, Dallas Cowboys, CB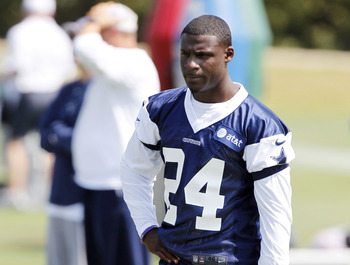 Layne Murdoch/Getty Images
After the Dallas Cowboys selected LSU cornerback Morris Claiborne with the sixth overall pick, NFL.com draft expert Mike Mayock said:
One of the main reasons I think the Dallas Cowboys haven't been to a Super Bowl in some time is because of their secondary. Morris Claiborne is a special corner. He's got the best ball skills of any corner coming out in the last several years. This is a rare athlete.
Claiborne joins a Cowboys team that gave up 244.1 passing yards a game in 2011 and released veteran cornerback Terrence Newman in March. In his final season at LSU, Claiborne made six interceptions and 51 tackles as a member of one of the country's top defenses.
5. Mark Barron, Tampa Bay Buccaneers, S
Al Messerschmidt/Getty Images
NFL.com draft expert Mike Mayock made some bold predictions for Tampa Bay Buccaneers safety Mark Barron when he said: " His ceiling is to be a Pro Bowl safety; his floor is to be a Pro Bowl safety. That's how good this young man is."
You don't have to tell me twice that Barron has "Pro Bowl safety" written all over him. He's one of the most versatile defensive backs to come out of the draft in a long time. Not only does he possess those ball-hawking skills you'd expect from a safety, but he's not afraid to come up in the box an lay the lumber on a guy.
4. Michael Floyd, Arizona Cardinals, WR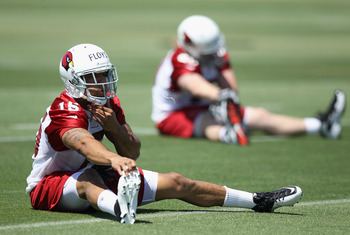 Christian Petersen/Getty Images
Playing on the same field as one of the league's best receivers is going to give Michael Floyd plenty of opportunities to shine with the Arizona Cardinals. Six-time Pro Bowl receiver Larry Fitzgerald commands a lot of attention from opposing secondaries, leaving room for the rookie to see some action in the aerial attack.
If you can believe it, there was talk that Floyd may have been the better receiver in the draft over top-rated Oklahoma State product Justin Blackmon. While that remains to be seen, it's more likely Floyd will play better as Fitzgerald's sidekick in Arizona's offense. For this to work, however, Cardinals quarterback Kevin Kolb needs to have a better showing than he had in 2011.
3. Trent Richardson, Cleveland Browns, RB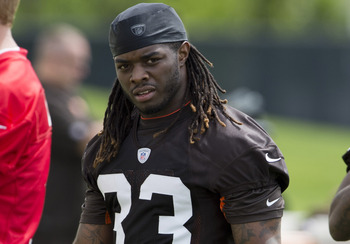 Jason Miller/Getty Images
The Cleveland Browns went offense with their first picks in the 2012 draft, and rightfully so considering they ranked near the bottom in most offensive categories last season.
Trent Richardson is going to have to develop into a workhorse fast for the Browns as they attempt to rebuild. Chances are that Cleveland will turn to fellow first-rounder Brandon Weeden as its quarterback, which could mean a lot of carries for Richardson.
With Richardson, what you see is what you get. He's a tough, hard-nosed runner with explosive speed and good hands. As the feature back of the nation's best college program, Richardson rushed for 1,679 yards and 21 touchdowns in his final year at Alabama.
Keeping him healthy may be the only thing Cleveland has to worry about.
2. Andrew Luck, Indianapolis Colts, QB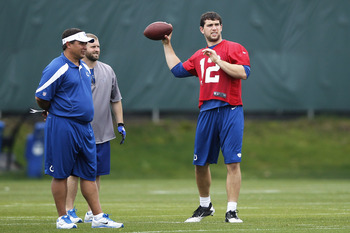 Joe Robbins/Getty Images
Not only does Andrew Luck face the added pressure of being the first overall pick in the draft, but he must also handle the pressure of turning around a team that won just two games in 2011. As the expected face of the franchise, Luck is sure to face some bumps along the road but they won't prevent him from showcasing his rich talent.
On paper, Luck is everything a team could ask for in a franchise quarterback. The size and mechanics are all there in addition to his leadership. The only thing that could stop Luck from having a successful rookie season is the Colts. There is still a lot of rebuilding to do in the post-Peyton Manning era, and that alone could foil Luck's progress.
1. Robert Griffin III, Washington Redskins, QB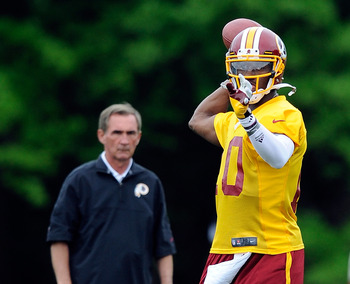 Patrick McDermott/Getty Images
Having already been named the starter in 2012, Robert Griffin III is bound to shine in his rookie season under the watchful eye of Washington Redskins head coach Mike Shanahan. While Griffin may not have enjoyed the honor of being the first overall pick in this year's draft, he could easily end up having a better rookie season than No.1 overall pick Andrew Luck.
As a pocket passer, Griffin threw for 37 touchdowns and just six interceptions while completing 72.4 percent of his passes. However, what the Redskins will really benefit from is Griffin's contribution to a weak ground game that ranked 25th in 2011. The former Baylor Bear rushed for 699 yards and 10 touchdowns in his senior season.
Keep Reading