Tim Tebow and Manny Pacquiao: Common Bible, Common Role Models?
May 19, 2012

Mike Stobe/Getty Images
Sports and religion are now entwined in public discourse about gay marriage, but while one influential religious pugilist, Manny Pacquiao, has taken a beating for his conservative (and initially misrepresented) views on the issue, the most well-known purveyor of athletic holiness, Tim Tebow, has remained conspicuously mum.
What does Tebow think about LGBT people? What about gay marriage?
There is enough public testimony to at least give an introductory answer to the first question.
Tebow would affirm that God loves everyone, regardless of race, gender, or sexual...actually, it's not clear whether he would say sexual "orientation" or sexual "preference." The nature/nurture question is still unresolved for many conservative Christians—some of whom insist that being gay is a choice.
Tebow clearly believes that God's love knows no bounds, but it is not clear what he thinks about Barack Obama's recent commendation of gay marriage.
Tebow has apparently chosen not to comment on this issue, and that certainly seems fair; until, that is, we consider what he said about role models during an Easter service in Texas.
Asked about what he thinks about athletes who say they are not role models, Tebow replied boldly, "Yes you are. You just aren't a good one."
Are athletes role models by default? Is that part of the job description—one of the few social costs to bear along with all the millions of dollars accumulated through endorsements and contracts?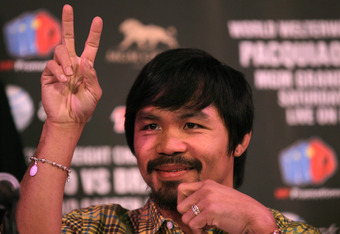 Stephen Dunn/Getty Images
If so, how can Tebow remain silent on an issue as pressing as gay marriage, which the NAACP recently declared a civil right?
He has insisted that God gave him a platform with football, so if Tebow is a role model by default, he is also most certainly a role model by choice. 
Does Tebow think Manny Pacquiao is a good role model?
After all, Pacquiao is a devoted Catholic from the same country where Tebow was born—the Philippines. Tebow's family has spent years doing missionary work there. They preached about the Bible as the infallible Word of God, scripture which includes a New Testament that not only assumes heterosexual sex as the norm, but has been interpreted as denouncing same-sex acts as sinful.
It is on that sacred textual basis that Pacquiao claims he cannot support gay marriage. He is adamant that he never really wanted to delve into the subject, but he was asked the question and answered it honestly.
He has also clarified that the Bible inspires him to love everyone, including his gay friends and cousin.
With gay marriage escalating as one of the leading social issues in a looming election, will conservative religious athletes be able to publicly invoke their religion after games (as Tebow has done so often) and not field questions about a topic that is perceived to be inextricably linked to that faith?
Maybe Tebow's silence in this case is telling. Perhaps he is part of a growing group of younger evangelicals who are "conflicted" on this issue.
If his heart is saying one thing and his religious formation another, he is learning that the borders between "good" and "bad" role models are not always clear-cut.