Carolina Panthers: The Team's Crowded Backfield Will Be the NFL's Best
May 24, 2012

Al Messerschmidt/Getty Images
The Carolina Panthers were an offensive spectacle during the 2011-12 NFL season.
One of the deadliest, most balanced offensive units in football last season, the Panthers were led by No. 1 overall pick Cam Newton to a massive turnaround in offensive output.
The 2010-11 season was an embarrassment to the Panthers. Jimmy Clausen did not develop like Carolina had hoped, and because of this, teams knew the run was coming and were able to stop it. DeAngelo Williams was out for more than half of the season, and both Williams and backfield partner Jonathan Stewart experienced career-lows in yards per carry (4.1 in six games for Williams, 4.3 in 14 games for Stewart).
An embarrassing 2-14 record gave the Panthers the first pick in the draft. When Andrew Luck decided to return to Stanford for his senior year, Panthers fans were crushed, and it looked like the top pick was barely going to be worth anything in a very thin draft. Still, Carolina took a risk and drafted Newton despite significant criticism from many analysts about his throwing accuracy, his work ethic and his attitude.
It turned out to be a pretty good move, though.
I'll save the time and just link you to his player page to get a look at all of the records and accomplishments for which Newton was responsible.
Newton is a uniquely balanced player. He has a strong, accurate arm and proved many critics who thought he would transition poorly to the NFL wrong.
But his arm isn't the only thing that is important about this article—Newton's legs are what I want to talk about.
Newton rushed for 706 yards in 2011-12 and ran the ball into the end zone 14 times, an NFL record for a quarterback. His 6'6" frame plowed over defenders, and he was fearless when running into opposing defenses. He's a truly multi-dimensional player, and his ability to throw and run instantly opened up the offense and forced defenses to guard against the pass and the run.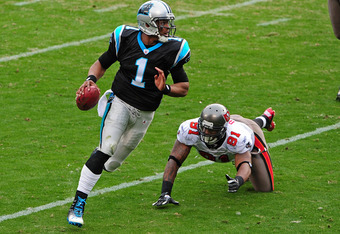 Scott Cunningham/Getty Images
And the run is where the Panthers are going to make their bread and butter in 2012.
When you look at last year's yardage numbers for Stewart and Williams individually, you probably won't be too impressed. Williams rushed for 836 yards, and Stewart added 761.
Respectable numbers, but not superstar running back output by any means.
However, when you look at the two backs and Newton collectively, that's when you see the full story.
Altogether, the two backs plus Newton combined for 2,303 rushing yards, and they combined for the vast majority of the team's 2,408 rushing yards. That was good enough for third in the NFL behind Denver and Houston, and the 5.4 yards per carry team average was the best in the NFL. 
Williams will become only the second running back in the history of the NFL to average five-plus yards per carry, with more than 1,000 carries. He's only four carries away from joining Jim Brown's elite company.
Stewart is considered by many to be an even better back than Williams. He isn't quite as quick as Williams, but Stewart is a power runner capable of running over opposing defenders. He was graded as the most elusive back in the NFL for 2012.
Williams or Stewart would likely carry for more than 1,200 yards per season as a primary back in any system, but they work well as a tandem, and defenses must be prepared to face two versatile backs every time they play Carolina.
And then, when you throw in Newton's ability to throw and run as well as he does, it almost doesn't even seem fair.
But as if that wasn't enough for opposing defensive coordinators to worry about, the Panthers added yet another dangerous weapon to their backfield this season when they signed former San Diego Charger Mike Tolbert.
Tolbert spent four seasons in San Diego, compiling 1,410 yards on 341 attempts rushing and scoring 20 touchdowns as a very effective red-zone power back. He's also a fantastic receiving running back, racking up 109 receptions for 1,012 yards and six touchdowns through the air. Williams and Stewart are both good receivers as well, and having three backs who can run and catch the ball as effectively as they can is a tool that no other team boasts.
There may be other more productive single backs in the league. Maurice Jones-Drew led the NFL in rushing yardage in 2011-12 for Jacksonville. In the NFC South, Michael Turner continued to run well, gaining more than 1,000 yards for the third time in four years and showing big-play ability that few other backs can brag about.
Prolific backs are valuable and a wonderful commodity for any team, but when you look at what Newton, Stewart and Williams did—all three in the top 10 in yards per carry in the league (Newton first at 5.6, Williams and Stewart both tied for fourth at 5.4)—no other team boasts such a powerful running attack.
And by adding Tolbert to the mix as a red zone plowman and short yardage pass target, the Panthers will be nearly unstoppable on the ground. They will be the best running team in the NFL for 2012-13.