Atlanta Falcons' Weekend Mailbag: May 19th Edition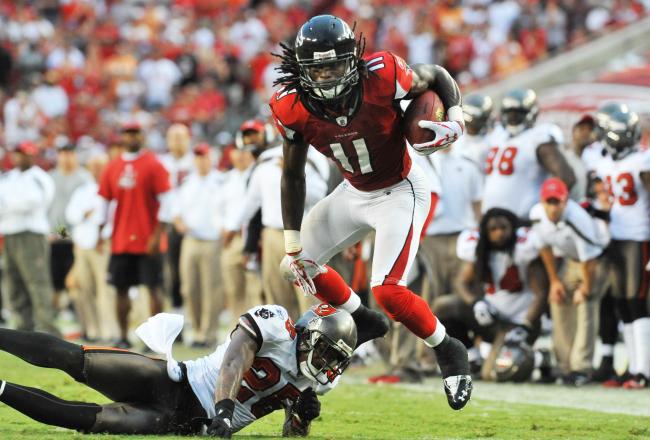 Al Messerschmidt/Getty Images
Welcome to this week's Falcons mailbag. I have questions from Twitter and even an email with Falcons questions from the Birdlady herself.
Starting off, Michael Quill asks:
Do you think Julio Jones will progress again this year or hit a second year slump? #BRFalconsMailbag
I think he will progress. Most second year players slump due to lack of an improving work ethic or due to injuries they get in their second season. Julio Jones had injuries in his rookie year and with an NFL level offseason training program, he will only get better.
Plus, as a wide receiver, there tends to be chemistry issues early on in their careers and Julio gets to work with Matt another offseason this year. He should be able to have a ridiculous statistical season despite having less targets than Roddy.
Up next, Candyman92 asks:
I'll ask, what does Atlanta need to do to take the next step and compete for the Super Bowl?
Atlanta needs the off-season. Last year, I said that the team would have been a good two to three wins better than they were if they had the true off-season activities that teams normally have. This year, they have essentially the exact same team as last year with the weaknesses of RG and nickel corner looking to be resolved.
Once the team finally gets to gel in training camp, we will have a better idea. But the big thing the Falcons need to make it to the Super Bowl is for some young guys to step up and play like above average NFL players, to help cover the holes in the team. Guys that fit that description are Akeem Dent, Lamar Holmes, Bradie Ewing and Peter Konz.
Starting off, Brent Tabaka asks:
With the additional cap space from Mughelli being cut and the eagles, do you see the falcons signing any FA? #BRFalconsMailbag
There is a good $6 million in cap room right now, and while the Falcons could very well use it to bring in some good free agents, I don't see it happening. The team will likely use the money to make sure they are paying their own, and you could very well see William Moore and Brent Grimes sign extensions this season that would have higher first year cap hits but are still cap friendly for the life of the deal. There is also the idea of re-signing Ryan long term.
And finally, we have the Falcons Birdlady asking,
With the switch toward a heavier O line/protection vs smaller players with speed, how does this change impact fans hopes for better protection for our QB or should we stay with smaller players for their speed?
There are two schools of thought on offensive linemen. One is to get smaller quicker lineman who can cut and push players out of the way. The other is to get the bigger stronger types and have them overpower in pass blocking.
Honestly, I am of the second school. I like bigger more powerful linemen. If Lamar Holmes, Peter Konz and Joe Hawley win the starting jobs at LT, RG and C respectively, the Falcons should end up better at pass blocking because the players are big, but still just as quick as their smaller counterparts.
This article is
What is the duplicate article?
Why is this article offensive?
Where is this article plagiarized from?
Why is this article poorly edited?

Atlanta Falcons: Like this team?