Fantasy Baseball 2012: Top 10 2-Start Pitchers for May 21-27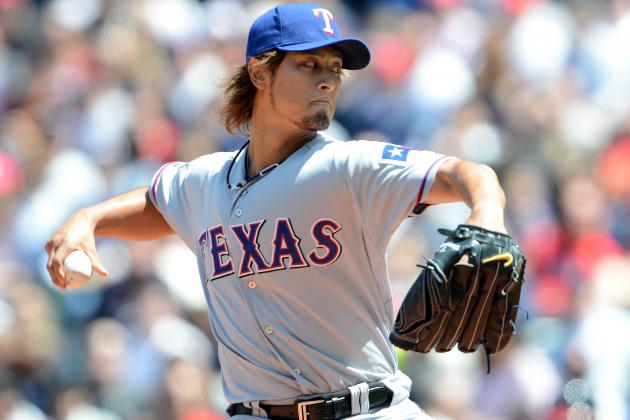 Jason Miller/Getty Images
In his last seven starts (spanning 46.1 innings), Rangers pitcher Yu Darvish has a 5-1 record, 1.96 ERA and 53 strikeouts.
The following slideshow is a top-10 ranking of two-start pitchers for the week of May 21-27.

The listing does not necessarily account for a pitcher's season-long prospects, nor does it promise sustained dominance from this point forward. It's merely an educated guess of which starters will shine the brightest over the next seven days.

For a full listing of two-start pitchers, click here.

Enjoy the show!
Begin Slideshow

»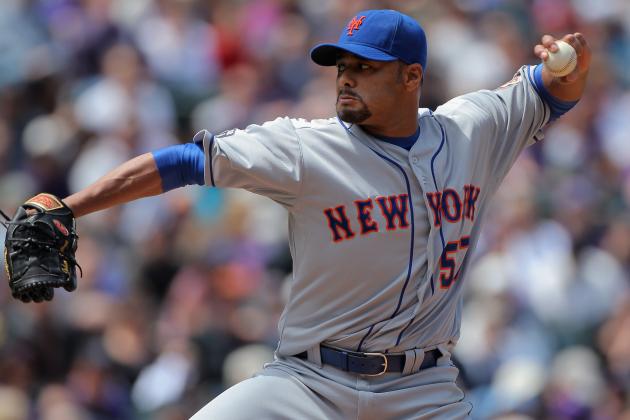 Doug Pensinger/Getty Images

Santana gets the nod over Jeremy Hellickson, Chris Capuano, Madison Bumgarner and Mat Latos, among others, for two reasons:

1. His stealth numbers in his last three starts (1-0, 3.66 ERA, 1.22 WHIP, 17/3 K-BB ratio) occurred against three productive offenses (Reds, Marlins, Diamondbacks).

2. Santana might have the most advantageous pitching slate for Week 8—at Pittsburgh (the Pirates have only three batters with on-base percentages above .300) and home with San Diego.

Targets: One win, 13 strikeouts and 2.95 ERA.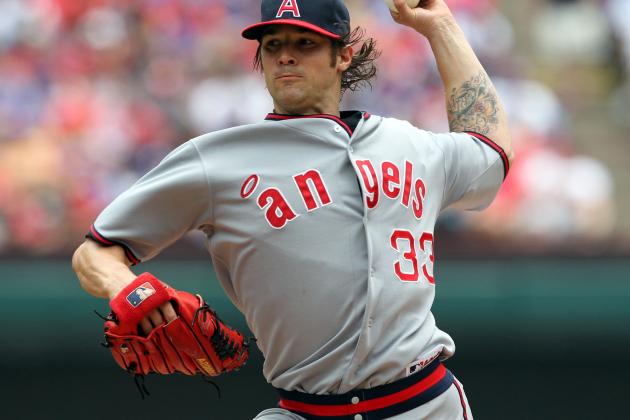 Layne Murdoch/Getty Images

Wilson (4-4, 3.35 ERA, 1.27 WHIP, 47 strikeouts) has offered a mixed bag of fantasy results this season, flirting with double-digit strikeouts at times...or simply stinking up the joint, like he did against the White Sox last week.

There have also been two constants amid Wilson's eight non-rain-abbreviated outings: He hasn't surrendered more than four runs all year, and there's been no consistency with walks from start to start.

Put it all together, and it's getting harder to pinpoint exactly where this train's headed for the summer months.

That aside, Wilson (17 Ks in his last 17.2 innings) remains a solid pitching asset in leagues that reward strikeouts and K/9 ratios; and he'll have the luxury of performing in two pitcher-friendly parks this week (Oakland, Seattle).

Targets: One win, 15 strikeouts and 3.45 ERA.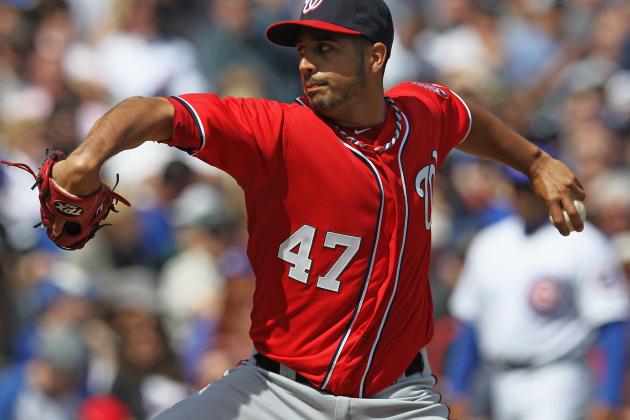 Jonathan Daniel/Getty Images

In any other week, Gonzalez (5-1, 2.22 ERA, 0.99 WHIP, 60/19 K-BB) would warrant a top-five ranking here.

After all, how many other pitchers can boast a 1.60 ERA in their last 45 innings?

But fair or not, I'm sensing a clunker road start against the Braves or Phillies this week. Quite frankly, Gonzo's due for a random setback...although not one of A.J. Burnett-esque proportions.

Targets: One win, 15 strikeouts and 3.35 ERA.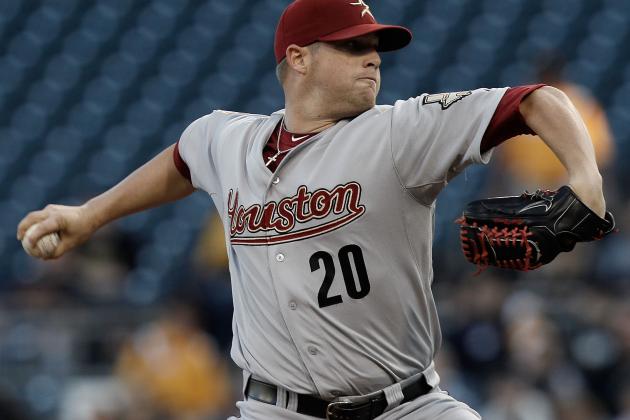 Jared Wickerham/Getty Images

Before lampooning this pick, give Norris's stats the proper look.

In seven of his eight starts, Norris has at least six strikeouts; during that span, he has allowed four or less runs seven times.

More importantly, check out Norris's last four starts: 3-0, 0.70 ERA, 1.05 WHIP and 28/7 K-BB ratio.

There's still time to get on the Norris buy-low bandwagon...but it'll be more crowded after he tackles the Cubs (home) and Dodgers (away, sans Matt Kemp) this week.

Targets: One win, 14 strikeouts and 2.85 ERA.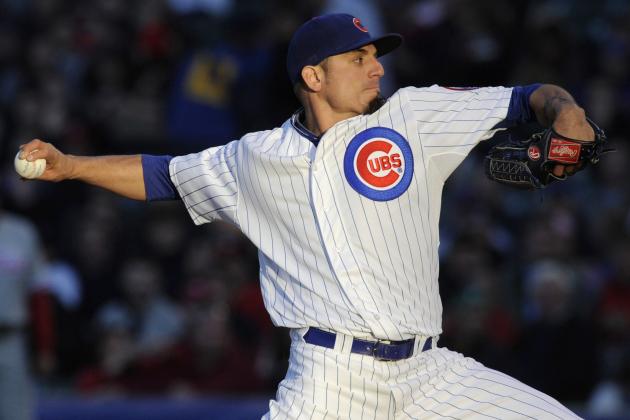 David Banks/Getty Images

These days, it's rare to be pumped about Cubs-Astros in Houston (for obvious reasons), but what's not to like about Monday's clash of Garza (1.75 ERA, 1.01 WHIP since April 21) vs. Bud Norris?

If we conveniently remove Garza's wretched start against the Marlins on April 18 (six runs earned in five innings), he's surrendered just two or less runs for every outing.

Of equal importance, he's a virtual lock for six strikeouts and two walks in future starts. In fact, I'm guaranteeing eight punch-outs against the Astros.

Targets: One win, 14 strikeouts and 2.70 ERA.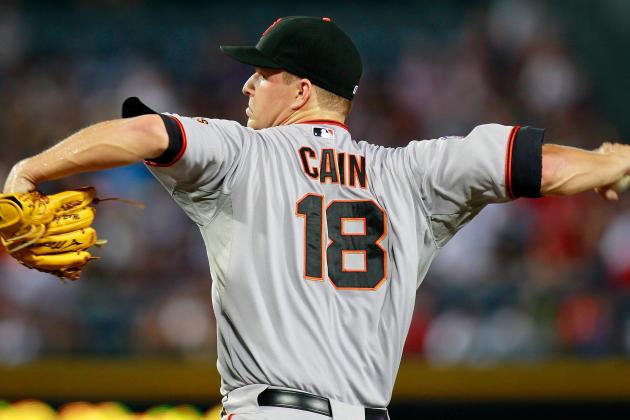 Kevin C. Cox/Getty Images

Cain probably deserves a lower ranking for the week. He'll be operating in two hitter-friendly parks (Milwaukee, Miami), and he's just four days removed from a four-run, eight-hit clunker against the Cardinals.

However, his formidable numbers since April 21 (2-2, 3.24 ERA, 1.05 WHIP, 35/7 K-BB) and gut-feeling likelihood of a nine-strikeout effort clinches the top-five ranking. He's a gamer!

Targets: One win, 16 strikeouts and 3.10 ERA.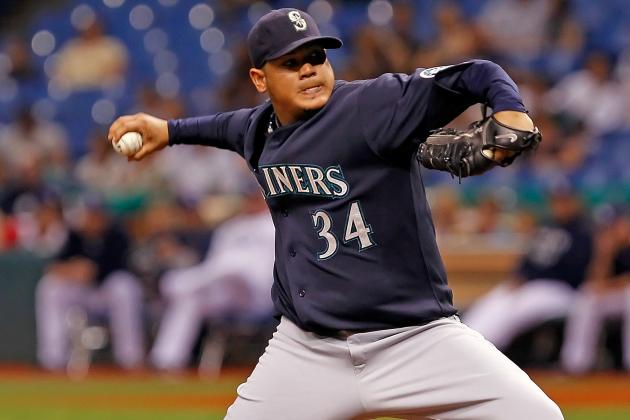 J. Meric/Getty Images

Prior to last week, Hernandez had allowed double-digit hits in back-to-back outings only once in his eight-year career...and it occurred in his American League Cy Young campaign of 2010 (2.27 ERA, 1.01 WHIP, 232/70 K-BB).

So, how did King Felix fare after the double-digit-hit clunkers of two years ago? In his first start, he blanked the White Sox over eight innings, surrendering only two hits and striking out eight batters.

In other words, there's no point in worrying about Felix's season-long viability; besides, what would be the motivation for trading him at 80 cents of his typical trade dollar?

Targets: One win, 17 strikeouts and 3.00 ERA against the Rangers and Angels at home.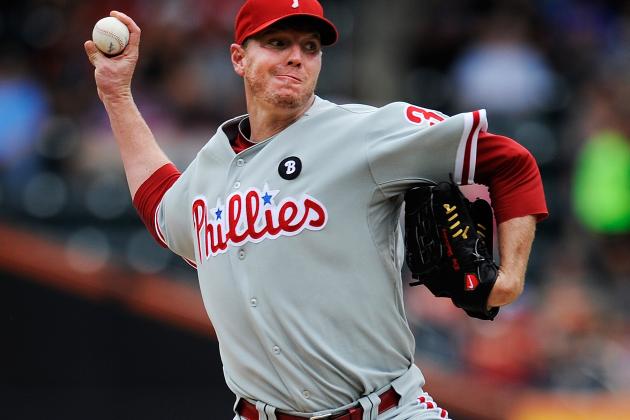 Patrick McDermott/Getty Images

It's easy to play favorites with Halladay after his most recent three-game stretch—1-1, 2.86 ERA, 0.95 WHIP, 21/2 K-BB ratio over 22 innings.

Not that we needed any special incentive to endorse baseball's best real-world and fantasy pitcher of the last four years.

Bottom line: Minus that May 2 ultra-clunker against the Braves (eight runs, 12 hits), Halladay remains an even-money bet for two or less runs and six to seven strikeouts for nearly every outing. And he hasn't even found his dominant groove yet this season.

Targets: Two wins, 14 strikeouts and 2.60 ERA.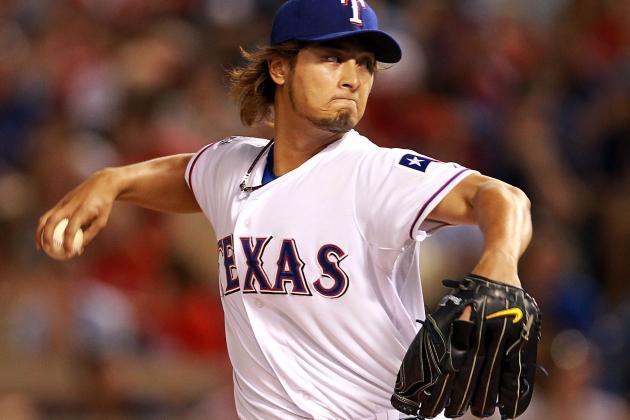 Ronald Martinez/Getty Images

In his last seven starts (spanning 46.1 innings), Darvish has a 5-1 record, 1.96 ERA and 53 strikeouts.

These stats are all prime indicators of Darvish's progress, a reflection of his on-the-fly adjustments to the MLB culture and growing confidence in his devilish pitching repertoire.

Just wait until Darvish gets a second go-round with the American League's offenses. He's a virtual lock for 205 strikeouts and a sub-3.10 ERA this season.

Speaking of which, Darvish draws the Mariners (road) and Blue Jays (home) this week—his first two chances at seeing an opponent for the second time.

Targets: Two wins, 15 strikeouts and 2.95 ERA.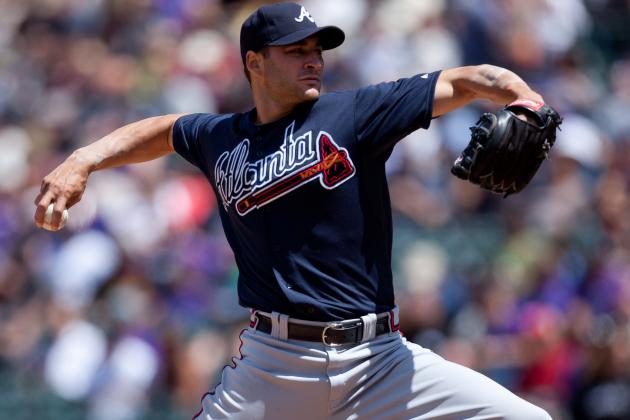 Justin Edmonds/Getty Images

There is nothing sell high about Beachy's start to the 2012 campaign, his second full season in the majors.

Obviously, if you can get Josh Hamilton, Matt Kemp or Ryan Braun as part of a one-for-one trade, do it without much consternation. But Beachy is just scratching the surface to his real-world and fantasy greatness; so why waste precious family, leisure or on-the-couch TV time trying to guess when the other shoe will drop this summer? (Because it won't.)

Beachy's story works from all angles:

The "recent-history" angle: He has a 1.27 ERA and 0.84 WHIP in his last three starts (all wins).

The "upside" angle: A healthy Beachy should average between 185-210 strikeouts for the 2013-18 seasons.

The "reliability" angle: I fully expect Beachy, perhaps the crown jewel of the Braves' pitching pipeline, to be a top-15 starting pitcher heading into next year.

But if that's not enough to abandon a sell-high angle (an idea hatched by my fantasy colleague, Eric Mack), then at least do it after Beachy tangles with the Reds and Nationals this week.