Justin Verlander: Tigers Pitcher Reminds Us He's Best in MLB with Near No-Hitter
May 19, 2012

Leon Halip/Getty Images
Is there any debate who the best pitcher in baseball is?
Tigers ace Justin Verlander was oh-so-close to a no-hitter in Detroit's 6-0 win over the Pittsburgh Pirates in front of an ecstatic Comerica crowd on Friday night, proving why he's the greatest in 2012.
The reigning MVP and Cy Young winner struck out 12 (including the side in the eighth) while walking two and allowing one measly single to Josh Harrison with one out in the ninth.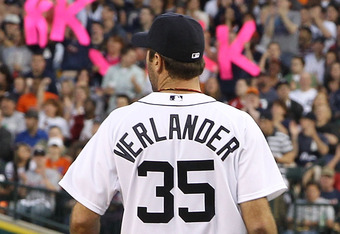 Leon Halip/Getty Images
While the Pirates may rank dead last in runs scored, tossing a no-no against an interleague lineup that you aren't familiar with is incredible.
He was still hitting 100 mph on the radar gun in the eighth inning and never needed more than 17 pitches to retire the side. It was a dominating performance in every sense of the word.
It would have been the third time in his career he registered a no-hitter, but instead Verlander will settle for raising his record to 5-1 and lowering his ERA to 2.14.
When you combine 100-mph heat with a devastating curveball, few hitters can compete. He has pinpoint accuracy on the corners of the plate and is one of the most mentally tough pitchers in baseball. As CBS Sports' Jeff Passan reminds us, his curveball is like a drug:
Justin Verlander's curveball is baseball heroin. It's so, so bad for you, and so, so difficult to lay off.

— Jeff Passan (@JeffPassan) May 19, 2012
After tossing two no-hitters in 2007, Verlander remains just one no-no away from joining some rather historic names on the list of pitchers that have thrown three or more: Nolan Ryan (7), Sandy Koufax (4), Bob Feller (3), Larry Corcoran (3) and Cy Young (3).
With two no-hitters already in the books this season, the pitcher has certainly made a comeback now that the steroid era has passed.
Despite the resurgence of stars on the mound in today's game, nobody is shining brighter than Verlander. With five seasons of 17 wins or more since becoming a full-time starter in 2006, and a WHIP that resides at 0.90 over the last two years, there is nobody that's been as consistently dominant as Verlander of late.  
Friday night was just a reminder.