Chicago Bears: Reviewing Their 2012 NFL Draft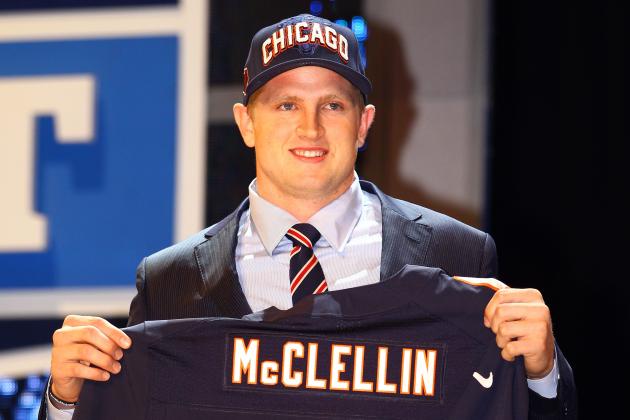 Al Bello/Getty Images

The Chicago Bears are only two years removed from an NFC Championship berth and would have been serious playoff contenders last season if quarterback Jay Cutler's season had not ended early because of a broken thumb.
However, they play in one of the NFL's strongest divisions and came into the 2012 draft with numerous significant holes on their roster.

Did the Bears effectively fill their holes with draft picks and build a team that can be a serious contender in the NFC again this season? Read through the following slides to find out.
Begin Slideshow

»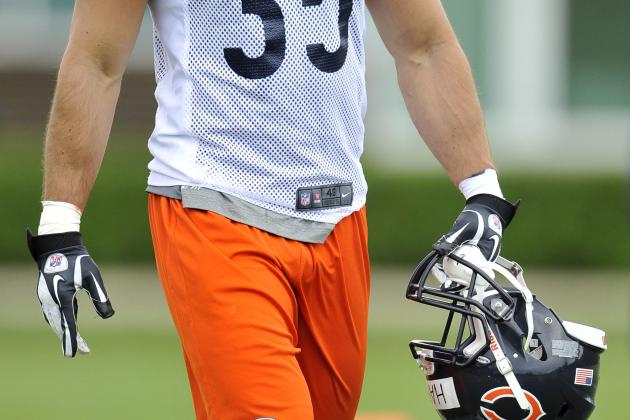 Brian Kersey/Getty Images
Brandon Hardin
Round 1, Pick 19: Shea McClellin, DE/OLB, Boise State

Overall Prospect Rank: No. 43

McClellin has high upside as an athletic pass-rusher. However, McClellin is much better suited to play outside linebacker in a 3-4 scheme than defensive end in a 4-3, which is where he is set to line up for the Bears.

McClellin is not a natural fit in the Bears' defense, but he does have talent. He has a great get-off at the line of scrimmage, and he is very effective at tracking down runners in space. McClellin is a high-motor player who did not fill up stat sheets at Boise State, but made a consistent presence. However, he needs to add size and strength to play defensive end.

Round 2, Pick 45: Alshon Jeffery, WR, South Carolina

Overall Prospect Rank: No. 22

Jeffery is a big wide receiver who has the most pure talent of any wide receiver in this draft class. His stock dropped due to a lack of elite speed and a steep drop in productivity in his junior season, but he is a very skilled downfield receiver.

He has great size, strength and hands. He has enough athleticism to complement his other traits, and he will create many tough one-on-one matchups for opposing cornerbacks.

Round 3, Pick 79: Brandon Hardin, FS, Oregon State

Overall Prospect Rank: No. 196

After he missed all of last season due to shoulder surgery, Hardin was expected to be selected much later than Round 3. That said, he is an intriguing prospect with the skills to develop into a player worth this selection.

Hardin is a physical defensive back with safety size, but he can cover like a cornerback. He is very athletic for a safety and a solid tackler. His game needs to develop, but he has the potential to develop into a quality starting free safety.

Round 4, Pick 111: Evan Rodriguez, TE/FB, Temple

Overall Prospect Rank: No. 180

Rodriguez is short for an in-line tight end, but he has potential as an H-back who could play a Chris Cooley-like role for the Bears. He is an effective blocker with reliable hands. Rodriguez should be a situational player and a quality special teams contributor.

Round 6, Pick 184: Isaiah Frey, CB, Nevada

Overall Prospect Rank: No. 184

Frey is a very solid cover cornerback who was productive and consistent for Nevada. He is a good athlete who plays with physicality and has good ball skills. Frey is well-rounded and should be able to provide depth at the position and play special teams as well.

Round 7, Pick 220: Greg McCoy, CB, TCU

Overall Prospect Rank: No. 241

McCoy is an instinctive cornerback who tackles well and has very good athleticism, and is also a very effective punt returner. However, he is a small cornerback who is inconsistent in coverage and could struggle against big, outside receivers in the NFL. That said, McCoy projects well as a special teams contributor and returner.
Kent Nishimura/Getty Images
Brandon Marshall
The Bears traded Round 2, Pick 50 and Round 5, Pick 150 to the St. Louis Rams for Round 2, Pick 45.

By moving up five spots, the Bears had the opportunity to draft an impact player at the wide receiver position in Alshon Jeffery. Jeffery was tremendous value in the second round, and he will be a big asset to the Bears' offense. This trade made complete sense for the Bears.

The Bears received Round 3, Pick 73 from the Carolina Panthers in July 2011 for tight end Greg Olsen. The Bears traded Round 3, Pick 73 and their 2013 third-round selection to the Miami Dolphins in March 2012 for wide receiver Brandon Marshall.

The Bears traded away a talented receiving tight end when they gave up Olsen last year, but when they traded the pick they received in March, they ended up with one of the NFL's best deep-threat wide receivers. The upgrade from Olsen to Marshall in terms of the impact each player has on the Bears' passing offense was well worth an additional third-round draft pick. It was another great trade for the Bears to improve their passing offense.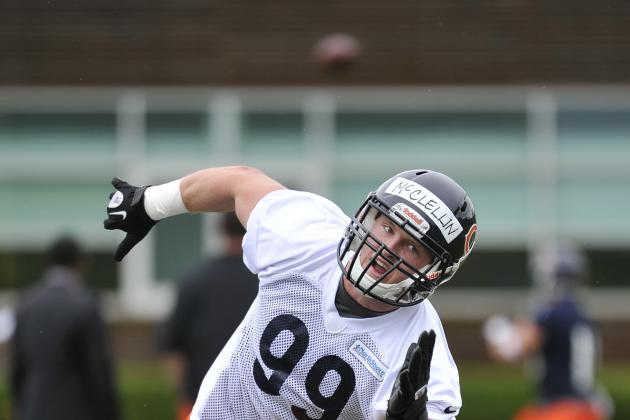 Brian Kersey/Getty Images
Shea McClellin
Shea McClellin was one of the most curious cases of the entire 2012 NFL draft. All along, I thought that McClellin was a talented pass-rusher who would rise in the months leading up to the draft, but I never expected that he would end up rising all the way into the top 20. A player who was underrated throughout his senior season ended up being over-drafted.

McClellin could end up being a very solid pass-rusher, but he is best suited to play in a 3-4, and the Bears could have gotten a better pass-rusher and true defensive end in either USC's Nick Perry or Illinois' Whitney Mercilus at the No. 19 overall pick.

While the Bears drafted a second-round talent in Round 1 with McClellin, they got a first-round talent in Round 2 with Jeffery, who was worth giving up a fifth-round pick to trade up for.

The other big reach for the Bears was Rodriguez in Round 4. The Bears needed to upgrade at tight end, but could have drafted a much more talented tight end prospect with better size and athleticism in Georgia's Orson Charles, rather than reaching on an H-back.

Hardin went earlier than expected, but given that the safety class was weak this year, that pick was understandable as he had more free safety upside than any others available.

Jeffery was great value in Round 2, but aside from that selection, the Bears did not get any exceptional value the rest of the way.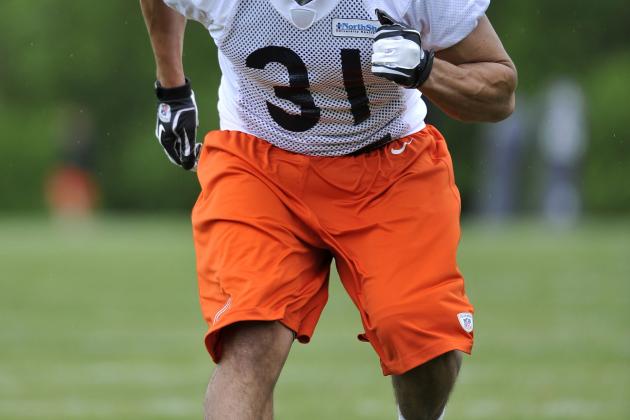 Brian Kersey/Getty Images
Isaiah Frey
The Bears needed to add a pass-rushing defensive end to start across from Peppers, and they added a player with the potential to be exactly what they need in McClellin.

Even with the trade in March for Brandon Marshall, the Bears still needed another offensive playmaker out of this draft, and they got that player in Jeffery.

The Bears also really needed to upgrade the secondary, and they used exactly half of their picks to build up the defensive backfield. Hardin adds to the rotation at safety, while Frey and McCoy can contribute at cornerback and on special teams.

While the Bears addressed some important needs, one area of massive need that they failed to address was the offensive line. The entire line was a mess last season, and the Bears really could have used another offensive tackle and interior line help. The Bears also could have used linebacker depth.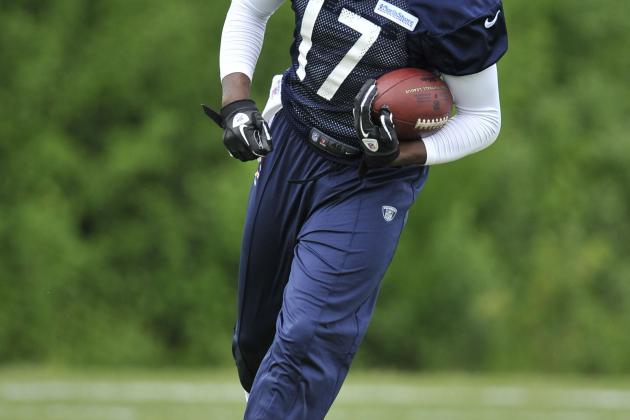 Brian Kersey/Getty Images
Alshon Jeffery
With this offseason's additions of Brandon Marshall and Alshon Jeffery, quarterback Jay Cutler should have two legitimate deep-threat wideouts to target. The Bears also added three quality draft selections to build up their secondary.

The Bears added another pass-rushing defensive end, but reached on a player in Shea McClellin who may not be a natural fit when there were better defensive ends still available. The Bears made another questionable decision when trying to upgrade at tight end by selecting Evan Rodriguez in Round 4 over Orson Charles.

Overall, the Bears' draft was decent and should help to build up the roster, but they could have gotten better value at points. Failing to draft any offensive linemen leaves blocking as a serious remaining concern.

Grade: C+

Thanks for reading!

Throughout the month of May, I am reviewing one team's draft each day, in the order of the original 2012 NFL draft order.

Follow me on Twitter @Dan_Hope.