2012 Fantasy Football Predictions for Contract Holdout Stars
May 18, 2012

Jeff Gross/Getty Images
Several of the NFL's biggest stars—and in turn, biggest fantasy football stars—are currently in the middle of contract holdouts.
That list of holdouts includes Drew Brees, Matt Forte, Dwayne Bowe and Ray Rice. 
Each of the four players has received the franchise tag this offseason and is currently negotiating for a new, long-term contract. 
How will the holdouts affect each of the four players in fantasy terms? 
We break down those answers below.
Drew Brees, New Orleans Saints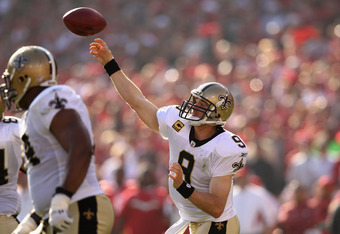 Ezra Shaw/Getty Images
Most have expected Brees and the Saints to eventually come to a long-term deal, especially given the bounty scandal that continues to loom over New Orleans' 2012 season. But as of the middle of May, talks have seemed to go backwards more than forward. 
In fact, Brees openly expressed his frustrations about the Saints' lack of urgency to get a deal done as recently as this week.
While talks look dead right now, the safe bet is that Brees will eventually get his deal. Even if he doesn't, he'll be playing 2012 on a one-year deal worth more than most people can even imagine having.
When breaking down Brees' fantasy potential for next season, a couple things must factor in. How will losing parts like Robert Meachem and Carl Nicks affect the offense? And how much impact did head coach and offensive play-caller Sean Payton have on Brees?
Even if the losses next season don't throw a big enough wrench into the Saints' offensive machine, you have to think that Brees' numbers will dip in 2012. Replicating what he produced last season—a record number of passing yards (5,476) and 46 touchdowns—will be very difficult, given the circumstances.
Still expect a top-three quarterback season from Brees, but his numbers should come back down from his superhuman 2011 levels. 
Matt Forte, Chicago Bears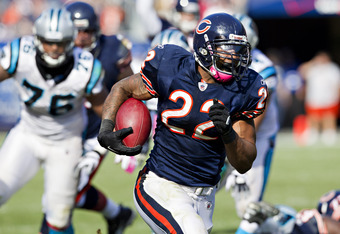 Wesley Hitt/Getty Images
Forte has been fighting for a new contract since last season, but all the Bears have done is switch general managers and then sign a plenty capable backup in Michael Bush to push the leverage back in their favor. 
Expecting the Bears to turn around now and give Forte the monster deal he wants looks like the longest of shots now. 
But it also remains unlikely that Forte would miss any games in 2012, as he has $7.7 million reasons to be on the field once the regular season kicks off in early September. 
While that gives Forte plenty of fantasy potential for 2012, the effect of Bush behind him could have an impact on the number of touches Forte ultimately gets next season. In fact, the number of carries Forte has received has dropped in every year since his rookie season. 
Given he stays healthy for 16 games, you can still expect Forte to get 225 or more carries and 50 or more catches, totals that give Forte the potential for another season of well over 1,500 total yards. If Forte can get the ball into the end zone at a higher clip (no 10-touchdown rushing seasons in four years), there's no doubting he's a first or second round pick. 
Dwayne Bowe, Kansas City Chiefs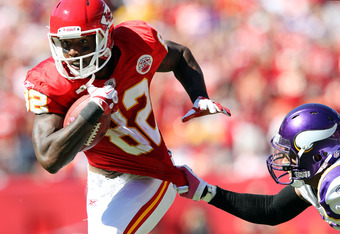 Jamie Squire/Getty Images
Bowe has yet to sign his franchise tender, with obvious hopes that a long-term deal will come his way. But in terms of contract disputes, Bowe's hasn't even approached a panic state. Like Wes Welker in New England, Bowe is likely to play the 2012 season under the one-year tender. 
In terms of fantasy potential, Bowe is looking solid. You could argue that the Chiefs offense is better on paper heading into 2012 than at any other time during Bowe's career in Kansas City. The team is getting back Jamaal Charles from injury, while also adding important pieces such as Eric Winston and Peyton Hillis. 
A lot of Bowe's fantasy potential weighs heavily on Matt Cassel. The Chiefs need to get their running game back to 2010 levels, and if that turns out to be the case, Bowe could easily catch 10 or more touchdowns against favorable coverages. 
Remember, Bowe caught 15 touchdown passes in the league's best rushing offense two years ago. He won't approach that number in 2012, but an improved running game in Kansas City gives Bowe the chance to be a big-time producer next season.
Ray Rice, Baltimore Ravens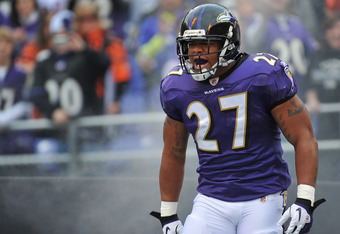 Larry French/Getty Images
Outside of Brees in New Orleans, no player in the NFL deserves a new deal more than Rice. One of the league's best all-around backs, Rice is still trying to get the contract security of a multi-year contract from GM Ozzie Newsome. 
While that potential still exits, it's just as likely that Rice plays 2012 on the one-year tender. 
But even with contract concerns, Rice is one of the very best fantasy options available. 
Rice has cracked 1,200 yards rushing in each of the last three seasons, and his production in the passing game—over 60 catches in each season since 2009—is nearly unmatched in the pro game. Rice even managed to find the end zone 15 total times in 2011. 
There's no reason now to think Rice will slow down in 2012. He's still just 25 years old and has shown little in terms of durability issues. 
As the centerpiece of the Ravens offense, expect Rice to go over 1,200 yards rushing and 700 receiving with double digit touchdowns in 2012. That kind of production is more than worthy of being a top-five pick.