Padres Release Orlando Hudson: 3 Teams That Could Give Him a Look
May 18, 2012

Denis Poroy/Getty Images
The San Diego Padres weren't going to find a team interested in trading for second baseman Orlando Hudson.
Even if the Padres had been willing to eat most of his $5.5 million salary, no one was going to make a deal for a 34-year-old middle infielder with a slash average of .211/.260/.317. To clear him from its roster, the team would have to release him. 
That's exactly what happened on Thursday according to MLB.com, as Padres general manager Josh Byrnes decided it was finally time to cut loose an aging veteran who wasn't providing any production. With his club holding the worst record in the National League at 14-24, Byrnes decided it was time to go with younger players who have the promise of some upside.
Now that he's been released, Hudson's career may very well be over. He wasn't much better last season, hitting .246/.329/.352 with seven home runs and 43 RBI. And at 34, he doesn't figure to be getting any better. But with a team only having to pay Hudson the major league minimum salary, there are three clubs that could give him a shot. 
San Francisco Giants
Freddy Sanchez isn't coming back any time soon. CSN Bay Area's Andrew Baggarly reported that Sanchez cut his rehab assignment short after developing back pain. And he was still building his shoulder strength back up after having surgery on it last August.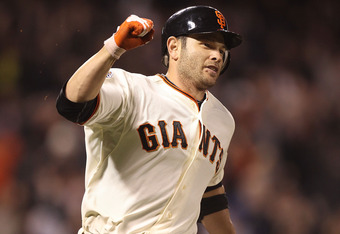 Jed Jacobsohn/Getty Images
That leaves the Giants with Emmanuel Burriss and recent call-up Charlie Culberson as the options at second base. 
General manager Brian Sabean may prefer more of a veteran presence at the position. And isn't this his kind of move, anyway? Sabean loves picking up scrap-heap middle infielders.
Hudson still has some speed to offer a team, something the Giants need. He stole 19 bases last year. And this year he has five triples. (Yet he has no doubles. Explain that one.)
Of course, he has to get on base to use that speed, and an on-base percentage of .260 hasn't given him much opportunity this season. 
Philadelphia Phillies
The Phillies have been looking for a second baseman ever since Chase Utley's knee problems shut him down this spring. Rookie Freddy Galvis hasn't been a stellar replacement, batting .235/.273/.374 in 123 plate appearances. Although, he does provide some youth on a roster that's looking increasingly creaky.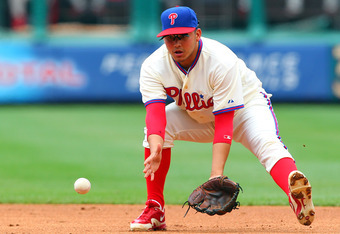 Rich Schultz/Getty Images
Hudson wouldn't cost much money to sign, which makes him an ideal fit for a team that doesn't have much wiggle room in its payroll. 
But the Phillies do need more offense, and Hudson doesn't bring much with him. So would he be that much of an improvement over Galvis?
According to the Philadelphia Inquirer's Matt Gelb, Utley is taking ground balls and increasing the intensity of his workouts now. So the Phillies might just be better off waiting for his return, rather than giving a roster spot to a player who might not make much of a contribution. 
Detroit Tigers
Second base has been a black hole for the Tigers all season, with no one able to provide any kind of offense at the position. 
They gave Brandon Inge a shot, but he could only muster a batting average of .100 and was released. Ryan Raburn has an OPS of .457. Ramon Santiago isn't much better. Actually, he's worse with an OPS of .448.
Would Hudson be much of an upgrade? Most likely not. But as mentioned earlier, he would bring some speed to a lineup that doesn't have very much. Yet he just doesn't get on base more than what the Tigers are already carrying on their roster.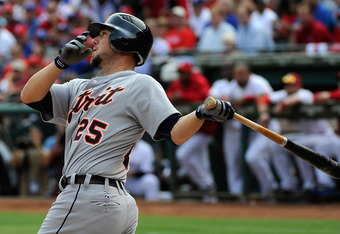 Kevork Djansezian/Getty Images
Plus, as badly as Raburn is hitting now, he has a strong history as a second-half player that can't be ignored.
Raburn has a .300/.351/.497 average with 33 homers and 122 RBI in 842 plate appearances. Tigers fans don't want to hear it, but they have to wait out Raburn's struggles. 
Hudson could warrant a look in the short-term in an attempt to bring some stability to second base. But he's not worth keeping second-half Raburn out of the lineup. 
Follow @iancass on Twitter