Texas Football: Which Former Player Will Have the Best Rookie NFL Season in 2012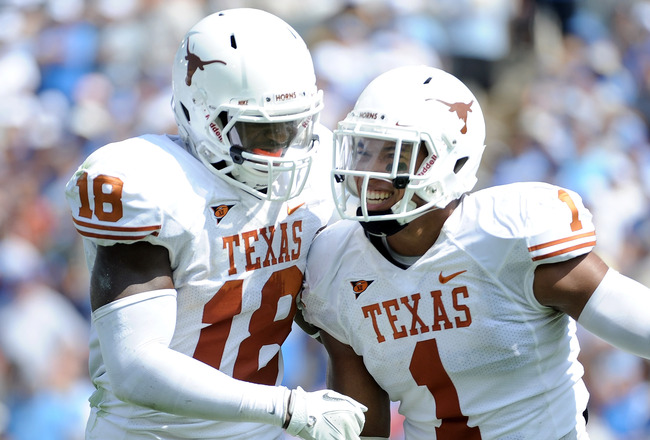 Harry How/Getty Images
The Texas Longhorns sent seven players to the 2012 NFL Draft.
Three were taken.
Linebacker Keenan Robinson was the first to be selected and went in round four to the Washington Redskins. Emmanuel Acho was the next to go, but had to wait all the way until the sixth round when the Cleveland Browns selected him. Defensive tackle Kheeston Randall was the last Longhorn to be selected, taken in the seventh round by the Miami Dolphins.
While all of these players made their contributions during their time at Texas, one will step up and have a better rookie season than the others.
Who do you think will have the best NFL rookie season? Leave a comment!
Kheeston Randall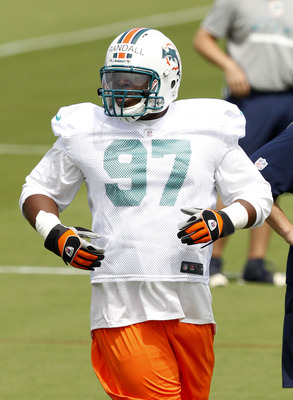 Joel Auerbach/Getty Images
After seeing sporadic playing time his freshman year, Kheeston Randall really grew into his role at Texas and hit his peak during his junior season. His draft stock was soaring and he was projected to be an early round pick.
Returning to school for his senior season may have been a mistake.
In the thirteen games that Randall played in during his last year with the Longhorns, he only recorded 11 solo tackles.
While his senior season was a disappointment, he still has the size and strength to develop into a solid defensive lineman in the pros.
Develop being the key word.
Randall failed to step above the average label while at Texas, and that is going to be something he will have to work hard to overcome in Miami.
The distant future could be bright for Randall, but he finds himself near the bottom of the depth chart at the beginning of his rookie season.
Keenan Robinson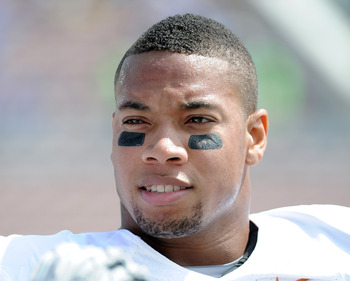 Harry How/Getty Images
The Washington Redskins traded away everything to draft Robert Griffin III from Baylor.
Well, almost everything.
With one of their few remaining picks, Mike Shanahan chose a very athletic linebacker from Texas.
Keenan Robinson, 6'3" 242 lbs, has good size and is one of the better coverage linebackers taken in the draft. These coverage skills could earn him a starting spot in the Redskins' nickel or dime packages.
Becoming a full-time starter will be a little more difficult.
Robinson enters the Redskins depth chart behind two solidified starters: former Longhorn, Brian Orakpo, and the Redskins' first round pick in last year's draft, Ryan Kerrigan.
While being a starter at Texas, Robinson was not the best past rusher. He also struggled to handle bigger tight ends, failing to bump them off the line.
While Robinson is athletic and a good coverage linebacker, he is not well rounded. If the deficiencies in rushing the passer and holding his own against bigger offensive lineman are not addressed, it could leave him just as a situational linebacker in the NFL.
Emmanuel Acho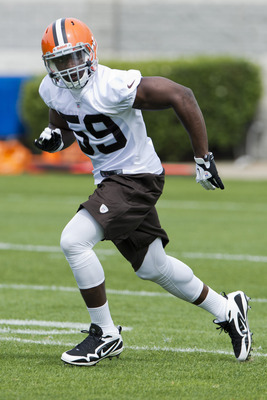 Jason Miller/Getty Images
Emmanuel Acho is one of the quicker and more athletic linebackers taken in the draft.
Acho proved this throughout his very successful career with Texas, culminating in a 61 tackle, 14.5 tackle for a loss, and three sack performance during his senior season.
Acho's quickness doesn't come at the expense of strength either. He was consistently a playmaker in the middle of the Longhorns defense, stopping the run and defending the pass. At the next level, it will be his instincts that will get him on the field, despite being a sixth round pick.
We've seen this somewhere before.
Emmanuel's older brother, Sam Acho, was drafted by the Arizona Cardinals in the fourth round of the 2011 NFL Draft. Even though he was a later round pick, Sam went on to a fantastic rookie season, recording 40 tackles, seven sacks, and four forced fumbles.
Although he is perhaps not as refined as Sam, Emmanuel enters a 4-3 system in Cleveland that will play to his strengths. The Browns desperately needed a pass rush around the outside. Emmanuel could see a good amount of playing time, which will lead to the best rookie season in the NFL of any other Longhorn taken in the 2012 NFL Draft.
Keep Reading

Texas Longhorns Football: Like this team?