Lawrence Taylor: Embattled New York Giants Legend to Sell Super Bowl XXV Ring
May 17, 2012

Tom Berg/Getty Images
New York Giants legend Lawrence Taylor has hit a new low as he tries his hand as used ring salesman. 
The New York Post reports Taylor is putting up his Super Bowl XXV ring and for a possible discount, and it really makes me sad. 
The truly mighty have fallen as the report states the ring valued at $75,000-$100,000 is only now fetching substantial bids. 
You rich folks have until Saturday to get your bids in, and as of Thursday at 10:20 a.m. ET when the NY Post reported, the highest was a $37,982 bid. That would be chump change for some of you ballers out there.
The publicity has helped as the highest bid is closing in on some real value. As of Thursday at 2:55 p.m. ET, the going rate was $67,292.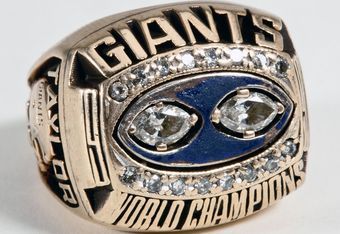 It certainly isn't pennies to me, or to Taylor who is apparently hurting for money at the moment. You only need to read some of the auction's description to see how hard they are selling this ring to investors. 
You can view the page at SCP Auctions here. 
Here are some of my favorites: 
Lawrence Taylor epitomized what a football player should be. He moved like lightning and hit like thunder. He showcased superhuman abilities and defensive prowess that few if anyone had ever before seen on a football field.
Holy smokes, how did we ever get along after he retired? I will go ahead and say that Taylor was truly one of the best defenders to ever play, but this hyperbole is fantastic. 
One does wonder how thunder hits, though. The best is this little gem though. 
The ring shows considerable wear, that in some eyes, only enhances it aura.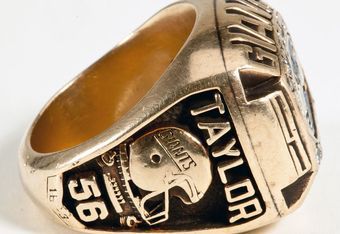 I really want to head to a used clothing store with some of my finer vintage items and say this line with a straight face. It works on so many levels. Try it when you take back a half eaten burger and see if it gets you your money back. 
Taylor has a ring of note up for sale. Just because you cant afford to buy it doesn't mean you can't enjoy the brilliance of the description. 
Follow me on Twitter and we can swap Garbage Pail Kid cards.