Hiroki Kuroda: New York Yankees SP Earns AL Worst of the Night Honors
May 17, 2012

Abelimages/Getty Images
The New York Yankees signed Hiroki Kuroda this offseason in hopes that he would do for them what he did for the Los Angeles Dodgers: Eat innings and post an ERA in the 3.00s.
Yeah...it's not working out all that well so far.
Kuroda made his eighth start of the season on Wednesday night in Toronto against the Blue Jays. He got off to a good start, retiring the side in order in the first inning with two strikeouts. But after that, the Jays started teeing off.
The trouble began in the bottom of the second. Edwin Encarnacion led off with an infield single, and J.P. Arencibia brought him home with a blast to left field with two outs that made it 2-0. It was the seventh home run allowed by Kuroda this season.
The eighth came in the bottom of the third inning. Kuroda gave up a double to Eric Thames and walked Jose Bautista (not a bad idea in that situation) with two outs, and Encarnacion brought everyone home with a three-run bomb to center, his 13th of the season.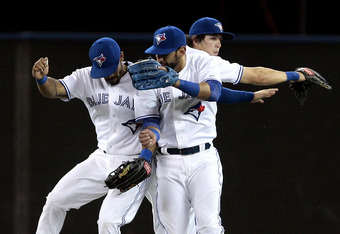 Abelimages/Getty Images
That made it 5-0, and the Jays would make it 6-0 on an RBI single by Kelly Johnson in the fourth. Leading off the bottom of the fifth, Bautista hit a line drive to left field that exited the yard in about 0.5 seconds. That pushed Toronto's lead to 7-0.
It was the third of four home runs that the Jays would hit on the day en route to an 8-1 victory. You can see them all over at MLB.com.
Kuroda was pulled after Arencibia led off the sixth inning with a single. His final line score isn't pretty: 5+ IP, 8 H, 7 R, 7 ER, 2 BB, 6 SO, 3 HR.
David Waldstein of The New York Times called it Kuroda's "worst start as a Yankee." Yankees manager Joe Girardi characterized the game itself as "ugly." They pretty much hit the nail on the head.
Kuroda entered the game with a respectable 3.56 ERA. It jumped to 4.50, and his WHIP is now an ugly 1.44. Opponents are slugging .473 off him, which isn't good.
The home runs are definitely a concern. Despite the fact he ended up with respectable numbers last season, Kuroda did give up a career-high 24 home runs. This season, he's on pace to give up 39 of them.
Neil Keefe, a writer for WFAN.com, tweeted this earlier this afternoon.
Hiroki Kuroda just gave up another run.

— Neil Keefe (@NeilKeefe) May 17, 2012
Kinda sums up the kind of season Kuroda is having.
We shall see if Kuroda can turn things around as the season progresses. For now, I am memorializing Kuroda's stinker on Wednesday night by bestowing American League "Worst of the Night" honors on him.
Take heart, Yankees fans. At least the Bombers aren't paying Kuroda all that much.
At least, not relative to other players on the team's payroll, anyway.
If you ever want to nominate somebody for "Worst of the Night" honors, you can hit me up on Twitter.