Fantasy Baseball: Is Oakland Athletics' DH Manny Ramirez Worth Picking Up?
May 17, 2012

Kevork Djansezian/Getty Images
What a long, strange trip it's been for Manny Ramirez.
Last May, the veteran slugger was languishing with the Tampa Bay Rays before he abruptly retired in lieu of serving a 100-game suspension for the second positive drug test result of his career.
Fast-forward seven months to last December, when Ramirez got the itch to play again and formally requested reinstatement by Major League Baseball. In a somewhat surprising move, he landed with the Oakland Athletics, who signed him this past February to a minor league contract.
And here we are in mid-May, and Ramirez is nearing completion of his 50-game suspension to start the season.
He is ready to report to Triple-A Sacramento this weekend to get some minor league reps prior to joining Oakland. Per csnbayarea.com, Ramirez is in line to appear with the Rivercats this Saturday. He is eligible to make his big league debut this season on May 30—incidentally, his 40th birthday.
The signing of the one-time Hall-of-Fame-bound Ramirez is not deemed as that relevant of a storyline in 2012, especially as the candle of his career burns out.
Following the twilight of a PED-filled career isn't entirely that interesting anymore. And let's be real: The fact that Ramirez is riding into the sunset in Oakland makes his imminent return to the big leagues that much more yawning.
"Mannyball" in Oakland doesn't exactly snag the headlines across the country.
But while the majority of MLB media outlets overlook the resurrection of Manny being Manny, fantasy owners should take special interest in Ramirez as a possible designated hitter option for their lineup.
It's likely that Ramirez was not selected in most fantasy drafts due to his two-month suspension. But now that he is likely to return to the majors by month's end, it's time to evaluate whether it'd be wise to pick him up off the waiver wire in the next couple of weeks.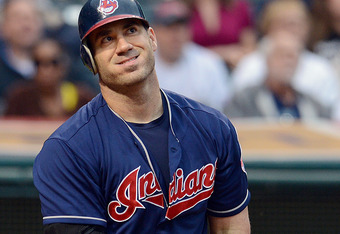 Jason Miller/Getty Images
American League-only fantasy owners will pay close attention.
Here is how some notable designated hitters stack up as of May 16th, 2012 (with at least 100 at-bats as DH): 
- David Ortiz (Boston): .353/.417/.633, 8 HR, 27 RBI, 27 R
- Billy Butler (Kansas City): .288/.340/.489, 6 HR, 27 RBI, 14 R
- Edwin Encarnacion (Toronto): .270/.329/.589, 12 HR, 31 RBI, 22 R
- Adam Dunn (Chicago White Sox): .248/.384/.597, 12 HR, 28 RBI, 22 R
- Travis Hafner (Cleveland): .252/.397/.430, 4 HR, 16 RBI, 11 R
- Luke Scott (Tampa Bay): .228/.282/.482, 7 HR, 26 RBI, 13 R
If Ramirez were to put up anything close to those numbers, he'd be considered a steal.
However, there are some obvious factors that suggest he might not be able to meet those standards. After all, he hasn't played in the majors in over a year. And let's be honest, even when he was with Tampa Bay he wasn't exactly performing at a level of relevance.
Can he be counted on to put up high marks with the Athletics? A team that is abysmally inept offensively?
Maybe. Especially if he's given enough reps to dust off the rust.
Oakland's designated hitters have a combined slash line of .221/.344/.344 with three home runs, 13 RBI and 19 runs scored in 37 games. Most of the damage has been done by Jonny Gomes, Seth Smith and Kila Ka'aihue.
Not exactly a high bar being set.
Ramirez, even at the age of 40, could certainly put up close to those numbers. The only question will be whether he has enough (ahem) juice left in his creaking body.
If Ramirez is employed full-time at DH, then, sure, it's certainly possible. It's likely he'd replace Gomes as the right-handed designated hitter, with Gomes sliding into the outfield, if necessary.
The A's have a lot of flexibility right now with plenty of outfielders on their roster.
Thus, Ramirez might not be a good DH option because he likely will have to split time with other players until his conditioning is up to speed. Also something to consider is the fact that by the time Ramirez is eligible to rejoin Oakland on May 30, the A's will be approaching the interleague portion of their schedule.
The Athletics have back-to-back series in National League parks from June 8 through June 14.
Considering his outfield skills, or lack thereof, what's the likelihood that Ramirez will see any consistent at-bats during that stretch?
Probably next to nil.
He won't see consistent playing time until June 15. The safe bet is to see how he does during in the week after he joins Oakland, and then determine during the interleague series whether he's worth picking up off the waiver wire.
If, however, you are jonesing for a DH, then by all means, pick him up sooner rather than later. If you do, consider that Ramirez' bat speed will definitely be slow.His strikeouts will mount and batting average will struggle to climb.
Moreover, with the Athletics' anemic offense, what's the probability he'll drive in a significant number of runs? Very low. Especially since Gomes is handling lefties quite nicely so far this season. Against left-handed pitching, Gomes has a .250/.385/.500 slash line.
Ramirez won't outperform those numbers. At least not right away.
Right now, it's best to not pick up Ramirez for your DH spot.
He won't get significant playing time until mid-June. Even for AL-only fantasy leagues, there are more suitable options for the time being. Continue to plug in Scott or Hafner. They may have lower batting averages, but they are driving in runs and are on teams with better offenses.
If Ramirez is putting up decent numbers in his brief appearances, maybe claim him off waivers before the end of June.
Most likely, he won't last very long, though. After all, it's Manny Ramirez. He could get lost in Sacramento and go AWOL at any point. It's not worth a roster spot on your fantasy roster.  

Follow me on Twitter: @nathanieljue