Jacksonville Jaguars: Should Jags Give Maurice Jones-Drew a New Contract?
May 17, 2012

Joe Robbins/Getty Images
As the Jacksonville Jaguars usher into a new era, they must do so without the face of the franchise, Maurice Jones-Drew.
He elected to skip the voluntary OTAs to work out near his home in California. His absence is also being attributed to his desire for a new contract.
MJD led the league in rushing with 1,606 yards and single-handedly kept the Jags' offense afloat.
The Jaguars had the worst passing attack in the NFL in 2011, but were in many close games. This was due, in large part, to Jones-Drew's ability to put the team on his shoulders and carry a struggling offense.
He faced eight and nine-man fronts all year, with opposing defenses not fearing the pass at all, and was still able to pound his way to the rushing title.
MJD will be looking at the contracts recently handed out to Arian Foster, Chris Johnson and DeAngelo Williams, along with the upcoming deals for Matt Forte, Ray Rice and LeSean McCoy.
All of which will be more than Jones-Drew's current contract.
For a team struggling to find stars and fill seats, Maurice Jones-Drew is the Jacksonville Jaguars.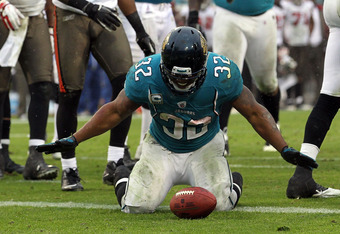 Sam Greenwood/Getty Images
So, it seems like a no-brainer to appease your most notable player, not to mention the NFL rushing leader and your workhorse.
But is it the right move for the Jaguars?
The average shelf life for an NFL running back is rather short compared to other positions and when the decline in production starts, it's usually quick and drastic.
Jones-Drew led the league in carries in 2011 and has averaged 313 carries over the past three seasons. So, there is a considerable amount of wear on his tires. And it has proven extremely difficult for running backs to shoulder that much of the load in one season and duplicate it in the next.
He lacks the ideal body size to withstand the punishment that NFL running backs endure, and even though he has been fairly durable, he has had prior knee surgery.
Size, injury, wear and age are all factors that should be weighed heavily before making this decision.
The Jags could extend Jones-Drew for a few more years, making him one of the highest paid running backs. This would take him into his early thirties and they just have to hope he doesn't hit the running back wall.
Or, they could let MJD play out the final two years on his contract and let him walk. This would not be the popular option, but it would buy the team time to find his replacement and keep a top-tier runner for fairly cheap for a couple more seasons.
The NFL has become a passing league and there is much less emphasis on the running game now than ever before.
It becomes a risky proposition to pay excessively for a position that is being devalued.
So for a small-market team like the Jaguars, the unpopular decision may be the best one for the future of the franchise.
This is not a slight against Maurice Jones-Drew and his ability, but more of an indictment of what NFL offenses have become.
It is better to part with a player a year early, than a year too late.