5 Early Contenders for NFL Defensive Rookie of the Year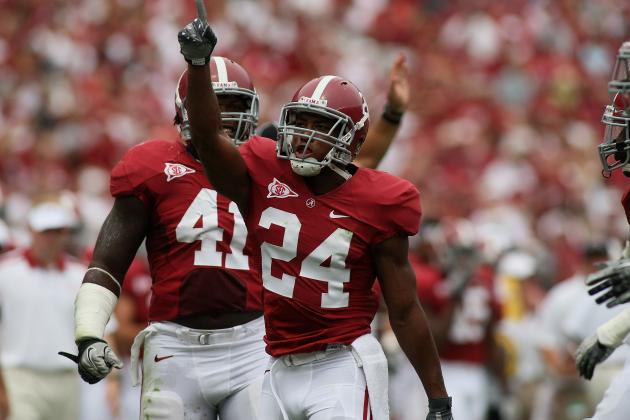 Greg McWilliams/Getty Images

The 2012 NFL draft has come and gone. Now that the first round of rookie minicamps are out of the way, fans and pundits alike have begun to label a player as a star or bust just moments after their first practice.
Is this ridiculous? Absolutely! As experts like to say, you cannot fully evaluate a draft class until three to five years afterwards, much less one practice.
So, as a result, no player can truly be named a contender for anything before a down is played.
But using only what we know now, here are five players who have a legitimate shot to contend for NFL Defensive Rookie of the Year this season.
Begin Slideshow

»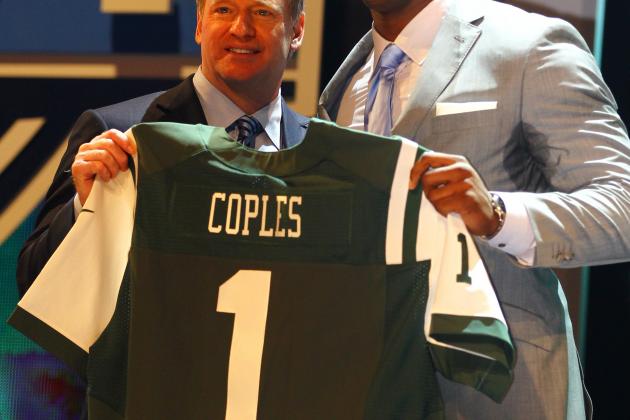 Al Bello/Getty Images

While many questioned the Jets when they selected Coples with the 16th overall pick, if he lives up to his potential and shows it during his rookie season, he has two things that could help take home the hardware this season.
The first is he is a sack-machine, which weighs heavily with many voters. You just don't see too many run-stuffing nose tackles win awards.
The other is playing in New York City, which can either really hinder or help athletes. But, if Coples wants to take home some hardware, playing well in the limelight of New York will get him all the voter attention he needs.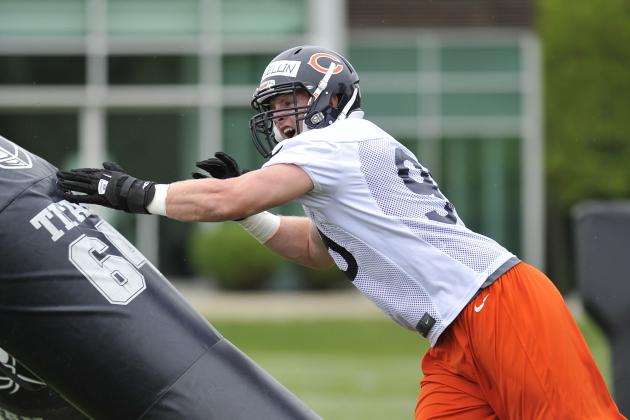 Brian Kersey/Getty Images

Surprise, surprise—another defensive lineman.
As another player who knows how to get to the quarterback, McClellin's success may revolve around one of his new teammates, Julius Peppers. Since Peppers is a star defensive end, many offenses will shift their blocking to Peppers' side of the line to try to limit his impact.
This could lead to a plethora of opportunities for McClellin to face one-on-one blocking and to collect sacks.
Did I mention the voters overvalue sacks?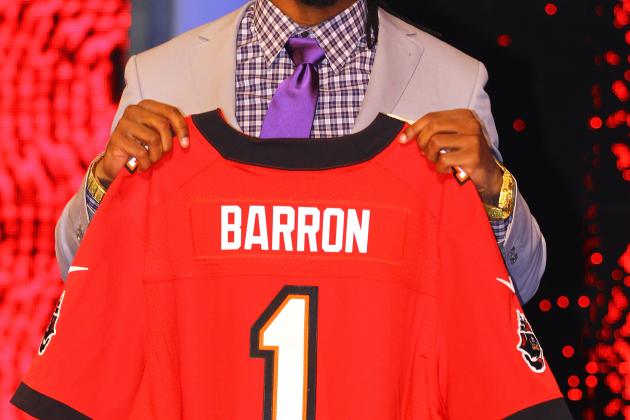 Al Bello/Getty Images

While many feel that the Bucs "reached" when they selected Barron seventh overall, they may have arguably taken the cleanest and safest player of the first round.
During NFL Network's coverage of the draft, analyst Mike Mayock perfectly summed up Barron when he said, "his ceiling is that of a Pro Bowl safety and his floor is a Pro Bowl safety."
If Barron can step in on day one and just play his game, he will have a legitimate shot at the award, and maybe even a trip to Hawaii.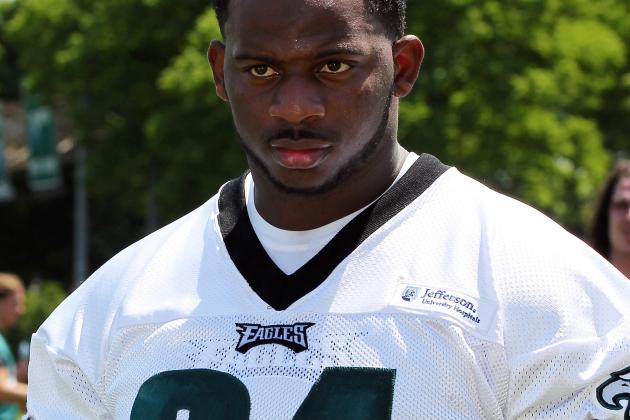 Rich Schultz/Getty Images

Many draft experts called "Steal!" after the Eagles traded up to select Cox with the 12th overall pick. Cox, who had been projected in the top 10 by many experts, has exceptional quickness for his size and has shown the ability to penetrate into the backfield.
At the NFL Scouting Combine, he ran the 40-yard dash in 4.79 seconds, a great time for someone who weighs nearly 300 pounds. What may help Cox take home top rookie honors is the defense—and especially the defensive line—that he joins.
A defensive line with Trent Cole, Jason Babin and Cullen Jenkins will demand much attention from opposing offenses. They may sleep on Cox, who will happily reap the rewards of their ignorance by making the big plays that writers remember when voting on awards.
Also, DeMeco Ryans, Dominique Rodgers-Cromartie and Nnamdi Asomugha are no slouches either. The Eagles defense could be scary this year, with Cox being a big part of it.
And does he really look like someone you want to get in the way of?
Patrick McDermott/Getty Images

The Ravens were probably as shocked as everyone else watching the draft when stud linebacker Courtney Upshaw fell to them at the 35th overall pick. Coming out of Alabama, Upshaw had just won a national championship with the Tide and at one point was considered to be a top-15 prospect.
At first, the selection of Upshaw meant that he would likely compete with Paul Kruger to start at outside linebacker for the recently departed Jarrett Johnson. However, after Terrell Suggs went down with a torn ACL, Upshaw seems destined for the starting lineup.
There are worse options than lining up next to Ray Lewis.
On one of the league's best defenses, Upshaw can prove he is for real if he can help fill the void left by the reigning Defensive Player of the Year in Suggs.
Voters chose Suggs last year; will they vote for his replacement?
Harry Orbach Miller is contributor to Bleacher Report and bustasports.com