John Smoltz: Happy Birthday to the Last of a Dying Breed
May 15, 2012

Mike Zarrilli/Getty Images
Happy birthday to John Smoltz! Smoltz celebrates his 45th birthday today. Here's a little birthday item to celebrate Smoltz's unique MLB career.
When Smoltz ended his career after the 2009 season, he likely became the last of a dying breed in MLB history: the 40-40 pitcher. Smoltz is one of only 37 pitchers in MLB history who compiled 40 or more complete games and 40 or more saves in their career. Smoltz had 53 complete games as a starter and 154 saves as a reliever in his career.
Dennis Eckersley is the only member of the 100-100 club. "Eck" had 100 career complete games and 380 saves. Three other pitchers had 60 or more complete games and saves in their careers: Firpo Marberry (1923-36) had 86 complete games and 101 saves; Charlie Hough (1970-94) had 107 complete games and 63 saves; Clint Brown (1928-42) had 62 compete games and 64 saves.
Following are the last 13 pitchers to retire with 40 or more complete games and 40 or more saves in their career. The 40-40 Club since 1970:
Pitcher, Years, Career CGs/Career Saves
John Smoltz, 1988-2009, 53/154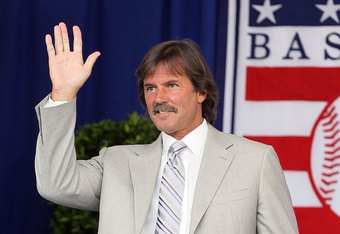 Jim McIsaac/Getty Images
Dennis Eckersley, 1975-98, 100/380
Charlie Hough, 1970-94, 107/63
Shane Rawley, 1978-89, 41/40
Ken Forsch, 1970-86, 70/51
Ron Reed, 1966-84, 55/103
Woodie Fryman, 1966-83, 68/58
Dick Drago, 1969-81, 62/58
Wilbur Wood, 1961-78, 114/57
Stan Williams, 1958-72, 42/43
Mudcat Grant, 1958-71, 89/53
Ron Kline, 1952-70, 44/108
Pedro Ramos, 1955-70, 73/55
Follow Jerry on Twitter @StatsonTapp