NFL: Hottest Storylines Come out of Rookie Minicamps
May 15, 2012

Jason Miller/Getty Images
All across the NFL landscape newly drafted players filed in to take part in rookie minicamps last weekend. While full-team minicamps will take place in a few weeks, rookies had a chance to show their stuff to the teams that drafted them this past weekend. 
Several stories have already emerged that should turn a few heads. Here's a look at the hottest storylines coming out of rookie minicamps.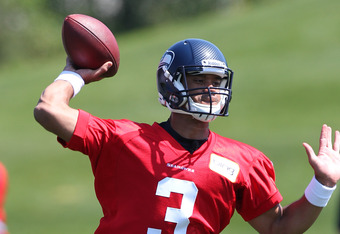 Otto Greule Jr/Getty Images
Russell Wilson in the mix to start in Seattle
Probably the most shocking revelation of rookie minicamps is that Seattle Seahawks third-round pick. Russell Wilson will be competing for the starting quarterback job at training camp. The diminutive signal-caller from Wisconsin will be firmly in the mix with both Matt Flynn and Tarvaris Jackson later this summer, according to head coach Pete Carroll.
This news blew me away, since the Seahawks handed Flynn a three-year, $26 million contract this offseason to come in and lead the team. The other player in this battle will be returning starter Tarvaris Jackson, but if we've learned anything from him during his six-year NFL career, it's that he is not a starting quarterback in the NFL. 
I like Wilson, but I really can't see him earning the starting job in Seattle. At best I see him being a Seneca Wallace-type backup.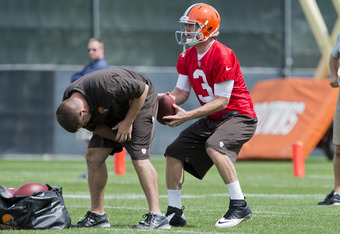 Jason Miller/Getty Images
Brandon Weeden struggling under center
The Cleveland Browns drafted Oklahoma State quarterback Brandon Weeden with the No. 22 pick to be their starter for the 2012 season. But that transition isn't going as smoothly as they had hoped. 
Weeden took most of his collegiate snaps from the shotgun, and has had difficulty transitioning to taking snaps under center. Weeden fumbled several snaps and exchanges during the team's rookie minicamp, and while he threw the ball well, the 28-year-old still has some work to do. 
If he can't get the exchanges down, Weeden will have a tough time earning the starting job later this summer. Something tells me he'll be putting in a lot of extra time taking snaps before training camp kicks off.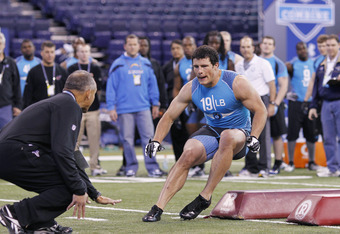 Joe Robbins/Getty Images
Luke Kuechly to play outside linebacker
The Carolina Panthers snagging Boston College tackling machine Luke Kuechly with the ninth pick in the 2012 NFL draft and immediately upgraded their linebacking corps. While Kuechly was clearly the best inside linebacker in this year's draft, Carolina has decided to move him to the outside of its 4-3 defense.
Kuechly will begin his career as a weak-side linebacker, which will leave veteran Jon Beason in the middle, while James Anderson will start on the strong side. This may actually be a huge boost for Kuechly.
On the weak side the 21-year-old can focus more on attacking and making plays and really could be better suited in a role where he goes and finds the action, as opposed to plugging holes in the middle. In addition to that, he won't have the added responsibility of having to set Carolina's defense and also read and make adjustments based on the offensive sets the Panthers face.
This might be the best situation for Kuechly, especially to start his career.