South Carolina Football: Player Who Will Have the Best Rookie NFL Season in 2012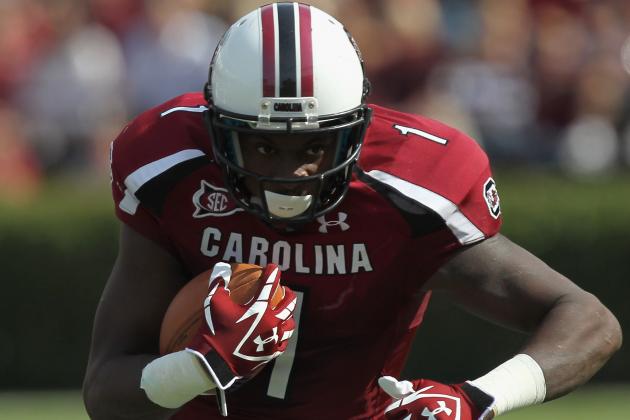 Streeter Lecka/Getty Images

South Carolina made its presence known during the 2012 NFL Draft.
Six Gamecocks heard their names called in the seven-round NFL draft and will look to make a big impression during their rookie seasons in the NFL. South Carolina tied for third-most draft picks by one college, following behind Alabama with eight and Oklahoma and Georgia with seven.
A few other players signed as undrafted free agents as well.
This goes to show that the talent level at USC has tremendously increased in recent years. Let's take a look at each draft pick South Carolina had and find out who was put in the best position to succeed in their 2012 rookie NFL season.
Begin Slideshow

»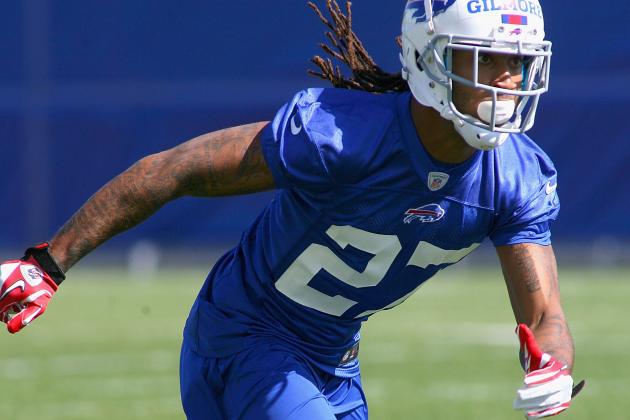 Rick Stewart/Getty Images

Stephon Gilmore found himself as a potential first-round draft pick when he entered the 2012 NFL Draft. He only helped himself with impressive combine showings and workouts to climb the draft boards and be taken with the 10th overall pick by the Buffalo Bills.
Gilmore now has his eyes on a starting position. The Bills released veteran starter Drayton Florence, basically giving Gilmore the starting job at the cornerback position.
There is a reason the Bills selected Gilmore, and his talents have already caught the eye of head coach Chan Gailey. In the Bills' rookie minicamp, Gilmore had several pass breakups and at least one interception during four practices this past weekend. He was physical with receivers off the line of scrimmage and excelled in coverage.
The real test comes on May 29 when the veterans come for team minicamps. Gilmore has a confidence and an air about him to play like a top draft pick, so expect him to do well in these matchups.
Buffalo allowed 5,938 yards through the air this past season, but its hope is Gilmore—and a few other additions—will bring improvement to this Buffalo defense.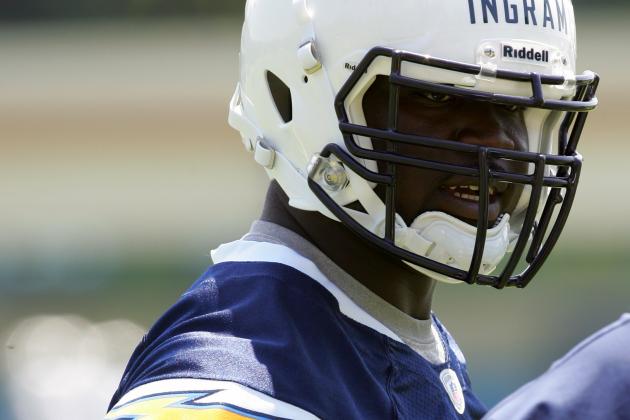 Kent Horner/Getty Images

Melvin Ingram fell down the draft board a bit, but the San Diego Chargers might have picked up one of the most versatile athletes in the 2012 NFL Draft.
In his first rookie minicamp with the Chargers, Ingram has already worked at defensive end, linebacker and defensive tackle. The opportunity to play different positions should give the Chargers an option to use him all over the field in certain situations.
Ingram will likely get a chance at strong-side linebacker for San Diego and will battle Jarret Johnson for playing time in 2012. Johnson only had 56 total tackles and 2.5 sacks, so a sack specialist like Ingram will work into the plans for the Chargers defense early.
Chargers GM A.J. Smith said it was luck to be able to draft Ingram with the 18th pick:
"I consider this a part of luck because when I see what I consider a bonus pick, outside our cluster, it's luck. He's a mean, nasty man, extremely physical with a great motor."
This is exactly what the Chargers are getting with Ingram: a physical, athletic player with a great work ethic and an all-out playmaker. He may not be a starter right away, but Ingram will certainly earn plenty of playing time in his rookie season.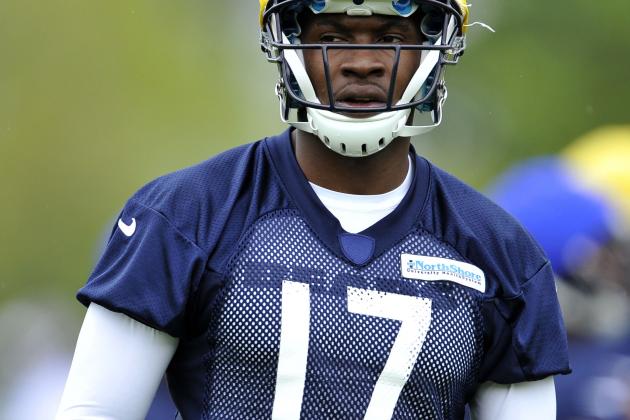 Brian Kersey/Getty Images

Coming in to the 2011 season, Alshon Jeffery was the most talked-about NFL prospect on the Gamecocks football team. Somehow Jeffery found himself in the middle of the second round due to a tough, transitional year for the Gamecocks offense, but he still wound up as a high draft pick with a lot to prove.
The Chicago Bears are hoping Jeffery is ready to show teams what they missed when they passed on him in the first round.
The situation is great for Jeffery to step right in and make an immediate impact for the Bears. Brandon Marshall was brought in at one receiver position with the idea that Jeffery could start on the opposite side of the field.
Right now, Devin Hester is listed as the receiver next to Marshall, although Jeffery should eventually find his way into the starting rotation down the road. Dan Pompei of the Chicago Tribune says he would be stunned if Jeffery was the opening-day starter.
Jeffery does have some work to do, but he really impressed Chicago's offensive coordinator in rookie minicamp; Jeffery was "picking peanuts out of the air," according to Tice.
If he can figure out the speed of the game quickly and learn to be more physical with NFL cornerbacks at the line of scrimmage, then the sky's the limit for Jeffery. He should be firmly in the rotation from the first game of the season, with a chance to end up as starter at some point shortly after that.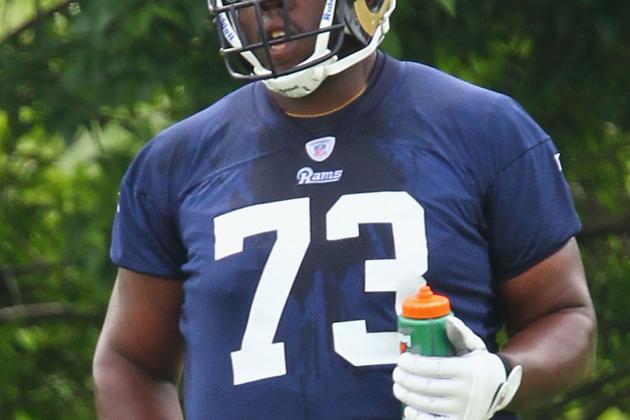 Dilip Vishwanat/Getty Images

Rokevious Watkins was a nice surprise for the Gamecocks in 2011. An injury forced him to move from the right tackle position to the left, but he was able to start all 13 games for the Gamecocks his senior season. Watkins earned himself All-SEC second team honors from the coaches and was an AP All-SEC selection as well.
Watkins spent time at the guard and tackle positions for South Carolina, and this versatility was one of the reasons why the Rams decided to pick hm up.
The size is there for Watkins to step right in and handle the physical defenses of the NFL. He got a smaller taste at the SEC level, and he loves to be physical with the defensive lineman across from him.
Here's what head coach Jeff Fisher had to say about Watkins:
"Rok is a big man. He's overcome a lot of stuff, great story. He's a very productive player. He's a finisher. He goes down field and finishes. He's versatile and can play guard or tackle."
Watkins' new team has an opening at the left guard position, and he's certainly capable of earning the starting nod as a rookie. It's hard for a rookie, even a fifth-round draft pick, to be a starter right away in the NFL. Given the situation, though, Watkins will likely earn some time in the rotation as a backup.
Watkins has been put into a really good situation, and you can look for him to fill a role for the Rams this season.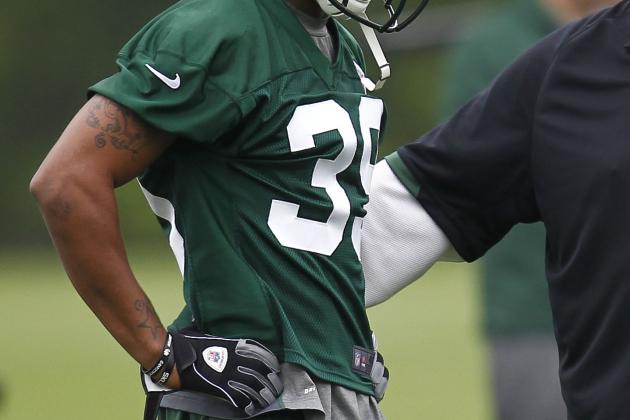 Jeff Zelevansky/Getty Images

It was a bit of a surprise to see Antonio Allen fall down the boards in the 2012 NFL Draft. Allen was projected to be one of the top safety prospects in this year's draft, but concerns about where to play him began to rise.
The Jets were smart enough to take a player who just gets the job done.
The leading tackler for the Gamecocks in 2011 brings the ability to play near the line of scrimmage as well as in coverage as a safety in the NFL. Allen continuously got better each season for the Gamecocks, and he really played well his senior season.
The Jets have projected starters LaRon Landry and Eric Smith at the safety positions, but Allen will certainly get a chance to back up those players in his rookie season.
Look for Allen to work his way into the rotation and probably play on special teams early in his career. He'll need to work on his coverage skills, but he could be a physical tackler for the Jets in the future.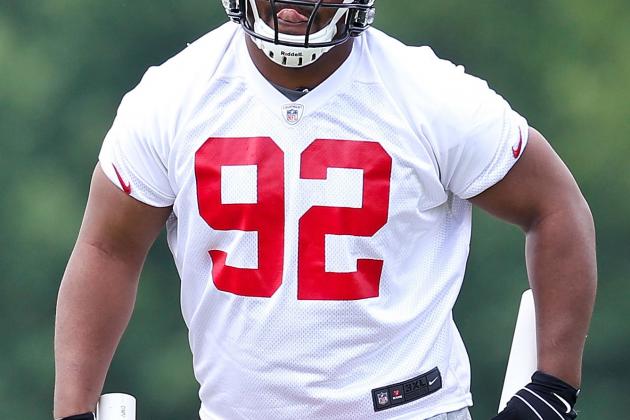 Daniel Shirey/Getty Images

Travian Robertson was considered to be one of the stronger, if not the strongest, players on the South Carolina football team the past few seasons.
He'll need all that strength and more to make a dent in the rotation for the Atlanta Falcons.
So far, it sounds like he is off to a good start.
Robertson was singled out by Falcons head coach Mike Smith following Day 2 of their recent rookie minicamp:
"Travian is a big, strong defensive tackle. He's more of an anchor point that a move guy. When we were doing our due diligence in the draft, it's quite apparent that he was strong. You can see that strength not only in the weight room, but also out there on the field."
Steve Spurrier considers Robertson to be one of his best captains he has ever coached. This is a strong statement considering the amount of talent Spurrier has coached on the field.
If Robertson is to make the roster and work his way into the rotation, he already has the perfect example on his team in Vance Walker. Walker was a seventh-round draft pick just like Robertson and was able to play 10 games his rookie season.
The depth chart looks manageable for Robertson, but he may have to spend some time on the practice squad before making his way onto the depth chart. Nevertheless, Atlanta landed itself a great player and an even better person in Travian Robertson.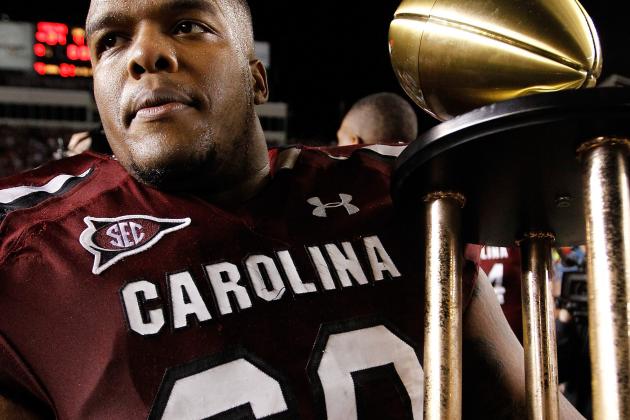 Streeter Lecka/Getty Images

South Carolina also had several players sign free agent deals after the conclusion of the 2012 NFL Draft. Here's a rundown of those Gamecocks who signed with NFL teams:
Jason Barnes, WR (San Diego Chargers)
Terrence Campbell, OG (Washington Redskins)
Marty Markett, CB (Atlanta Falcons)
C.C. Whitlock, CB (Minnesota Vikings)
Jay Wooten, K (Jacksonville Jaguars)
Most undrafted free agents have a hard time beating out veterans and NFL draft picks for roster spots, but it's not unheard of.
Jay Wooten has already been released by the Jacksonville Jaguars, as has C.C. Whitlock by the Minnesota Vikings. Barnes is a talented receiver who never put it together at South Carolina. Campbell was a solid player for the Gamecocks, but he was injury-prone during his career in Columbia. Markett was a special teams star for the Gamecocks, but he is a small cornerback who could have a hard time finding a roster spot.
Campbell may stand the best chance of sticking with a roster this upcoming season, but it's hard to see any of these undrafted Gamecocks really making the cut this year.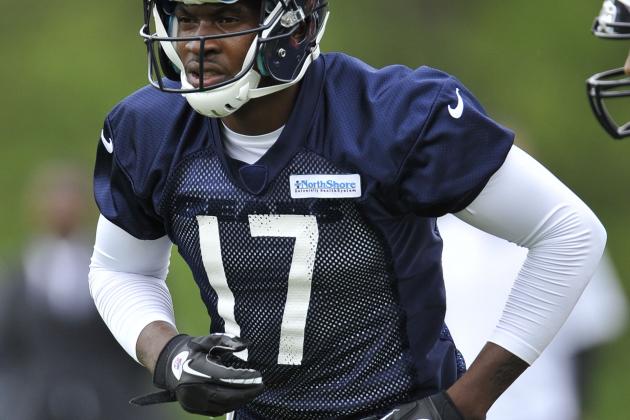 Brian Kersey/Getty Images

Out of all of these Gamecocks, Alshon Jeffery looks like he will be the top rookie performer in 2012. It was a toss-up between Jeffery and Stephon Gilmore, but Jeffery could have the biggest impact on his team this season.
Jeffery is known for his big-play potential. His size will be an advantage for the Bears offense under Jay Cutler. The hands are there for Jeffery. He's already shown he can produce in a short time during minicamp, and the Bears plan to get him more involved and see what he can do.
Devin Hester is listed as the starter opposite of Marshall, but Hester has still yet to make an impact as a wide receiver in the NFL. He could be better-suited for certain situations this season, leaving open the chance for the big receiver from South Carolina to start.
A tandem of Marshall and Jeffery should provide two big targets for Cutler to throw to this year. Jeffery was a red-zone target for the Gamecocks with his leaping ability, so expect the Bears to give him the shot to do the same this season.
If Jeffery can shore up his route-running sooner than later, look for a big season from the Gamecock rookie with a lot to prove.
This offense clicked last year with Cutler in the lineup, and that was without Marshall and Jeffery on the team. Throw those two in the mix, and you could be talking about the Bears offense for a change.
Jeffery was a great pick for Chicago this year, and he could be a great receiver for years to come.