Jose Valverde and the Most Annoying Players in MLB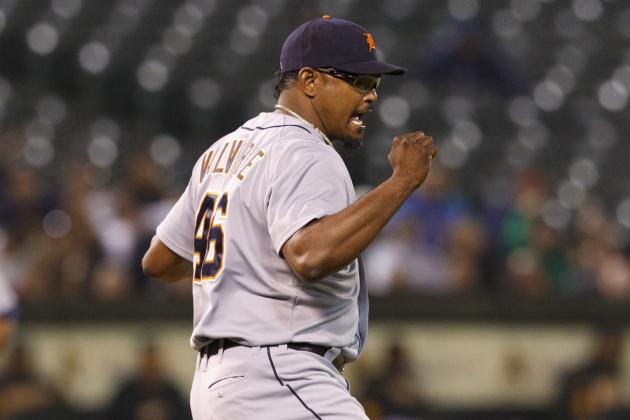 Jason O. Watson/Getty Images

Some say sports has a soap-opera characteristic to it these days. But then again, colorful characters have always been around.
Babe Ruth ate too much and tried to sing. I could just hear Skip Bayless and Stephen A. Smith arguing over the Babe's diet.
Mickey Mantle got hurt a lot because he wouldn't take care of himself as well as he should have.
Then there were guys like John Rocker, who did a number of stupid and annoying things.
There were just as many annoying guys in the majors then as there are now. Here is list of some of those guys who annoy numbers of fans today.
Begin Slideshow

»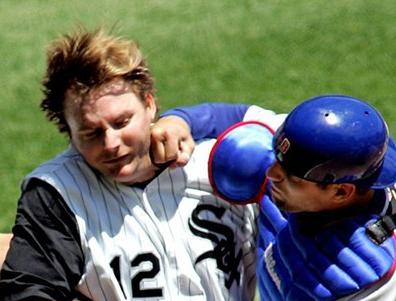 Photo via Reuters
AJ Pierzynski just looks like a punk. His behavior confirms that he is a punk.
Whether it is him trying to over-sell a play or pitch to get the call he wants from the umpire or him trying to provoke other players, he draws negative attention from people towards him. He almost gives off the impression that he came to fight instead of play baseball.
Any still photograph of Pierzynski getting punched in face is worth keeping.
The Michael Garrett incident is perhaps the most famous one. It could be argued that the two Chicago teams don't like each other. That maybe true to an extent, but Pierzynski is part of the reason why there is tension between the two teams.
Hunter Martin/Getty Images

Papelbon hasn't been shy to say what he thinks. He is also known to pout and scream like a little kid when things don't go his way.
When he first came on the scene with the Red Sox, people made Mariano Rivera comparisons. He backed it up for the most part.
At the 2008 All-Star game at Yankee Stadium, the whole baseball world got to see what he is capable of. It did not turn out the way he had hoped. Late in the game, he gave up the go-ahead run after the AL tied the game. Luckily for Papelbon, it was the All-Star game.
This spring, after Papelbon signed with the Phillies, he said that Phillies fans were smarter then Red Sox fans. That statement is not valid. Philadelphia cares more about the Eagles then the Phillies. Boston cares more about the Red Sox than any other team.
The comment seems to be a cry for attention. One thing he did accomplish was win the support of Phillies fans. It will be interesting to see when Red Sox Nation pays a visit to the City of Brotherly Love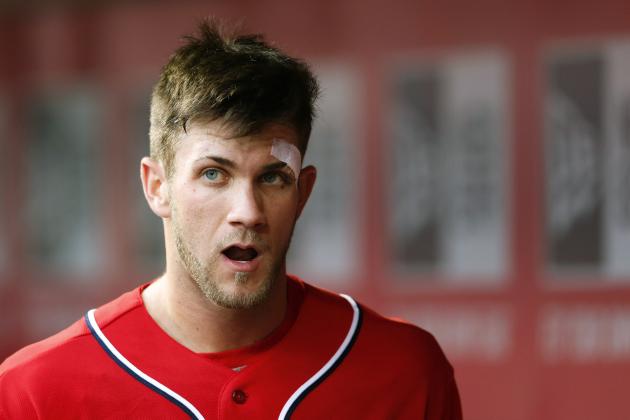 Joe Robbins/Getty Images

When you quit high school to pursue professional baseball, the decision is going to turn some heads. When you're cocky about it, you are bound to attract some haters.
He looks like a guy who you'd love to have on your team but hate if he's not.
It's really too soon to tell how annoying Harper is going to be. He winked at some pitchers in the minors. Soon we will see if he will still be the cocky teenage kid. Cole Hamels didn't take too kindly to that and he got a five-game suspension because of it.
The Toronto Blue Jays shortstop has hair that reflects his personality: flashy. Escobar's blond hair makes him look like he does some annoying things.
He has one of the strangest pre-batting rituals. It has a step-by-step process. While on-deck, Escobar looks like he's dancing while he practices his swing. He'll start to walk towards the batter's box. Before he steps into the dirt he has to pick it up and rub it on the back of his thigh.
It doesn't end there. While he's at the plate, he'll stare the pitcher down like normal. But while he is doing that, he just waves the bat around like a windmill or like a flag twirling in a marching band. He waves it so much, it actually makes you dizzy.
He is a solid hitter so to top it off, he'll probably get a hit.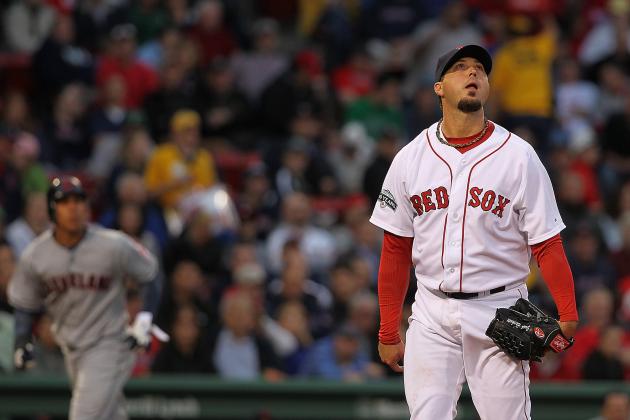 Jim Rogash/Getty Images

Beckett's recent golf outing must have been more successful than his last start.
The interesting question that gets raised about Beckett is about his role in the beer-and-fried-chicken incident from last year.
What made it even more funny was how he was complaining about not having enough time off. He already has two World Series rings: 2003 with the Marlins and 2007 with the Red Sox. Beckett may have checked or burned out.
Given Beckett's history, it would not be a surprise to see him start hitting two or three guys on purpose. If he does, he better keep it quiet or he will wind up like Cole Hamels.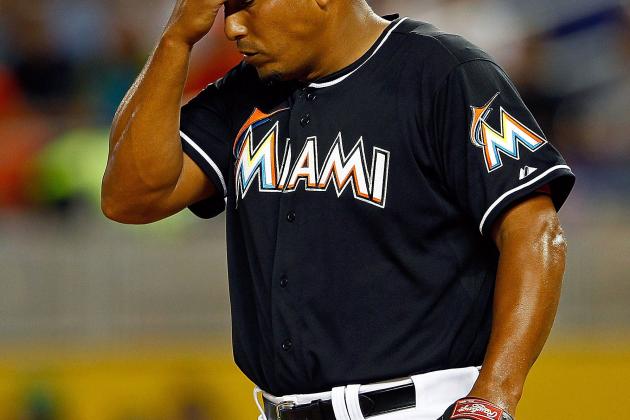 Mike Ehrmann/Getty Images

History will always remember Carlos Zambrano for his temper rather than his pitching. When someone is more known for their temper, you know they are annoying. Zambrano has to have been considered for every negative list in regard to annoying athletes.
His temper tantrums and disregard for his teammates and the Cubs organization landed him in a lot of trouble. What is amazing about Zambrano's time in Chicago was how long they put up with his emotional baggage.
One has to wonder whether that temper has affected his performance over the years. His pattern shows that. When he starts to struggle, that temper starts to show and it is quite entertaining to watch. The annoying part is hearing analysts talking about it for days.
Maybe having Ozzie Guillen as his manager could change things, but that can only prolong the time in between tantrums. That could mean the tantrums could be even more explosive.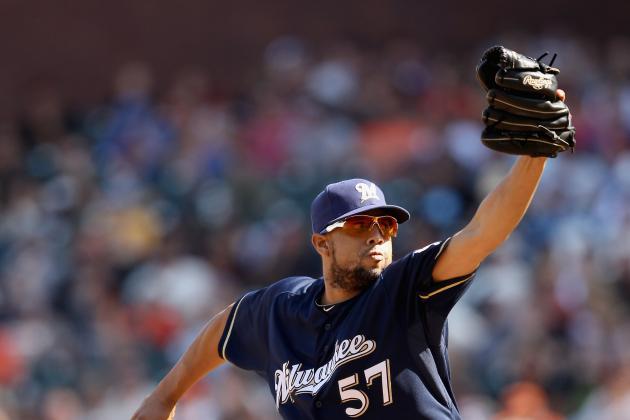 Ezra Shaw/Getty Images

Francisco Rodriguez has pretty much fallen off the face of the earth since he left the New York Mets. He is in Milwaukee and that does not bring him a lot of attention. Regardless of who he plays for or the amount of attention he gets, Rodriguez is pretty irritating to watch.
The first annoying thing about Rodriguez is his nickname. Where Rodriguez got the name "K-Rod" doesn't matter. The fact that it doesn't match his name starts the annoyance, but it gets even more annoying.
To simply put it, the glasses he wears are just strange. They look more like ski goggles than glasses.
He is very similar to Jose Valverde in how he celebrates. It may be enthusiastic but it can be on the opposite end of the spectrum.
We have seen what he can do when he is angry. He beat-up his father-in-law and wound up in jail because of it. What put the icing on the cake was the fact that he did it in the Mets' clubhouse.
Otto Greule Jr/Getty Images

Valverde celebrates every out like he just won the World Series. Cocky guys who celebrate everything just automatically draw negative attention towards themselves.
There is nothing wrong with showing emotion. In Valverde's case, what happens when he shows negative emotions is not a pleasant thing to watch unless you are the opponent who caused him to react that way.
His antics leave baseball fans scratching their heads. Does Valverde realize that you are going to have good days and bad days?
The bigger and more interesting question is, how would the most annoying player in baseball today celebrate a World Series? His team has a decent shot at it this year. The worst that could come out from a Detroit Tigers World Series title would be to watch Valverde get even more cocky.