Red Sox: Front Office Can't Admit Their Team Lacks Talent in Every Way
May 11, 2012

Jim Rogash/Getty Images
You have to admit you have a problem before you can solve it, right?
The 2012 Red Sox are not using that principle of common sense.
Red Sox general manager Ben Cherington, CEO Larry Lucchino and owner John Henry simply cannot face reality when it comes to the limited talent of their pitchers and position players. Until they face the severity of those limits, they will not make the large, bold moves this Red Sox team needs to regain its high quality of play from recent years.
From the historic collapse in September 2011 until now, it seems the Red Sox have not confronted how bad they are. They devoted much time and energy to finding a new manager while making only minor changes to their roster and disregarding the serious morale problem on the team. They couldn't face that their team really stunk.
How long will they wait in 2012 before they admit their team is not good anymore? That it needs some overhauling?
Let's look at the pieces: 
Does Cherington fully realize how bad the team's "Big Three" starting trio of Jon Lester, Josh Beckett and Clay Buchholz really are right now? It doesn't seem so.
Cherington appears to have a distorted, rosy view of the threesome. He needs to realize, for example, that Buchholz has had only one excellent season, and that he's been erratic and mediocre for much of his career.
Cherington hasn't acknowledged the diminishing velocity of Beckett's fastball, his inconsistent curveball or how poor his changeup has looked at times this year—particularly on Thursday night. Cherington also needs to admit that Lester has become a "nibbling" pitcher who relies on his cutter far too much and has stopped blowing his fastball by many hitters like he did a few years ago.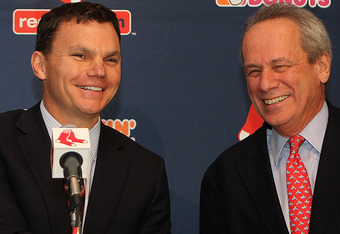 Jim Rogash/Getty Images
Would Cherington and Henry admit that the Red Sox bullpen is worse than most in the American League? No, it's not impressive that the bullpen has fared better recently against lousy teams. Do you recall how the New York Yankees pulverized the Sox relievers in their first series?
Cherington, after all, believed that Andrew Bailey and Mark Melancon would be able to anchor the Red Sox in the late innings. I doubt Bailey will ever be as good as the GM projects and we know how disastrously Melancon has pitched so far. He's in the Minors.
For some reason, Cherington and Lucchino thought they could get by without more bullpen depth in 2012. Yet, any team that has lost Jonathan Papelbon and removed Daniel Bard from its bullpen should not be surprised at a jarring dip in quality of performance. They should not be suprised that their decision to use Alfredo Aceves as their closer will result in ups and downs.
Similarly, how can they act surprised when Matt Albers comes in and gives up a game-winning home run to the Kansas City Royals? Albers is not that good—period. Neither is Vincente Padilla or Scott Atchison. Even Franklin Morales, who is one of the better relievers, is not as good as Cherington or manager Bobby Valentine may think he is.
The bullpen needs a couple of quality arms to replace Papelbon and Bard. Cherington and Lucchino  seem to be in a world of denial. Perhaps they've written off 2012 as a bridge year. It sure seems like it.
Cherington and Lucchino don't seem to notice the glaringly bad signs that fans see every night. For instance, Jarrod Saltalamachia has not shown me that he knows how to call a smart game and make in-game adjustments that correspond to how his pitcher is doing. In fact, he's poor-to-average at best with pitchers.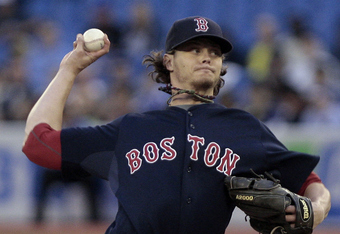 Abelimages/Getty Images
Why is John Lackey still traveling everywhere with the team? Lackey is lucky to even be employed by the team after his horrible performance in his first two years and his poor attitude last year.
Speaking of attitude, do Cheington and Lucchino ever notice that most of the players don't seem to care that much about winning? One certainly gets a sense that not enough players have a competitive fire. They also don't seem to have much fun out there.
The teams with that drive and enthusiasm—like the 2004 team—tend to win a lot more.
With the season halfway through May, it also remains a mystery why Lucchino forced Cherington to hire Valentine as manager. Lucchino is too smart to think Valentine would be able to be an aggressive disciplinarian in this day and age, knowing Cherington didn't even want him.
Now, it seems the team has the worst of both worlds; after Valentine's little episode with Kevin Youkilis, they seem determined to keep him in check—or maybe Valentine has become hesitant and uncertain on his own.
In any event, it seems Valentine is restraining himself, and at the same time, that he is not as effective or attentive as he was 15 years ago. Valentine has made some decisions about his pitchers that are impossible to defend and has left starters in too long on a handful of occasions.
It's true the team has had some bad luck—like many other teams. Losing Bailey, and more importantly Jacoby Ellsbury, has slowed the team. Carl Crawford's transformation into a player with complex, lasting injuries (wrist, elbow) has been a nightmare.
The Sox have been lucky, though, to have David Ortiz play out of his mind so far. Cody Ross has been a plus as well.
However, if Cherington and Lucchino were smart, they'd be thinking now about 2013 and beyond as they make decisions.
If that means they cannot keep playing Youkilis as long as possible because they have to play Will Middlebrooks at third base, they should make that tough decision. Youkilis will likely depart after this year, while Middlebrooks seems to be one of most talented, exciting players to rise up through the Minors in years. He deserves to play a lot.
The Red Sox will not find a way out of their quagmire until they start facing the truth, and the truth is the team is lousy now and has to begin a rebuilding process.