NL Cy Young Award Rankings: Stephen Strasburg, Ryan Dempster Leading the Way
Mike Ehrmann/Getty Images
Will Ryan Dempster be in a Cubs uniform by the end of the 2012 season?
Last week, when putting together our NL Cy Young Award rankings, we noted the lack of star power on the list. Where were the aces?
Well, the list is still missing some of the familiar marquee names typically included in a discussion of the best pitchers in the league. But it's still early in the season, and we could very well see familiar names like Roy Halladay, Clayton Kershaw and Tim Lincecum push into these rankings in the weeks and months to come.
Oops. Spoiler alert. No, those pitchers aren't currently on our list of NL Cy Young contenders.
Right now, however, two ace hurlers look to be pulling away from the rest of the pack. One is sort of a surprise, while the other was expected to be among baseball's top pitchers. Just maybe not this soon.
Here are the five current leading candidates for the top pitching honor in the NL.
Begin Slideshow

»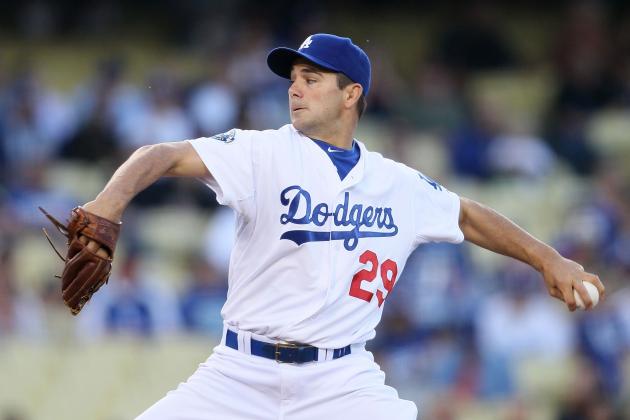 Victor Decolongon/Getty Images
Ted Lilly has been one of the early-season surprises in the National League.
Is Ted Lilly one of the best pitchers in the National League? Five weeks into the season, his numbers say so. Consequently, we had him at No. 2 in our NL Cy Young rankings.
Dropping him down to No. 5 might not seem fair, since Lilly still hasn't lost a game and has allowed more than one run only once in his five starts this season. That includes an outing against the Atlanta Braves, one of the highest-scoring lineups in the league.
Lilly isn't blowing opposing hitters away. His 21 strikeouts in 32 innings are nowhere near the league leaders in that category. But maybe that will be picking up as the season progresses. In his start against the San Francisco Giants this week, Lilly struck out six batters in six innings, his highest total thus far.
His 1.41 ERA is the fourth-lowest in the NL. His 17 hits allowed are the least among pitchers who have thrown at least 30 innings.
That's probably the biggest knock on Lilly right now. As the Los Angeles Dodgers' fifth starter, he just hasn't pitched the same number of innings as the staff aces around baseball have.
If he keeps allowing so few runs and hits, however, that might not ultimately matter when it comes to awards voting.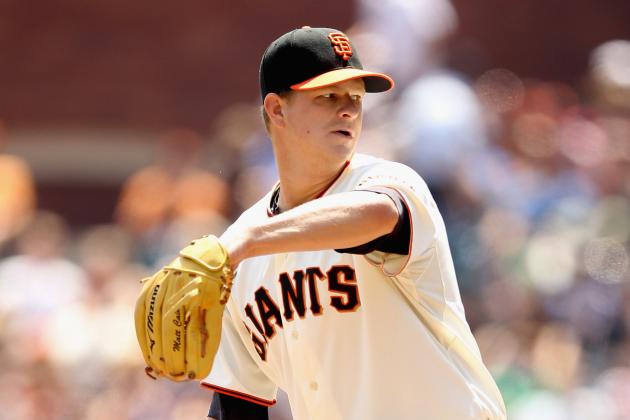 Ezra Shaw/Getty Images
Opponents are hitting .167 against Matt Cain so far this season.
Dropping down one spot from last week's rankings, Matt Cain might slip off this list as other pitchers begin to assert themselves.
Though his 1-2 record and 2.38 ERA might not look as impressive among the NL's top hurlers, Cain still ranks among the top of the league in several categories.
His 40 strikeouts are the fifth-highest total. He's allowed only 26 hits in 45.1 innings, with opponents batting .167 against him. Cain's innings total ranks sixth in the NL, despite Cain appearing in one fewer start than those ahead of him.
And with only seven walks allowed thus far, Cain leads the majors in WHIP (walks plus hits per innings pitched) at 0.75. The next closest in the NL have a WHIP of 0.85.
Cain's one bugaboo has been the long ball. He's given up five home runs, tied for third in the NL with pitchers such as Paul Maholm, Kyle Wieland and Kevin Correia. Surely, staying in the strike zone so frequently has something to do with that. Maybe Cain should be a little more wild.
Of course, what he's doing now is working just fine.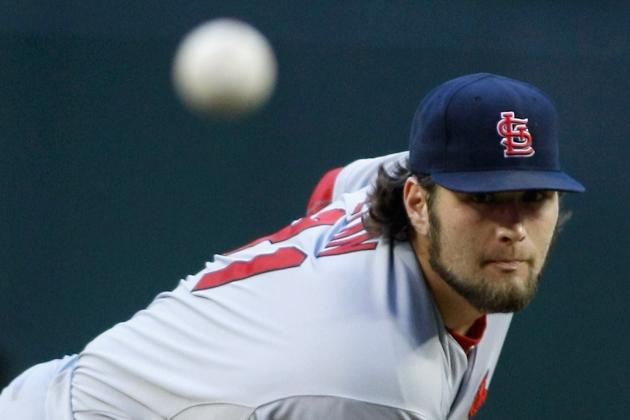 Ralph Freso/Getty Images
Lance Lynn leads Cardinals pitchers in wins, ERA and strikeouts.
One thing we've established about Lance Lynn this week is that he's not a rookie. I ranked him as my leading candidate for the NL Rookie of the Year award, only to have several commenters say that he's spent more than 45 days on a major league roster, thus making him ineligible for consideration.
I thought a demotion to the minors and stint on the DL had him close to, but not over, the 45-day limit. But MLB.com's Jenifer Langosch put an end to the speculation, reporting that Lynn had exceeded 45 days in the majors.
With that matter settled, let's talk about an award for which Lynn is still definitely eligible.
If the St. Louis Cardinals were content to have Lynn fill the fifth starter role until either Chris Carpenter returned from his shoulder injury or another suitable pitcher could be auditioned, they must be absolutely giddy about Lynn's performance so far.
Lynn has won all six of his starts this season, compiling a 1.40 ERA and 37 strikeouts in 38.2 innings. Those six wins currently lead the majors, while his ERA is the third-lowest among starting pitchers in baseball. Only three other pitchers have a lower WHIP than his 0.85.
As Adam Wainwright continues to build himself back up following Tommy John surgery, Lynn is looking more like the ace of the best team in the NL.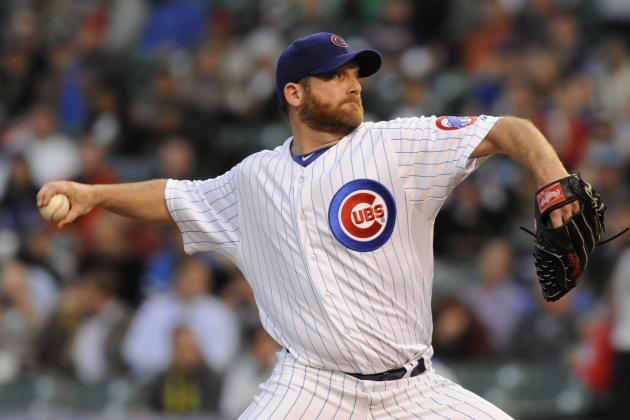 David Banks/Getty Images
Ryan Dempster's 1.02 ERA currently leads the major leagues.
Not including Ryan Dempster among NL Cy Young Award contenders last week was probably a terrible oversight.
With the Chicago Cubs holding a last-place standing in the NL Central that they'll likely keep all season, and a front office that is fitting the roster for rebuilding, it's somewhat easy to overlook Dempster. But the Cy Young Award isn't an MVP award and shouldn't be tied to team performance.
Besides, Dempster is grabbing attention for himself by continuing to pitch well game after game and pinning his name atop the NL's pitching leaderboard. His 1.02 ERA leads the majors, while his 0.85 WHIP ranks second in the NL, as does his .164 opponents' batting average.
Despite allowing only four runs all season, Dempster has only an 0-1 record to show for it. Carlos Marmol's failure as the Cubs' closer has much to do with that, as he's taken over for Dempster several times and shattered the gem handed to him.
To improve that record, Dempster will probably have to go to another team. And with the Cubs' rebuilding effort, it seems increasingly likely that he'll be trade bait as we move toward midseason. Maybe the one thing that will stop Dempster from winning the Cy Young Award is getting traded to the American League.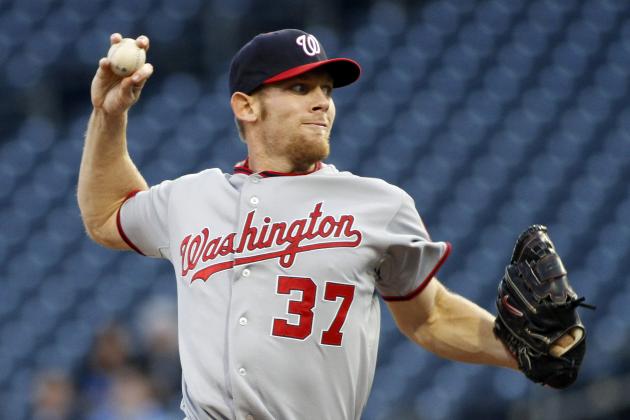 Justin K. Aller/Getty Images
Stephen Strasburg racked up 13 strikeouts in a win over the Pirates Thursday night.
With only one game played in the National League Thursday night, Stephen Strasburg had the spotlight all to himself as he faced the Pittsburgh Pirates at PNC Park.
It was an ideal time for Strasburg to pitch his best game of the season, at least from a strikeout standpoint. Strasburg mowed down 13 Pirates in six innings, helping the Washington Nationals to a 4-2 victory that salvaged a win from their three-game series in Pittsburgh.
Thursday's performance gave Strasburg the NL lead in strikeouts with 51. Only CC Sabathia and Felix Hernandez are in the same stratosphere (that was not intended to be a play on Strasburg's name. Although it does have some appeal).
One presumed obstacle to Strasburg's winning the Cy Young Award was the innings limit that the Nats are placing on him as he works through his first full season since Tommy John surgery. But as B/R's Kenny DeJohn pointed out earlier this week, the 160-inning limit that many assumed Strasburg was under appears to be a myth.
That is, if Nats general manager Mike Rizzo is to be believed. But he's just unwilling to put a number on Strasburg's season, preferring to see how he holds up as the season wears on.
As we said last week, if you're looking for an ace among the current NL Cy Young Award contenders, here's your guy.
The Nationals continue to cling to a narrow lead in the NL East on the strength of their pitching. Strasburg obviously has much to do with that, which means he warrants consideration for the MVP award, as well.
Follow @iancass on Twitter