Fantasy Baseball 2012: 14 Players to Realistically Trade for Right Now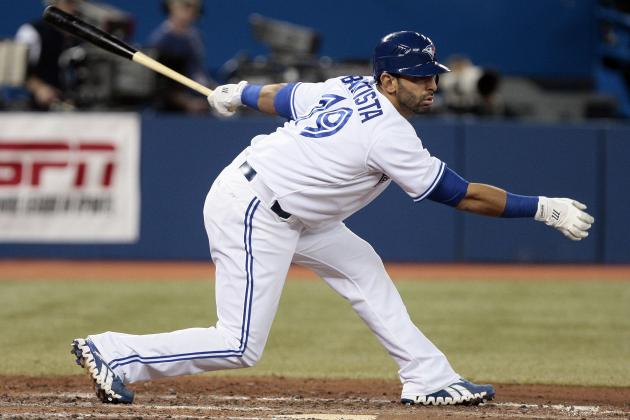 Abelimages/Getty Images
Toronto's Jose Bautista (five homers, .177 batting) is struggling with his across-the-board production this season, despite posting a 22/21 walk-to-strikeout ratio.
The following slideshow details 14 prominent fantasy baseball players who could realistically be acquired in trade talks this week.

Some of the assets have fostered great starts to the season but are fighting reputation-based stigmas of years past.

Some players have shallow track records and could be swapped out for more established veterans.

And some have struggled mightily out of the gate and could be on the move...as part of a classic knee-jerk response from their jittery fantasy owners.

Enjoy the show!
Begin Slideshow

»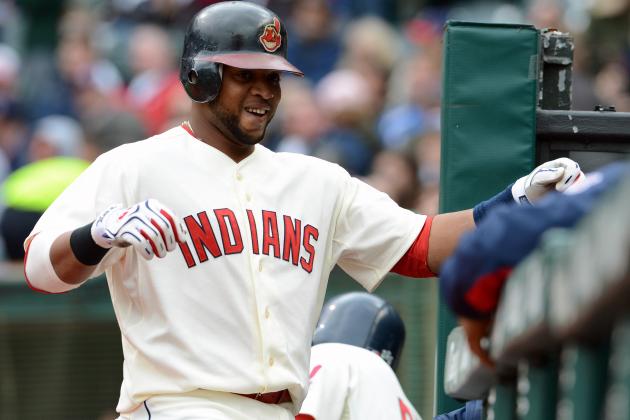 Jason Miller/Getty Images

2012 Stats (through May 10)
4 HR, 16 RBI, 15 Runs, 1 Steal, .255 Batting

Skinny: Carlos Santana may be slightly off the pace of last year's 27-homer, 84-run campaign, but with an improved batting average and excellent on-base percentage (.397), it's a reasonable assumption that his power numbers will be there in the end.

Heck, he might even rack up a career-high six steals by Sept. 30, as well.

OK, so trading for catchers isn't the most exciting aspect of fantasy baseball, but if you're going to make the plunge, choose to pursue a burgeoning star who will rate among the top four backstops by season's end.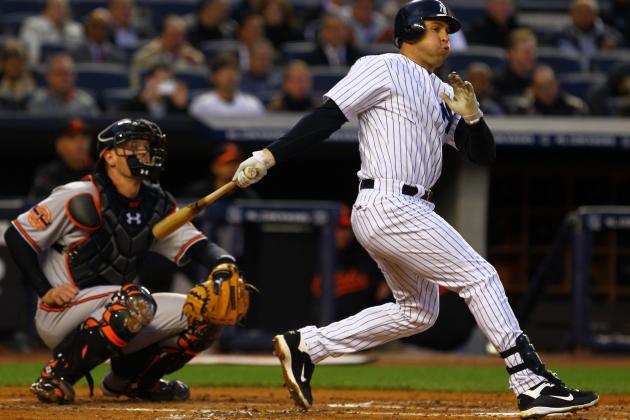 Al Bello/Getty Images

2012 Stats (through May 10)
4 HR, 17 RBI, 12 Runs, 1 Steal, .212 Batting

Skinny: Fantasy owners may never encounter a better buy-low window with Mark Teixeira. On the "sadness" scale, his batting average is only usurped by a .269 on-base percentage.

But all is not lost with Teixeira, a notoriously slow starter through the years. Given his plum spot in the Yankees lineup and somewhat-encouraging 15-9 strikeout-to-walk ratio, he'll continually see good pitches from the opposition, portending a turnaround sooner than later.

Bottom line: Teixeira may have trouble matching his home-run range of the last three seasons (33-39), but he's still a good bet for 27 homers, 93 RBI and 89 runs.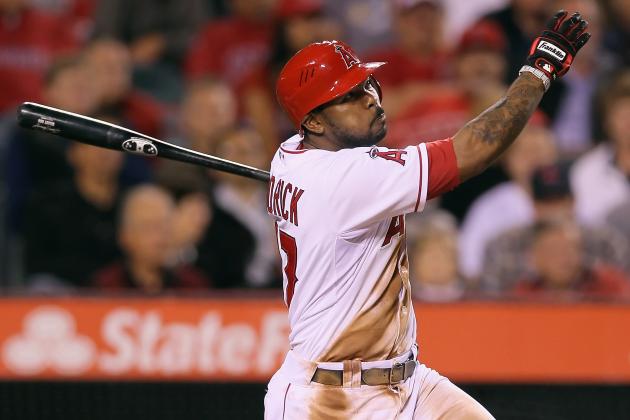 Jeff Gross/Getty Images

2012 Stats
4 HR, 11 RBI, 13 Runs, 3 Steals, .298 Batting

Skinny: I'm a little troubled by Howie Kendrick's 18-point disparity between batting average (.298) and on-base percentage (.316). Playing in that Angels lineup (Albert Pujols still carries a lot of weight), the gap should be significantly wider.

But I won't make any definitive judgments against Kendrick here.
He's still a good bet to match last year's marks in runs (86), doubles (30) and RBI (63); and his Angels are a bigger lock for above-.500 baseball from this point forward.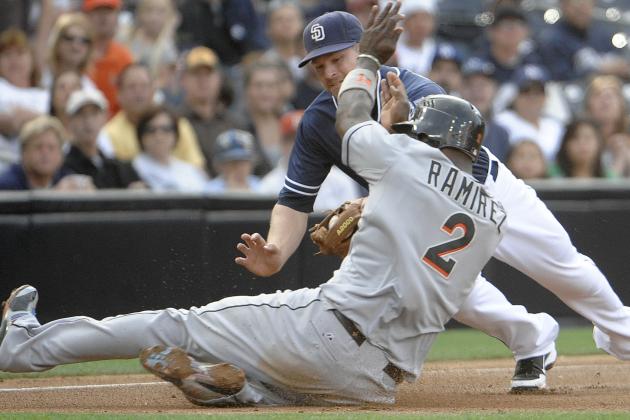 Denis Poroy/Getty Images

2012 Stats (through May 10)
6 HR, 21 RBI, 17 Runs, 6 Steals, .220 Batting

Skinny: This is where it pays to participate in fantasy leagues with owners who don't have DirecTV's MLB Extra Innings package.

Hanley Ramirez's absurdly low batting average (.220) creates the false impression that he's having a miserable year; but in reality, his power numbers and steals efficiency (six of seven attempts) are progressing well.

Plus, he seemingly makes one or two big plays in every Marlins victory (the club is 8-1 in May).

Bottom line: If you're in need of an upgrade at shortstop or third base, do everything in your power to acquire Hanley for 75 cents on the preseason dollar. He's a good bet for 23 homers, 93 RBI, 87 runs and 24 steals.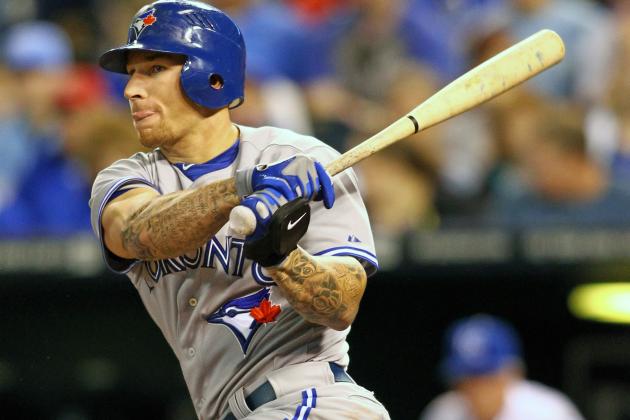 Tim Umphrey/Getty Images

2012 Stats
3 HR, 17 RBI, 16 Runs, 3 Steals, .282 Batting

Skinny: The partial-season verdict is almost in.

Brett Lawrie's 32-game progress report from 2012 hardly resembles his sterling 43-game audition from last year (nine HR, 25 RBI, 26 runs, seven steals, .293 batting, .953 OPS).
Now, fantasy owners are left to wonder if they mistakenly attached Round 4 value to a Round 8 asset.

The short answer is no.

From my view in the dugout, Lawrie has the physical tools and competitive drive to be a superstar in the very near future, and six weeks of slightly underwhelming play cannot detract from his limitless potential.

Smart fantasy GMs should act on Lawrie's decreased value right now...while it's still on the downswing.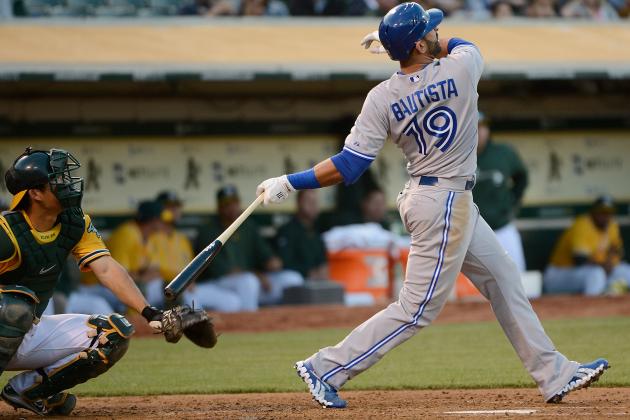 Thearon W. Henderson/Getty Images

2012 Stats (through May 10)
5 HR, 15 RBI, 16 Runs, 2 Steals, .177 Batting

Skinny: Jose Bautista may have better power numbers and a few more runs than Angels slugger Albert Pujols, but the disappointment factor for Bautista's poor start is equally profound.

How does an elite power hitter with excellent plate discipline bat .177 for any stretch longer than a week? How does a superstar experience a 40-percent drop in OPS when boasting more walks (22) than strikeouts (21)?

The math just doesn't add up here...which is exactly why fantasy owners should move heaven and earth to acquire Bautista via trade.
If you have to surrender an elite pitcher or two to consummate the deal, so be it.

There's a reason why Bautista crushed 97 homers and 227 RBI from 2010 to 2011. There's a reason why he was a consensus top-four pick in fantasy drafts.

Don't sweat the sluggish start.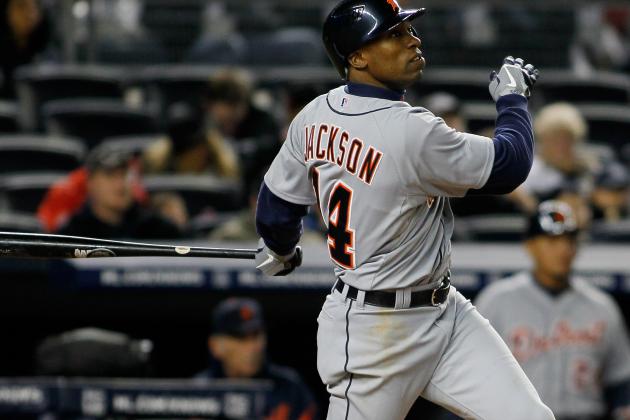 Mike Stobe/Getty Images

2012 Stats
4 HR, 12 RBI, 22 Runs, 5 Steals, .322 Batting

Skinny: Austin Jackson's numbers to date (including a .391 on-base percentage) have been extraordinary, but that still hasn't stopped fantasy owners from waiting for the other shoe to drop in a few categories.

Such as...

1. It's great that Jackson has five steals...but why only five attempts for the season?

2. Jackson won't maintain the pace of batting .322; he only eclipsed .300 on a few occasions in the minors.

3. Sure, Jackson has a good shot at breaking his personal best of 10 homers...but does that mean he's no longer a lock for double-digit steals?

Bottom line: Good trade value in May is not exclusive to struggling players. For some inexplicable reason, Jackson is viewed as more of a sell-high asset than long-term, high-end performer.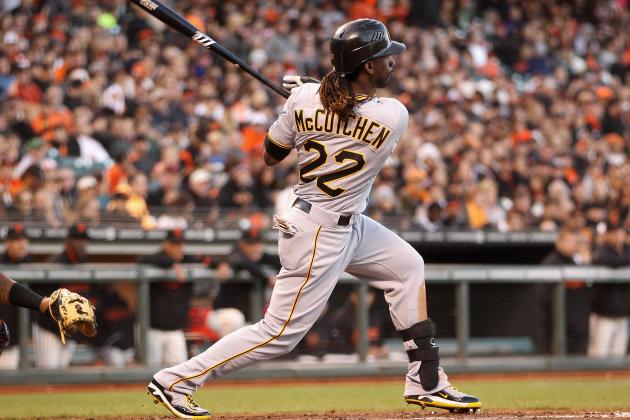 Ezra Shaw/Getty Images

2012 Stats
2 HR, 11 RBI, 17 Runs, 5 Steals, .330 Batting

Skinny: It's uncanny how similar Andrew McCutchen and Austin Jackson's stats are for the season, with minor differences in steals, RBI and batting average.

And that's why McCutchen should be an attractive trade priority for every fantasy owner, regardless of league scoring rules.

Some see Jackson as playing over his head, whereas others view McCutchen as falling below his potential (excluding batting average).

Yes, he's leading the Pirates in hits, doubles, runs, batting average and steals; but has he really lived up to his preseason value as the 24th- or 25th-best player in fantasy?
Is he a more effective option than Marlins outfielder Giancarlo Stanton—his closest competitor before the March drafts?

It won't be easy to land McCutchen in trades, but something like David Price and Nick Swisher might do the trick.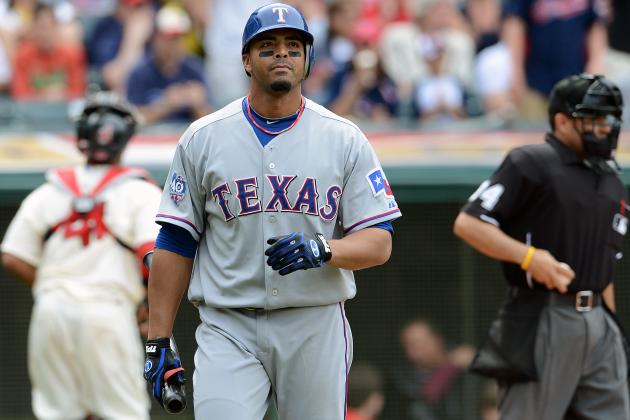 Jason Miller/Getty Images

2012 Stats
2 HR, 13 RBI, 17 Runs, 1 Steal, .250 Batting

Skinny: It makes little sense to denounce Nelson Cruz's fantasy potential from this point forward, when visions of his eight-homer, 16-RBI postseason (last October) are still fresh in the mind.
After all, if anyone on this list could produce a 17-homer June on a whim...it's Cruz.

Despite a ho-hum batting average and painful on-base percentage (.299), there's no reason to abandon Cruz in trade talks.

Yes, he's never tallied 90 RBI or scored more than 75 runs, but within that Rangers lineup, there are just too many opportunities to flourish, too many chances to wake up and carry a fantasy team on his back.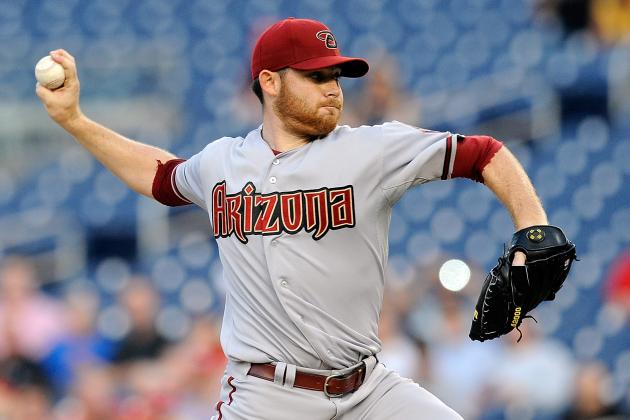 Patrick McDermott/Getty Images

2012 Stats (through May 10)
3-2, 3.86 ERA, 1.28 WHIP, 37/11 K/BB

Skinny: If few people expected Ian Kennedy to match last year's output with the Diamondbacks (21-4, 2.88 ERA), then why did he go so high in fantasy drafts?

Here's one theory: Fantasy owners are in denial about Kennedy's long-term upside.

If you spent any time monitoring Kennedy's progress as a minor-league prospect with the Yankees (2006-09), you'd know the kid has always had the look of a fantasy ace. You'd also know that, minus a few bumps in the road (including season-ending surgery), he was destined to succeed in the major leagues.

Fast-forward to the present: Kennedy's ERA and WHIP marks are tolerable now, but not acceptable in the long run. That's why fantasy owners should chase him in trade talks.
The numbers can only improve from this point forward.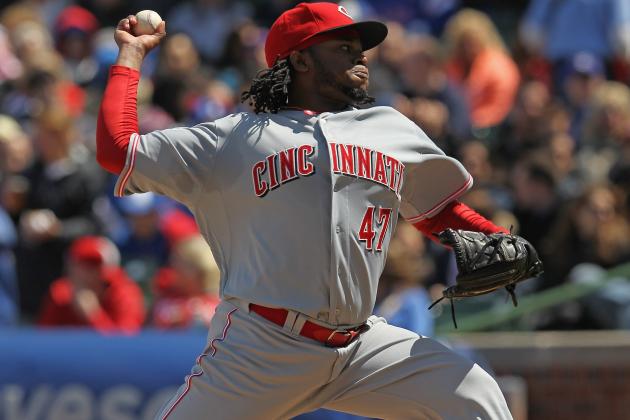 Jonathan Daniel/Getty Images

2012 Stats
4-0, 1.12 ERA, 0.97 WHIP, 31/8 K/BB ratio

Skinny: If we attached the above stats to names like Roy Halladay, Matt Cain, CC Sabathia or Dan Haren, no fantasy owner on earth would part with them in trades—short of a one-sided blockbuster.

But for whatever reason, Johnny Cueto continually flies under the radar, despite possessing the qualities of a four-category ace, and that makes him attractive on the trade front.

Please don't mistake the above statements for subtle hints that Cueto would come cheaply on the open market.

But keep in mind his acquisition price would be noticeably lower than that of Halladay, Cain, Sabathia or Haren.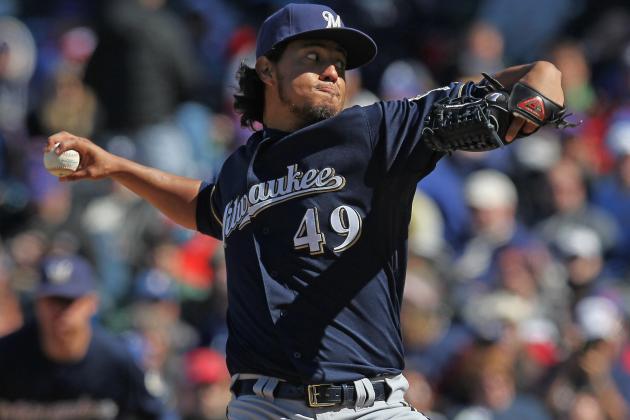 Jonathan Daniel/Getty Images

2012 Stats (through May 10)
2-3, 5.35 ERA, 1.55 WHIP, 39/16 K/BB ratio

Skinny: Yovani Gallardo is the only starting pitcher to see his ERA fluctuate from 14.73 to 3.65 to 6.08 to 5.35 this season—in that order. And yet, he's still a viable commodity in trade talks.

Just like the March drafts, smart fantasy owners should obsess about value in May. And few pitchers yield a higher return than Gallardo (611 strikeouts from 2009 to 2011)—at least, among stars who've taken their lumps in recent weeks.

Without a doubt, Gallardo is not immune to a few clunker starts here and there.
But upon finding his groove, he has a Tim Lincecum-like capacity for dominating opposing hitters for four or five straight starts, notching nine strikeouts and allowing two or less runs.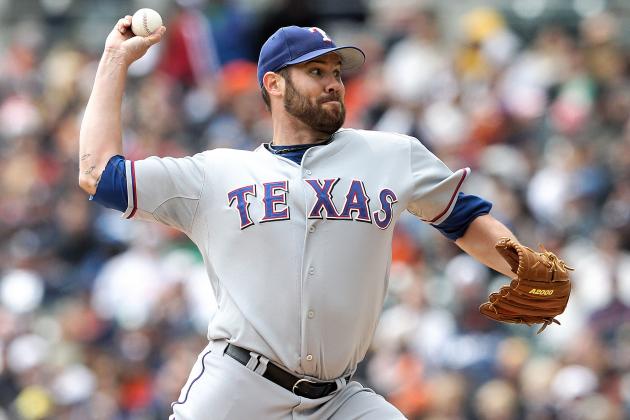 Leon Halip/Getty Images

2012 Stats
3-2, 3.69 ERA, 1.10 WHIP, 43/6 K/BB ratio

Skinny: At the time of this writing (May 11), Colby Lewis was just hours removed from an eerie game against the Orioles in which he surrendered five homers—including back-to-back-to-back jacks in the first inning—but registered a career-high 12 strikeouts.

On a similarly quirky level, Lewis amazingly posted a sub-1.00 WHIP against Baltimore.
Mark it down, kids: That'll be the last time you'll ever see anyone yield five homers and six runs and still finish with a microscopic WHIP.

And this, in a nutshell, is precisely why fantasy owners should immediately pursue Lewis. Let his current owners bemoan the five homers or the non-victory...while you celebrate the strikeout and WHIP potential of a rock-solid No. 2 pitcher.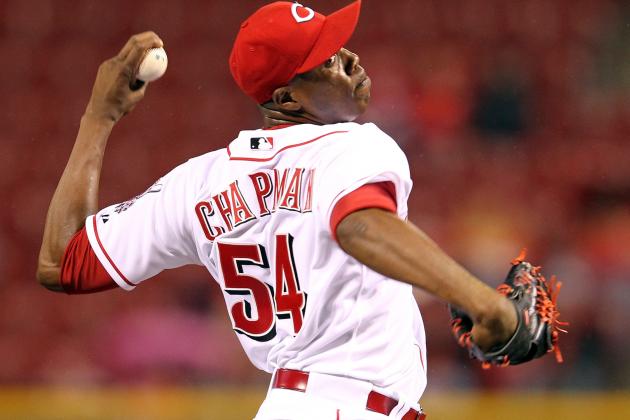 Andy Lyons/Getty Images

2012 Stats (through May 10)
3-0, 0.00 ERA, 0.57 WHIP, 27/4 K/BB ratio

Skinny: It's just a matter of time before Aroldis Chapman (opponents' batting average: .096) becomes the Reds' short- and long-term closer—regardless of how Sean Marshall fares.

So, why waste more time not pursuing him in trade talks?

Bottom line: Chapman is the closest thing to Randy Johnson we've seen in a while, so it makes complete sense that he'd have more fantasy relevance than Luke Gregerson, Ryan Cook, Joaquin Benoit or Mike Adams—some of baseball's most prominent setup men.

Of course, it might be difficult to land Chapman in a 1-for-1 trade. Owner B would be suspicious of such a move, thinking that Chapman is on the verge of fantasy greatness.

The best course of action: Stealthily include Chapman in a blockbuster deal. Give him the "throw-in" treatment, acknowledging his immense talent but minimized role in fantasyland.