Fantasy Baseball Waiver Wire: Underrated Players Who Would Be Great Additions
May 10, 2012

Jamie Squire/Getty Images
With one month is in the books, owners should have a pretty good handle on their fantasy teams. Weaknesses should be more evident and now's the time to start searching the waiver wire for potential upgrades before the dog days of summer.
Here are three players that are still available in most leagues who should have a lot of value moving forward after recent hot streaks. They could be the player that gives a team the extra boost it needs to move up the standings.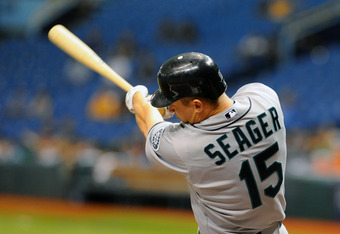 Al Messerschmidt/Getty Images
Kyle Seager
Chone Figgins' continued struggles opened up an opportunity for Seager to get more playing time and he's taken full advantage of it. He's hitting .298 with four home runs and 20 RBI in just 28 games played.
The 24-year-old third baseman has been viewed as one of the Seattle Mariners' top prospects for the last few years, but had his fair share of struggles in his first season at the major league level. His production this year is a great sign.
Seager should be in the lineup just about every day from here on out due to Seattle's lack of offensive depth. That increases his upside and he should continue to improve as he gains more experience against MLB pitching.
Jarrod Dyson
Dyson has really burst onto the fantasy scene in recent weeks since taking over in center field for the Kansas City Royals. Fellow Royals speedster Lorenzo Cain was a popular sleeper heading into the season, but hasn't been able to get healthy, which gave Dyson a chance.
His ability to steal bases will make him a popular fantasy commodity soon, so it's important to grab him quickly before another owner pounces. He's got three SBs, but his rate should improve as the team gets more comfortable giving him the green light.
Since there are so few reliable speed demons out there nowadays, players like Dyson are definitely worth taking a chance on. If he maintain his spot in the lineup—and there are no serious challengers right now—30 steals is within reason.
David Banks/Getty Images
Paul Maholm
Fantasy owners will likely remember Maholm from his days with the Pittsburgh Pirates when he was nothing more than an occasion stream option. He's now moved to the Chicago Cubs and has pitched well enough to become a full-time staff member.
After a rocky start, Maholm hasn't allowed more than one run in any of his last four starts. The biggest reason for his improvement has been better control. He's not a big strikeout pitcher, so he must avoid walks and he's been doing that well lately.
If you took a chance in the draft on a starter like Francisco Liriano only to see him get rocked every week, it's a good time to dump him for a more reliable option like Maholm. He's isn't an ace by any means, but he will fill out a rotation nicely.