Philly's Horrible Sports Week: Is It Ever Totally Sunny in Philadelphia?
May 10, 2012

Bruce Bennett/Getty Images
As I write, it's only Thursday morning, but what did I and numerous other Philadelphia sports fans do to deserve such a hellish week? Please don't reply; this was designed to be a rhetorical lead. Yes, it's not lost on me that some of you may invoke the vision of a snow-bombarded Santa Claus...from 1968.
But, I digress. Philly has had some superb players and almost superb teams over the years and once in a rainbow-colored moon, we get to attend parades (1983...2008), but the most passionate sports city in America knows quite well what it's like to get kicked in the ribs, and lower. Still, experiencing numerous cruel kicks hardly prepared Philly Nation for Black Tuesday—a day in which our hockey team got eliminated, our basketball team couldn't win an elimination game against a shell of an opponent and our baseball team, to be kind, channeled the worst of the '62 Mets...without the "lovable" factor.
To fully appreciate Black Tuesday, one must recall the feeling that was in the air just 38 or so hours ago. At 7 p.m., the Phillies were hosting the Mets, who had improbably (well, not all that improbably this season) gotten two runs with two outs in the top of the sixth off ace Roy Halladay to tie the score at two, and then had someone named Jordany Valdespin (for his first career MLB hit) golf a three-run homer off new closer Jonathan Papelbon to take a 5-2 win and snap our one-game winning streak.
More on that winning streak in just a bit. But, there was no doubt that the Phils would get revenge behind Big Joe Blanton, who was coming off the game of his life: a Greg Maddux-like, 88-pitch, three-hit shutout in Atlanta.
In truth, the Phillies game was only a nice appetizer for the Philadelphia Flyers' 7:30 home game versus the New Jersey Devils. Was it just yesterday—or about three years ago—that the Flyers were the story of the NHL after eliminating their bitter cross-state rival Pittsburgh Penguins in six exhilarating games. These were games that featured all the hitting and scoring, and more, that one could ever hope for.
Not so incidentally, the series had earned center Claude Giroux a prominent place in the discussion of "greatest player in the world." His first shift of Game 6, which featured an epic open-ice hit that flattened Sidney Crosby followed by a goal-scorer's goal to stake the orange and black to a 1-0 lead (the only 1-0 lead that they didn't relinquish in the playoffs), was the stuff of legends.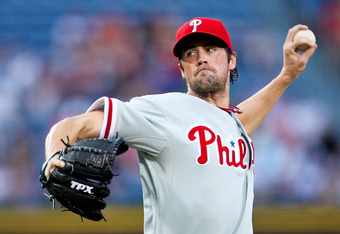 Daniel Shirey/Getty Images
It should be mentioned that the Flyers were down three game to one against the Devils, but no worries: This was the night when the Bullies would snap out of their post-Penguins funk, start taking the body, tilt the ice and have their riddle of an enigma of a goalie stand on his head. Eh?
At 9:30, the Sixers were about to finish off the Chicago Bulls in the Windy City. To be fair, the Bulls were a depleted, dispirited unit playing without their two best players: 2011 MVP Derrick Rose and that all hyper defense and offensive rebounding machine named Joakim Noah. Still, whether by merit or luck, a franchise that had been mostly irrelevant for a decade was on the verge of winning a playoff series for the first time since 2003.
I would be remiss if I didn't mention the suspensions and controversies that had engulfed these parts on Monday. Perhaps, the least of the controversies was the continued fallout over the alleged classlessness of Sixers fans who had appeared to cheer Noah's injury (twisted left ankle) in the third quarter of last Friday's Game 3 victory.
Were some fans cheering his injury...for about 10 seconds or so? It sounded like it, and it did not help matters that some (the same?) idiots also booed the energetic, pony-tailed forward as he picked himself off the court. There was finally a story line of sorts to this series that has been devoid of star power or shooting accuracy.
The Flyers had a bigger controversy on their hands. The aforementioned Giroux, a man who had done and said all the right things all season, had gotten penalized in Game 4 for what appeared to be a blow to the head of former Flyer Dainius Zubrus. Yes, Zubie left South Philly 13 years ago, and new NHL Enforcement Czar Brendan Shanahan decreed on Monday that Giroux would not be on the South Philly ice for Game 5. The script was set: The Flyers were going to take it up a couple notches to win a game for their best player, who in turn, would be back for Game 6 with a vengeance.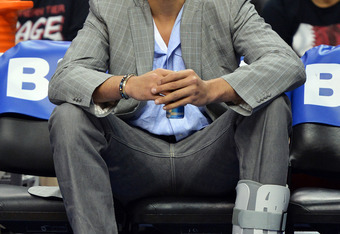 Drew Hallowell/Getty Images
These incidents barely caused a ripple in the pond of controversy compared to the Sunday-into-Monday whirlpool generated by the Phillies' 9-3 victory over the host Washington Nationals. Starting pitcher Cole Hamels was in top form, yielding only five hits and one run while fanning eight in his eight innings of work. But only one of Hamels' 109 pitches was talked about afterward: the first-inning pitch that nailed 19-year-old rookie phenom Bryce Harper in the lower back.
To most observers, this was not a pitch that got away, and the most shocking aspect of it was that the ultra-candid Hamels not only admitted as much but went a step further, essentially saying that it was his "welcome to the league" offering to the mega-hyped Harper. Depending on your perspective, Hamels was either a hero for drilling the cocky kid and bragging about it (to supposedly show those Natitudinal upstarts that the Phillies are still the beasts of the NL East) or as Nats' GM Mike Rizzo more or less put it, the lanky lefty was clueless, gutless, new school and...baseball's version of Chris Bosh?
To stay on this incident for another moment or so, this columnist believes all of the following:
Pitching inside is part of the game; intentionally hitting someone who had done nothing to provoke it was stupid, reckless and arrogant
Hamels had more than shed his soft label (kind of deserved after his 2009 World Series) prior to this over the last two-plus seasons
I hope that the Phillies are able to lock up Hamels long term..debatable?
This diehard Phils fans loved that the Phillies won Sunday night (which is now their only win in their last six), but also thought it was great that Harper, immediately after getting hit, went from first to third and then stole home! Without hitting a single jack in his first 10 games, he has impressed many with his seeming maturity (after a pre-MLB rep as a showboat), to say nothing of his glove, arm and baserunning.
Candor from players is admirable. Being candid about doing something stupid does not trump stupidity.
Speaking of which, who exactly is Mike Rizzo to go all Tony Soprano afterward?
The Phillies opened Tuesday evening's action with a Hunter Pence two-run bomb in the first followed by two more in the second for a 4-0 lead. With the new, Slim Joe Blanton on the hill, this win was in the books, giving plenty of time to concentrate on the Flyers who...
...got a jolt of energy from center Zac Rinaldo who, seeing his first action of the series, plastered defenseman Anton Volchenko into the boards with a clean hit that even Shanahan (the suit) would have loved. Rinaldo, known more for his fisticuffs and dumb penalties more than anything else, had welcomed Volchenko to South Philly and before you knew it, Max Talbot put the first biscuit in the basket for the orange and black.
Given the Flyers' predilection for come-from-ahead losses, one did not know whether to cheer or boo the 1-0 lead. As fate would have it, there was only about two minutes of ice time to ponder this dilemma, the rumination broken by a long deflection off the stick of Devils' defenseman Bryce Salvador, who scored as many goals as I did in the regular season.
Had enigmatic Flyers goalie Ilya Bryzgalov given up a soft goal here? If so, it was nothing compared to what occurred three minutes later: one of the softest, strangest, most puzzling and aggravating goals ever scored against the Flyers. Aptly described by Philadelphia Daily News hockey writer Frank Seravelli as a Bryzaster, I will utilize his description of this atrocity:
KIMMO TIMONEN twirled and dished the puck back, deeper into the Flyers' zone to try and shake a pressuring attacker.

The puck landed on Ilya Bryzgalov's tape and by the time he could look up, David Clarkson was bearing down hot and heavy. With panic in his eyes, Bryzgalov tried to saucer the puck out of harm's way.

It was a Bryzaster.

Ultimately, Clarkson's series-clinching gift - after Bryzgalov's pass deflected off his outstretched stick and into the net - will be the forgettable, lasting image of the end of the Flyers' spring dreams.

 
Yes, a full 47 minutes and 15 seconds still remained in the game, but Bryzgalov's own goal (yes, Clarkson got credit) sapped all life from what is usually one of the loudest buildings in the NHL. The Flyers barely made an average-looking Marty Brodeur sweat the rest of the way, and the Devils went on to win 3-1, sending the Flyers to the golf courses instead of North Jersey with momentum and a revved-up Giroux for a Game 6.
But at least the Phillies had that 4-0 lead. The offense seemed to be back at Citizens Bank Park and the crowd even enjoyed a rare sighting of little-used second baseman Pete Orr driving in underachieving (in 2012) John Mayberry, Jr. The Mets got one back in the fourth, and as it turned out, the Phillies, even with the likes of Mayberry and Orr on their side, scored as much as the post-Bryzaster Flyers did the rest of the way. They were done, and left it to slimmed-down Joe, their bullpen and their defense to hold the 4-1 lead. How did that work out...
The top of the seventh inning started well enough, with Blanton retiring two of the first three hitters before spit hit the fans once again. Please just suffice it to say that the Mets scored four runs with two outs to take the lead, aided and abetted by a botched rundown play by Orr. This boneheaded act almost managed to make the Bryzgalov blunder look like a heads-up play. The Phils' bats never recovered from the turnaround and the Mets would extend the lead to 7-4.
It didn't help the mood of savvy Phillies fans to note that while the Phillies were losing and getting very little pop from left field, Raul Ibanez launched two homers for the Yankees. The Nationals were also losing in Pittsburgh because of a walk-off homer by former Phil (hardly a favorite here) Rod Barajas.
Well, two games were lost, but Philly still had the rest of a basketball game to watch, one in which the young Sixers would be able to win their first playoff series since...well...a long time ago. And who cares that we were doing it with the Bulls' two best players out of the lineup? (Note: would you rather have Boozer or Deng than Noah? Not me.)
To cut to the chase, what do you say about a game (a 79-74 loss) in which the winning team shot .415 from the floor and made 4-of-11 from the charity stripe? They were hot compared to Philly's 25-of-78 from the floor (an incomprehensible .321 field-goal percentage), including 2-of-11 from behind the arc. Yes, team leader and first-time All-Star Andre Iguodala showed the way by shooting 4-of-19, and 1-of-6 from from three-point land. I know he's playing hurt, but did he also share a pre-game strategy discussion  with Ilya Bryzgalov and Pete Orr?
Black Tuesday had ended with one team eliminated, another with two more chances to throw a few in the ocean (Bulls come to Philly tonight for Game 6) and a third that still had another chance at redemption the next night against the rival Mets.
The good news in all this? Cliff Lee, the people's choice, would be pitching for the first time since he toed the rubber in San Francisco on April 18—a gem in which he threw 10 innings of shutout ball in a game that his team would end up losing 1-0 in 13 innings.
If you don't recall this oddity, it's been an extreme example of this early season in a microcosm. Lee, once again, pitched well enough to win last night (two runs on five hits, while striking out six in six innings) and even drove in the first run of the ballgame, but watched in horror as the bullpen yielded eight runs in the final three innings. Lee's record is 0-1 despite a 2.17 ERA, 0.76 WHIP and a .375 batting average.
Weeks like this test one's resolve as a sports fans and even as writers. But this is Philly: We don't always win, but we always go all in and we'll be back imploring our teams to earn us another championship parade, even if these seem to come along with the frequency of Halley's Comet sightings.
Yes, we'll bounce back, even if our ex-favorite right fielder now hates our guts enough to threaten to return early from an injury to deny us a shot at another parade. Or something like that. Do I have to explain, or just wait until he steps in the box again versus Killer Cole Hamels?
As always, thank you for reading. Please check out my site, tipofthegoldberg.com and new fan page for more info.