One NFL Player We'd Love to See at Each Olympic Event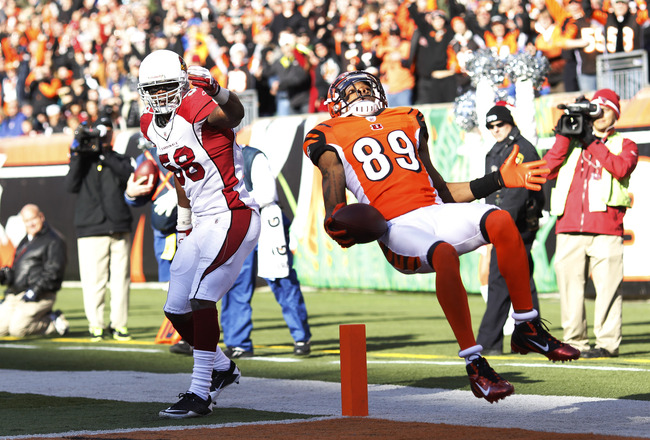 Joe Robbins/Getty Images
The Olympics are only a couple of months away, and while many of the world's rosters are set, it's fun to imagine how some of the top NFL athletes could hang on the world stage.
While some players have backgrounds in other sports, other players may have the raw athleticism necessary to make the transition to some new sports.
Here's one player we'd love to see in each Olympic event.
Archery: Aaron Rodgers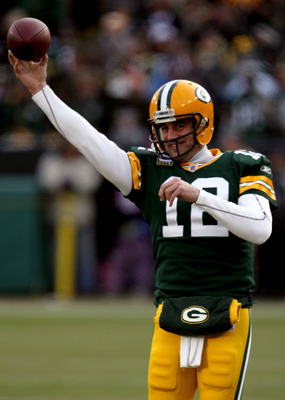 Jonathan Daniel/Getty Images
In both archery and the quarterback position, accuracy is essential. Only inches of space stand between success and crushing failure.
Why not go with Green Bay Packers quarterback Aaron Rodgers? In addition to taking last season's MVP honors, he's one of the league's most on-target passers (he ended last year in second place among active passers).
Basketball: Antonio Gates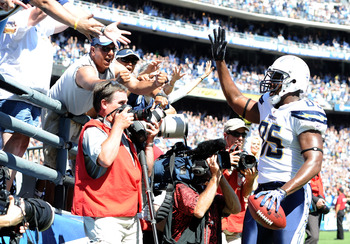 Harry How/Getty Images
When it comes to football tight ends with a basketball background, few players cover that resume better than the San Diego Chargers with their man Antonio Gates.
A rare combination of size and speed, Gates for years has dominated defenders and created a constant mismatch in game situations.
Should Gates pass on the opportunity, the New Orleans Saints' Jimmy Graham or the New England Patriots' Rob Gronkowski may also be solid additions to the team.
Badminton: DeSean Jackson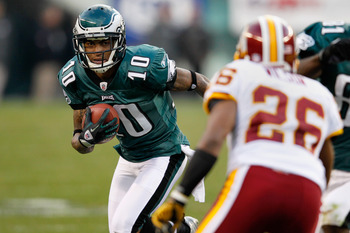 Rob Carr/Getty Images
One of the most fast-paced events in the games, badminton would require a contributor with lightning sharp reflexes and even faster hand speed.
Why not Philadelphia Eagles wide receiver DeSean Jackson? His success as a punt returner shows he has both great agility and vision, and that success has turned into points for the Eagles.
The only thing team officials would have to worry about is Jackson tossing his racquet to the ground before the point is over, similar to this lost touchdown.
Boxing: Andre Johnson
Judging by this video, it appears Houston Texans wide receiver Andre Johnson would have no problem clobbering opposing fighters.
With that said, his opponents may want to seriously consider whether they want to go toe-to-toe with the Pro Bowl receiver.
Canoe/Rowing: Steve Smith
Look at Carolina Panthers wide receiver Steve Smith go.
While he was apparently doing the celebration to mock the Minnesota Vikings, his form would suggest he may have some real potential in some of the rowing and canoeing events.
If Smith could figure out the events, he could set himself up to become a major winner in the month-long competition.
Cycling: Antonio Brown
It may not be a serious bike ride, but Pittsburgh Steelers wide receiver Antonio Brown's love of travel by two wheels suggests he might be able to do it at the next level.
Brown, entering his third year in the league, had his best season in 2011, contributing more than 1,100 receiving yards to the Steelers' efforts.
And seriously, Antonio...put on a helmet!
Diving: Jerome Simpson
While much of the attention for Jerome Simpson has come through the celebration of his somersaulting touchdown against the Arizona Cardinals (we'll talk about that in a moment), perhaps Simpson would be better off in the diving competition.
If this flop against the Cleveland Browns is any indication, Simpson has exactly what it takes to get some 10s from the judges. At the very least, Simpson would contribute a very splashy entry.
Equestrian: Michael Turner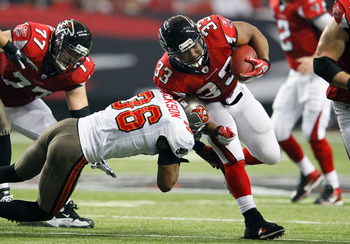 Kevin C. Cox/Getty Images
With little connection between the NFL and the world of Olympic-style horse riding, it became important to recognize players who brought in the spirit of the events.
Why not Atlanta Falcons running back Michael Turner, who has become the workhorse for the team's offense?
Turner's effort and enthusiasm could be the difference as everyone outside of the horse world tries to quickly remember from 2008 what dressage means.
Fencing: Darren Sproles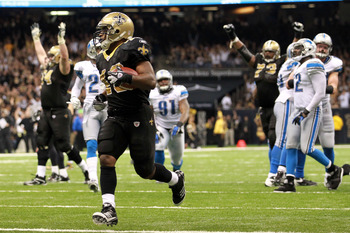 Ronald Martinez/Getty Images
A small target with unmatched speed and agility, New Orleans Saints running back Darren Sproles would be an imposing target in the fencing competition.
Though there's no indication that he's ever competed in this event in his life, it doesn't seem like Sproles would be the kind of athlete who would quickly foiled in something like this.
En garde!
Football/Soccer: Chad Ochocinco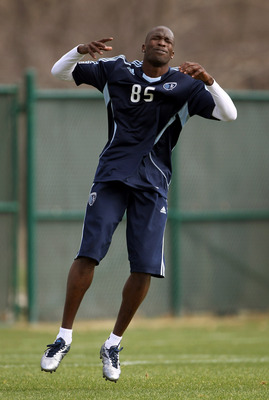 Jamie Squire/Getty Images
Though the United States won't be sending a team to London in football/soccer, it's fun to imagine how New England Patriots wide receiver Chad Ochocinco might do.
Ochocinco may be the league's only member who is considered an honorary member of a MLS franchise, a designation he received after a tryout with Sporting Kansas City during the lockout.
At the very least, it would give him a definite leg up on the resumes of other players in the league who might consider going out for the team.
Gymnastics: Jerome Simpson
The highlight clip that never stops giving, Cincinnati Bengals wide receiver Jerome Simpson flipped into the hearts and minds of America with this acrobatic touchdown against the Arizona Cardinals.
As a side note, if Simpson could bring back a medal in two separate events, he would join the ranks of Americans like Johnny Weismuller, Tim Shaw, Eddie Eagan and Morris Kirksey, who each won gold in two separate events (Eagan won one in both the summer and winter games).
Handball: Larry Fitzgerald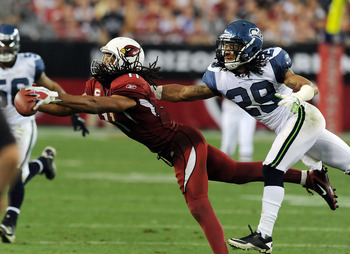 Norm Hall/Getty Images
While Arizona Cardinals wide receiver Larry Fitzgerald is a complete newcomer to the sport of handball, I have no doubts he could come in and contribute to a very successful American squad.
He could make an immediate impact at goalie, where his size, speed and incredible hands would be used to their full potential. With some extra time, that speed could also be taken full advantage of on the offensive end.
Needless to say, the only people who'd have to worry about Fitzgerald are the opponents who'd have to go up against him.
High Jump: Donald Driver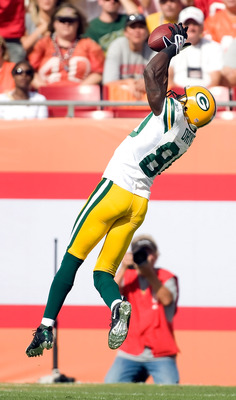 J. Meric/Getty Images
Green Bay Packers wide receiver Donald Driver's past success as a high jumper (his personal best of over seven feet could have qualified for the 2000 Olympics in Sydney) suggests that he could have that kind of success again.
Though the competition would be a big change from jumping into the arms of loving fans in the stands at Lambeau Field, he might still have the athleticism to give himself a chance to do well.
Javelin: Jay Cutler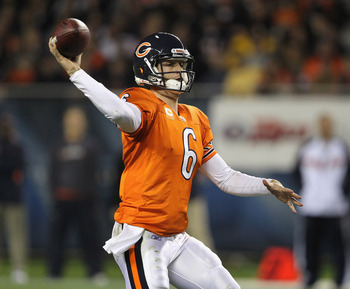 Jonathan Daniel/Getty Images
In a competition to show who has the strongest arm, you have to go to your big guns.
Chicago Bears quarterback Jay Cutler is frequently considered to have one of the league's strongest passing arms (a claim he's not afraid to talk about) and might fit the bill in the javelin competition.
He would definitely provide some pointed competition in the London event.
Long Jump: Julio Jones
The video is clear: Atlanta Falcons wide receiver Julio Jones has some major leaping ability.
With a little bit of time to train, it may not be totally out of place to see Jones jump some of his opponents on the leaderboard.
100-Meter Dash: Chris Johnson
While there's no real gauge of the pace Gus Johnson is talking about when he said Tennessee Titans running back Chris Johnson had "getting-away-from-the-cops speed," there's no doubt in my mind it could be enough to make things interesting on the track.
Johnson, whose acceleration is second to none in the league, proved that speed when he ran a 40-yard dash in 4.24 seconds. That pace would have him ahead of Usain Bolt in that portion of the track when the Jamaican sprinter set the world record in the 100-meter dash event.
Sailing: Matthew Stafford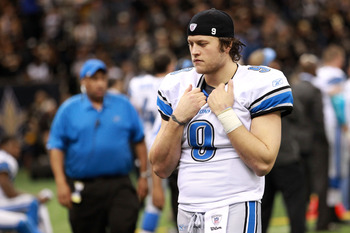 Ronald Martinez/Getty Images
While I'm not sure Detroit Lions quarterback Matthew Stafford has any experience on the water, the confidence he gives his teammates is something that would work well in the competition.
After Stafford won the AP's Comeback Player of the Year Award, he was praised by one of his wide receivers, Nate Burleson.
He doesn't waver. When you have a quarterback that isn't worried, who always has a smile on his face and lets the ball release out of his hand like a cannon, you're not worried at all.

You look at him like he's the captain of the boat and if he's ready to sail, we're going to go to sea with him.
Anchors away, Captain Stafford...anchors away.
Shooting: Jason Babin
It's tough to go against a high caliber guy like Philadelphia Eagles defensive end Jason Babin in the shooting competitions of the Olympics.
Babin's love of guns was documented in this TV segment, which also showed his wide range of weaponry.
If he could pull together a nice run, Babin could be in the hunt for a spot on the podium.
Shot Put: Joe Flacco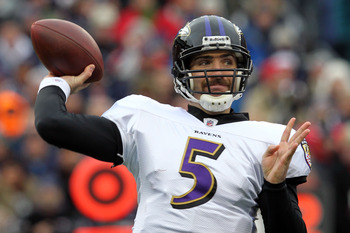 Jim Rogash/Getty Images
Another event that requires some muscle, Baltimore Ravens quarterback Joe Flacco may be up to the task in the shot put competition.
Though he may be slightly undersized for the event, Flacco would surely have the arm strength necessary to put up a somewhat decent performance.
If Flacco didn't want to go, another option would be the New England Patriots' Vince Wilfork, who set records in the event while in high school in Florida.
Steeplechase: Maurice Jones-Drew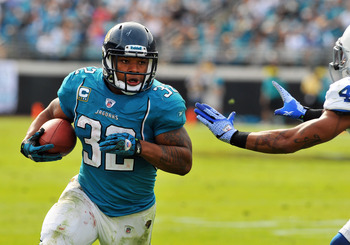 Al Messerschmidt/Getty Images
Maurice Jones-Drew, the league's leading rusher in 2011, would fit in well with the steeplechase event, which tests entrants speed, leaping ability and endurance on a grueling course.
Competing in the event couldn't be as difficult for Jones-Drew as running this past season, as opposing teams cheated on their pass coverage to stack the box in order to limit his opportunities.
Swimming: Vince Wilfork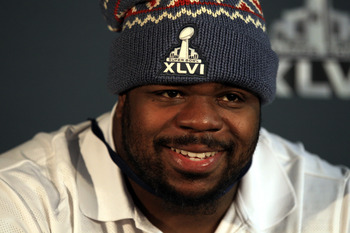 Scott Halleran/Getty Images
In what I see as the Cinderella story of the London Olympics, New England Patriots defensive tackle Vince Wilfork could have a (small) shot to compete in some of the swimming events.
While it may be tough to visualize such a large body splashing through the waters of the Olympic pool, Wilfork has become an avid swimmer to help stave off injury.
Though he's never competed in the sport, what better stage than the Olympics to put it all on the line (for the very first time)?
Table Tennis: Tim Tebow
If this video is an accurate depiction of New York Jets quarterback Tim Tebow's table tennis game, his form is a little off, he's not in a position to win and he's not going to convince hardcore fans of the game about his skills.
In other words, Tebow has a great shot of pulling off some upset wins and making his way to the medal podium.
If he were to join the team, USA Table Tennis jerseys with Tebow's name on it would become the hottest selling item of the summer.
Tennis: Bryant McKinnie
Baltimore Ravens offensive tackle Bryant McKinnie may not have the profile of guys like Roger Federer or Rafael Nadal, but he does have one secret weapon: the coaching of three-time Olympic gold medalist Venus Williams.
Though his game has some work to do (he has to get that footwork together), he could surprise a lot of people if he could get some wins (even if it's only a few games in a match).
Trampoline: Jason Pierre-Paul
One has to hope Olympic organizers have good insurance on the roof of the building featuring the trampoline event, especially if New York Giants defensive end Jason Pierre-Paul were to enter the proceedings.
Pierre-Paul's athleticism, shown in this series of backflips, is astounding given his size and position. Imagine what he could do with some springs under him.
If Pierre-Paul was interested in competing in the synchronized event, he'd have a great partner in teammate David Wilson.
Volleyball: Calvin Johnson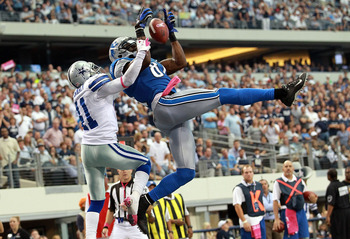 Ronald Martinez/Getty Images
Were Calvin Johnson, better known as Megatron, to make the move to volleyball, he would be an instant boost to the American team.
His athleticism and speed would make him an asset on the backline, while his leaping ability and size would make him a menace in all parts of the game. He would create an instant problem for opponents at the net as he blocked off most of their area for attack, while a spike from Johnson could possibly leave a hole in the gym floor.
I don't think it would be too big of a deal to bump one person from the roster to make this happen.
Weightlifting: LaRon Landry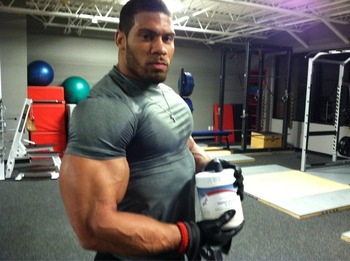 http://bit.ly/J23AVk
New York Jets safety LaRon Landry is jacked in these photos taken from his Twitter feed. Needless to say, thank goodness that Landry and his monstrous muscles would be lifting on America's side.
Wrestling: Ray Lewis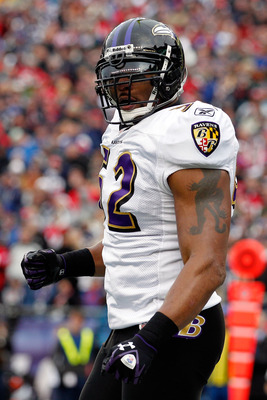 Rob Carr/Getty Images
It would definitely be a real treat to have Baltimore Ravens linebacker Ray Lewis compete in the wrestling category. Lewis, who already had a bit of a history in the sport (he won a state championship while in high school), has developed into one of the NFL's most feared forces.
Also, are you going to be the one to tell him he's not on the team?
Keep Reading