Carolina Panthers: Reviewing Their 2012 NFL Draft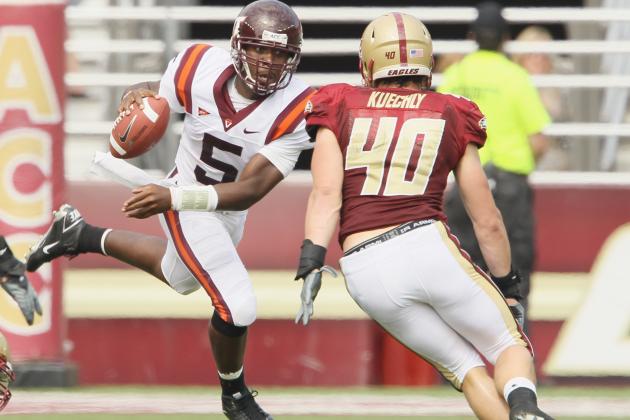 Elsa/Getty Images
Luke Kuechly
After having one of the NFL's worst defensive units last season, the Carolina Panthers needed to upgrade their defense in the 2012 NFL draft.

Fortunately, they may have potentially drafted the 2012 Defensive Rookie of the Year after actually having the 2011 Offensive Rookie of the Year in quarterback Cam Newton.
By selecting Boston College's Luke Kuechly at the No. 9 overall selection, the Panthers drafted a highly productive, pro-ready middle linebacker, who will immediately become a leader of their defense.

The Panthers' first selection of their draft was terrific, but how effective was the rest of it? Read through the following slides to find out.
Begin Slideshow

»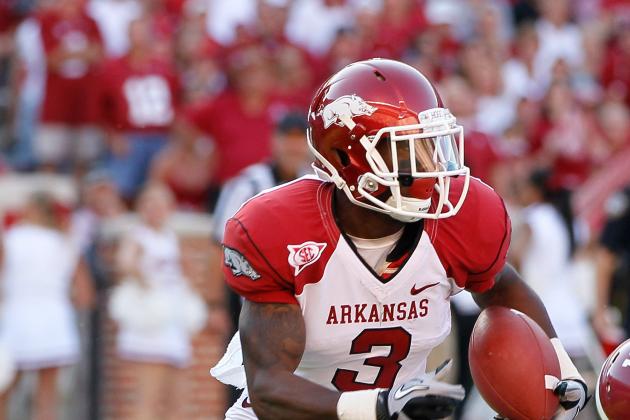 Kevin C. Cox/Getty Images
Joe Adams
Round 1, Pick 9: Luke Kuechly, ILB, Boston College

Overall Prospect Rank: No. 6

Kuechly was a tremendously productive middle linebacker in college, who led the NCAA in tackles each of the past two seasons. He should continue to be highly productive as an NFL middle linebacker.

Kuechly is a very sound tackler and he rarely whiffs on any play. He is always around the play, very instinctive and can make plays from sideline to sideline. He is a consistent player and can step in and make an impact right away.
Round 2, Pick 42: Amini Silatolu, G, Midwestern State

Overall Prospect Rank: No. 139

Silatolu was a dominant offensive tackle at the Division II level, but he will kick inside to guard at the next level. He has high upside, but he is a project making a big leap in level of competition.
He is a difficult player to evaluate, as he will go from going up against smaller, less explosive defensive lineman at the D-II level to taking on the big, powerful athletes of the National Football League.
Round 4, Pick 103: Frank Alexander, DE, Oklahoma

Overall Prospect Rank: No. 133

Alexander was very productive at Oklahoma, but he is undersized.for an NFL defensive end. He does not stand out in any particular area, but he is a good pass-rusher and solid run defender. He is an instinctive and consistent player and should be able to find a rotational role.
Round 4, Pick 104: Joe Adams, WR, Arkansas

Overall Prospect Rank: No. 99

Adams is a dynamic athlete with terrific lateral quickness and the ability to make defenders miss. He was not consistently productive as a wide receiver at Arkansas, but he is a tremendous punt-return specialist.

Adams had disappointing 40-yard dash times at his combine and pro day, but game tape shows that he plays fast. His quickness and elusiveness should make him a dangerous slot-receiving option and punt returner.
Round 5, Pick 143: Josh Norman, CB, Coastal Carolina

Overall Prospect Rank: No. 142

Norman was a productive cornerback at the FCS level, and he really emerged with a strong showing at the Shrine Game. He is instinctive, has good size and is a sound tackler.
He has good burst in short space, but his long speed is a major concern. He will have to make the difficult jump from going up against FCS wideouts to NFL wideouts.
Round 6, Pick 207 (compensatory selection): Brad Nortman, P, Wisconsin

Overall Prospect Rank: Not in Top 400

Nortman is not an NFL-quality punter. While the Panthers needed a new punter, Nortman is unlikely to be the answer. Nortman's average of 42.2 yards per punt last season ranked 40th nationally, and was lower than last year's Panthers punting average from Jason Baker.

Nortman does do a very good job of pinning punts within 20 yards, but he does not have a great leg. He will be a good punter in shorter-field situations, but is not a strong option to punt a team out of deep territory.
Round 7, Pick 216: D.J. Campbell, FS, California

Overall Prospect Rank: Not in Top 400

Campbell only started for one season at California, but he is an intriguing athletic specimen. He played well when he got the opportunity.
He may be a project, but he is a fluid athlete, is strong and tackles well. He should at least be able to contribute on special teams.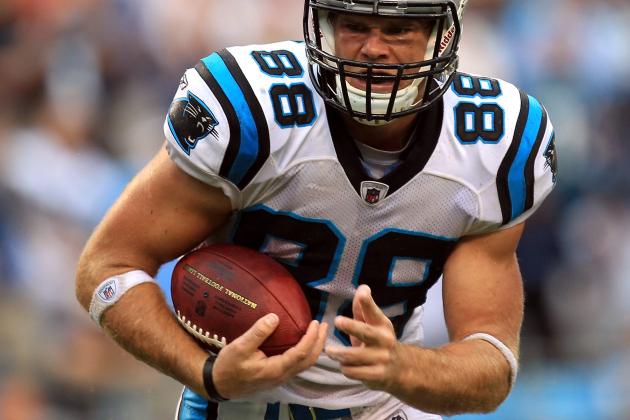 Streeter Lecka/Getty Images
Greg Olsen
The Panthers Traded Round 3, Pick 73 to the Chicago Bears for Tight End Greg Olsen

Olsen is a skilled receiving tight end who was one of Cam Newton's favorite targets last season. Olsen is a great asset to their passing offense, and is better than the tight ends they could have selected at this pick.
The Panthers Traded Round 6, Pick 180 and Their 2013 Third-Round Selection to the San Francisco 49ers for Round 4, Pick 103

This is one of those trades that makes you just scratch your head. Trading a higher draft selection in next year's draft along with a Round 6 pick, in order to move up to the No. 103 selection when they also held pick No. 104, simply did not make sense.

The Panthers made a similarly horrible trade in 2010 when they traded their 2011 second-round selection (which ended up being the No. 33 overall selection) for the No. 93 overall selection in that draft to select Appalachian State wide receiver Armanti Edwards, who has yet to catch a pass in two NFL seasons.
This time, they moved up for Frank Alexander; Alexander is a solid player, but not worth making this trade for.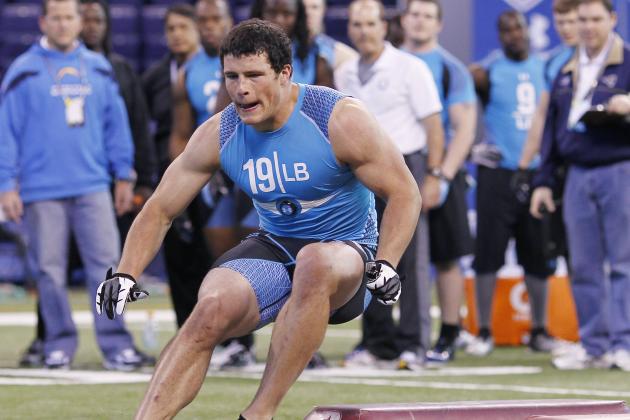 Joe Robbins/Getty Images
Luke Kuechly
The Panthers got great value with their first-round selection of Kuechly, but good value did not continue to be a trend of the rest of their draft.

As a project coming up from the Division II level, Silatolu was a second-round reach. Some may disagree based upon his upside, but he should not have been selected over a much more athletic and established guard prospect in Cordy Glenn.

The trade the Panthers made to move up for Frank Alexander also made that a very poor value selection. He would not be considered a reach as a Round 4 selection, but he is with the price paid to select him.

The Round 6 selection of Nortman, who should have been an undrafted free agent, was also poor value, especially when they could have drafted a better punter in Florida State's Shawn Powell or Georgia's Drew Butler.

The Panthers did get solid value in the middle rounds with the selections of Adams and Norman, but for the most part, the value of their selections was quite questionable.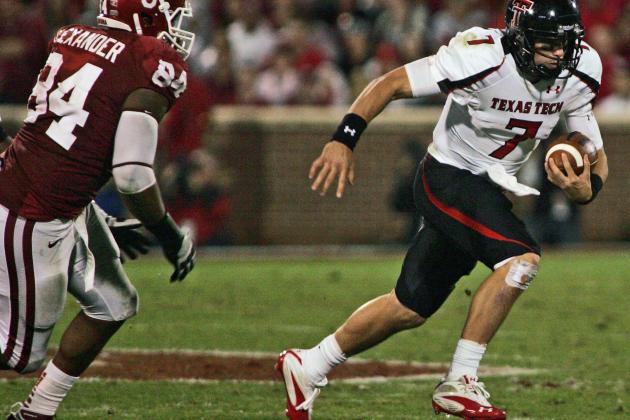 Brett Deering/Getty Images
Frank Alexander
The Panthers' biggest need was to add playmakers in their defensive front seven. The Panthers found their playmaker early in Kuechly, and made a solid addition at defensive end in Alexander.

Kuechly addresses a major need at linebacker, with the team's two best linebackers both coming off of serious season-ending injuries (Jon Beason, torn Achilles; Thomas Davis, torn ACL).
The Panthers also needed to add another pass-rusher with the potential to start opposite Charles Johnson; Alexander may not quite be that guy, but he at least is another player at the position.

The Panthers failed to address the defensive tackle position, choosing to rely upon last year's third-round draft picks Sione Fua and Terrell McClain. The Panthers added two solid Day 3 defensive backs in Norman and Campbell, but still need better in their secondary.

The bulk of the Panthers' needs were on defense, but they did address their biggest offensive need by drafting a guard. The Panthers also made an effort to address the need for a better punter by drafting Nortman.
Kevin C. Cox/Getty Images
Joe Adams
The Panthers could end up with a terrific middle linebacker in Luke Kuechly out of this NFL draft, which is a great way to get things started. However, the rest of their draft was mostly defined by poor value.

Two players who can make or break this draft are Amini Silatolu and Joe Adams; both players have big talent and upside, but are risky selections. Additionally, Silatolu being selected over Cordy Glenn was a poor choice.

Trading away value for Frank Alexander did not make much sense, and the Brad Nortman selection was a big reach, but both selections did address positions of need.

The Panthers receive a great grade for the first day of their draft with the selection of Kuechly, but although they addressed positions of need, questionable value hurts the Panthers' overall draft grade.

Grade: C+

Thanks for reading!

Throughout the month of May, I will be reviewing one team's draft each day, in the order of the original 2012 NFL draft order.

Follow me on Twitter @Dan_Hope.