Terrell Suggs' Injury Is a Blessing in Disguise for the Baltimore Ravens
May 9, 2012

Patrick Smith/Getty Images
Star defender Terrell Suggs is hurt, probably out for the season. The cause is said to either be a basketball game or preseason workout.
At first glance, you'd be forgiven for thinking this will ruin the season as he was arguably the Ravens' best defender during the 2011 campaign.
You may well also note there is a strong chance he won't even return as the same player.
Given that he was supposed to take over as a defensive leader when Ray Lewis and Ed Reed retire, there is even a case for the more cynical fans who want to say this will set the team back several years, as the transition from the Ray Lewis era becomes more difficult.
As South Park's Mr Mackey would say: "This is bad, mmm-kay?"
First, if you are one of those fans, then shame on you. Go and support the Steelers or the Browns; we don't need that kind of negativity.
Second, and I may come off as crazy here, I don't actually think this is as bad as it's (understandably) made out to be.
The astute among you will note that, while I love my purple and black, I also really get into rugby.
Stay with me: I am about to embark on a short tangent, but I will bring up how this is relevant to football.
Last year my team (just called the Hurricanes) underwent what most would regard as a pretty depressing offseason. By that, I mean they lost eight of their 15 starters—including several who were among the best in the world at their position.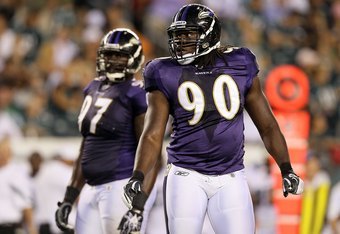 Jim McIsaac/Getty Images
While I went into this year's season with the same level of expectation I imagine I'd have if I were a Browns fan, I witnessed something remarkable.
As the season begins to wind down, my Hurricanes are actually still legitimate playoff contenders. This is a team that has shown what I have henceforth dubbed the Hurricanes Effect:
When a star player is absent, the rest of the nuffies in the squad realize that there is no one there to pick up their slack and accordingly lift their own game.
The Ravens even showed a bit of this last year. When Lewis went down for four games, everyone else stood up, and the team went unbeaten during that period.
On paper, there is no doubting this injury hurts. It hurts Suggs (aren't I just insightful), it hurts the team and it hurts the fans.
But personally, I think the Ravens will become galvanized by this. While there is nothing opportunistic about an Achilles injury, it could have happened at a much worse time, and the team can now mentally prepare for a season without Suggs.
These other guys—from Sergio Kindle, Courtney Upshaw and Pernell McPhee to Haloti Ngata and Bernard Pollard—will all lift their game in the absence of everyone's favorite pass rusher.
If a team as full of rookies and outcasts as the Hurricanes can lift after losing a whole raft of players, imagine what a team as mentally strong as the Ravens can accomplish.